FINTECH SECTOR

Dinesh Mendis
FINANCE AT YOUR SERVICE
Seizing the opportunities for fintech in the world of 'digital now'
Compiled by Lashani Ramanayake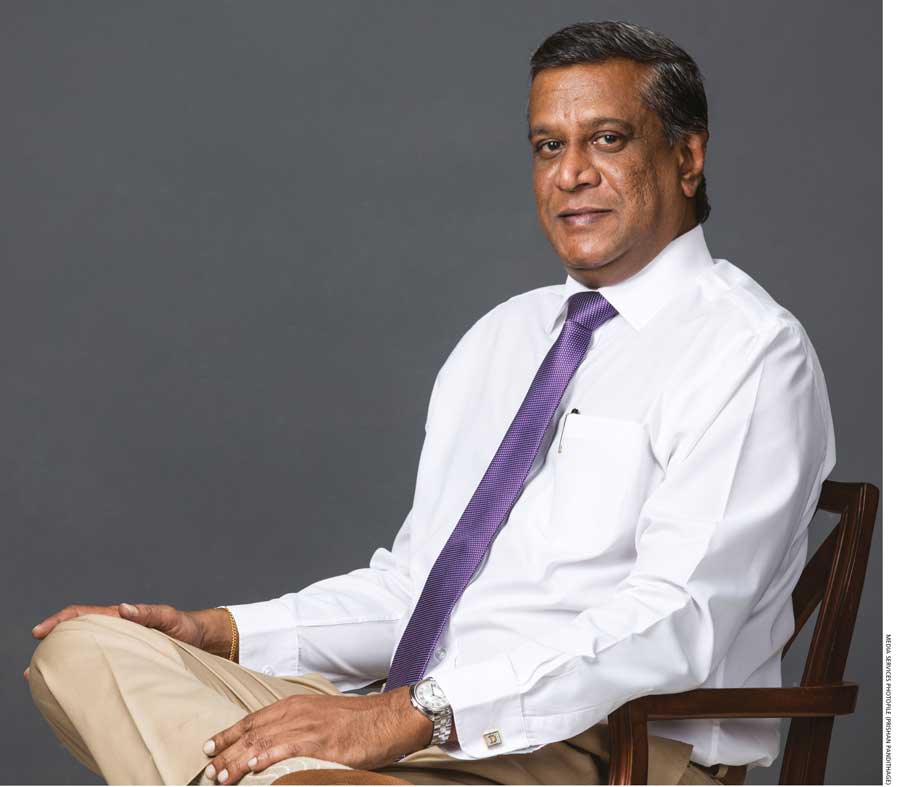 Fintech today in a sentence
Developing very rapidly.
Three barriers to fintech growth in Sri Lanka
Regulatory requirements, funding and building trust.
Regulatory challenges
While regulations are critical to protecting customers, they can slow the adoption of new technologies and create barriers to access for the underserved.
Factors for innovation and new product development
The financial services industry should educate people about new products and support regulators to ultimately help them create the appropriate frameworks and attitudes.
Building trust is a crucial aspect for fintech growth
We must work with regulators' concerns, be transparent and explain how products can help solve target problems faced by the market.
Future of local fintech in one sentence
It has very good potential.
Strengths of local fintech solutions
Makes interactions between consumers, financial services and financial service providers easier and simpler.
It can also…
Expand access to financial services across a range of spheres including lending, payments, personal finance, money transfers and insurance.
Additional benefits
Fintech solutions have the potential to enhance efficiencies, reduce costs, modernise financial infrastructure and enable more effective risk management.
Weaknesses of fintech solutions
The lack of privacy with regard to personal information provided by consumers online and risk of fraud or associated financial risks.
Not forgetting…
The added weakness of consumers not fully understanding new financial products.
Main threats to fintech
Cybercrime, abuse, monopolistic behaviour by new entrants to gain a larger share of the market.
Another threat to fintech development
When too many players get involved in regulatory issues and monitoring.
Local market in a nutshell
It is largely untapped and in an early stage of development.
Global market in a nutshell
The global fintech market was valued at nearly US$ 128 billion in 2018 and is expected to grow to almost 310 billion dollars at an annual growth rate of 24.8 percent through 2022.
Three new prospective customer segments
The unbanked rural population, insurance sector and cross border payments.
Three evolving consumer trends or behaviours
Platform as a Service (PaaS), non-traditional banking services and mobile payment options including money transfers.
Benefits of non-traditional banking services
Solutions for customers with no or poor credit scores who are unable to apply for loans and peer-to-peer (P2P) markets for those unable to secure loans from traditional sources.
Local vs regional assessment
Sri Lanka is lagging in investments in fintech compared to countries such as India and China.
Productivity is affecting industrial and economic growth
Yes, productivity is an integral part of industrial and economic growth.
Corruption is affecting industrial and economic growth
Yes, corruption results in inefficiency and wasting resources – and this in turn retards industrial and economic growth.
Future of global fintech solutions
There will be a paradigm shift.
Financial solutions will be transformed…
Through an omni-channel customer experience, customer service chatbots and automation for financial advice.
Competition drives innovation
Yes, by identifying untapped needs that are not addressed in the market, and listening to customers and implementing changes accordingly.
Sri Lanka's competitiveness in a few words
Inconsistent government policies discourage investments but having said that, there are plenty who are competing successfully on the global stage.
Impact of the digital age on Sri Lanka
An opportunity to develop another revenue stream and generate jobs.
Impact of social media on the world at large
It has made the world a very small and transparent place.
The sector in five years' time
Fintech will change the landscape of how we conduct financial transactions.
Mantra for success
Success is a relative term so I wouldn't claim to be successful but I live with this in mind: "I am the master of my fate, I am the captain of my soul" (Invictus).
Dinesh Mendis is the Head of Financial Solutions and a Director of the Aitken Spence group