BEIJING'S REACH
EXPANDING SINO FOOTPRINT
China is everywhere as its global reach expands rapidly thanks to big money
BY Amantha Perera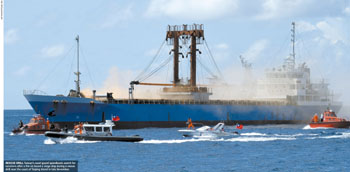 When the Magampura Mahinda Rajapaksa Port in Hambantota opened in November 2010, the Chinese were welcomed with open arms. There was not even a twinge of angst at the expanding Sino footprint in Sri Lanka's Deep South.
This was during the height of ex-president Mahinda Rajapaksa's popularity – a year and a half following the war victory with him and his family still basking in its glow. His government's style of operating did not welcome public dissent. Protests against Chinese investments, like what we witnessed in December in Hambantota, would never have been possible at that time.
Late last year, I was in Beragama, which is not far from the main road in Hambantota. It is a small village with lush paddy fields, small houses and a village temple. During my visit, some villagers were nervous while others were angry.
The temple was a hive of activity because Beragama's folk had heard that their village was to be part of the 1,500 acres earmarked for an investment zone with the Chinese.
Government officials, including the Hambantota Divisional Secretary, denied that any such selection had been made. But he said that mapping of the region was taking place to identify potential land. The villagers weren't willing to allow that. They blocked and harassed Survey Department officials and rumours spread that the military or the Special Task Force would accompany the survey work.
Nothing of the kind happened while I was there.
"These are traditional villages and people have lived here for generations. We are not against development but there's so much land here – why can't they take it from elsewhere?" asked Ven. Beragama Wimalabuddhi.
Given that this is the backyard of Rajapaksa's power, there were rumours that these protests had a political motive. But the Ven. Thero claimed that "this is a people's protest; we are against any party that is going to hand over our land."
Villagers say that the Chinese want land that is strategically located close to both the port and airport. This makes perfect business sense since no one would want to launch billion-dollar business ventures in Sri Lanka and be miles out in the bush.
But many of the villagers also say they suspect that the Chinese want the most fertile land where there's an abundance of water. They allege that there is dry land available but no one wants it. Wimalabuddhi asserted: "There needs to be better information – not from local level officials but from the highest at decision-making level – so that there is clarity."
The Divisional Secretary has been meeting with the public and community leaders to allay their fears. "There is no decision yet on the land to be acquired. We're merely conducting the mapping. We are government officials and must carry out government decisions," he explained.
Late last year, two wild elephants came within 300 metres of Ambalantota town. Wildlife Department officials in the area have been busy chasing elephants away. In Hambantota, the elephants are out; but at most diplomatic and trade discussions in Colombo and the rest of South Asia, the elephant in the room is only grudgingly acknowledged.
Recently, the English Premier League lost several players to a rich league thousands of miles away. The same purse that is mostly responsible for the elephants in Ambalantota runs that rich league – in China.
Now the big question is about where China is heading – from New Delhi to Dhaka and Lahore to Colombo? A couple of years ago, in the face of the String of Pearls theory, the question was where Beijing was staking a claim.
Under Rajapaksa, Colombo astutely positioned itself to benefit from these deep Chinese pockets. With traditional Western donors and Japan taking a step back, the government needed the cash and embraced China.
But did Colombo overplay its hand? That is a question that we're still trying to answer and one that the current administration would be wise to evaluate as it also takes the inevitable drift towards China.
The Chinese are not very good at Western-style diplomacy and they don't have the historical ties that some of the former colonial nations have. Neither are they good at the Japanese style of non-engaged engagement.
But they've been good at writing cheques – many of them – in the recent past. And some have been for vanity projects like the Hambantota airport where even some of the chairs in the passenger terminal have been removed because of a lack of traffic.
China has major commercial interests in Sri Lanka, Pakistan and Nepal; and last year, Chinese President Xi Jinping signed deals worth US$ 24 billion – a staggering number by any account.
"We agreed to elevate relations between China and Bangladesh from a closer comprehensive partnership of cooperation to a strategic partnership of cooperation," China's president said during the first state visit by a Chinese leader to Bangladesh in three decades.
Those 30 years saw the political and financial powerbases shift like none could have predicted. Now with President Donald Trump in the White House, Beijing has the opportunity to make a major play especially since Xi is still in office. The Chinese leader has recently been much more open about Chinese investments and China's regional power status.
Now that China has all these investments – including a port it built and will now operate in southern Sri Lanka – what's next?
While academics, diplomats and foreign policy experts are talking about the growing Sino footprint in South Asia, the more vital conversation should be about how Beijing plans to use it interests.
We are not talking about the Red China of yore with everyone reading the Little Red Book. While it's very unlikely that China will run to its guns and boats at the slightest provocation, believing that it would not flex its financial muscle backed by its military might is rather naïve.
Recent events in the South China Sea are a reminder of this. And like what's happened in Hambantota, the elephants need to come out.
Sri Lanka's recent experience with the Port City project is a case in point: the current administration began by completely shutting out China, suspending the project and seeking other investors. But prospective investors were slow in coming for they don't have the cash resources.
So Colombo plodded on for one and a half years while conducting closed-door discussions with Beijing. The latter, for its part, through its mission in Colombo, kept the interest alive and even sent Sri Lankan journalists to tour China.
It was inevitable that Colombo would return to Beijing's realm. With hefty interest payments due – ironically because of the high interest rates levied on Chinese loans, and non-performing assets like the Mattala airport and Magampura port – the new administration needed funds from somewhere.
But as China had been vilified in the media and the shift towards the West amplified, no one in the government began talking about the change in direction… until it became quite obvious – like with the announcement of new investments in the south and investment zone.
By then, public resentment had grown and been fanned. Now the government must manage on two fronts: secure the investments and address the pesky issue of protestors.
To be fair by those who have taken to the roads in Hambantota, all they want is clarity. But the government had to first deal with the protests at the port – during which the Navy Commander assaulted a journalist – and establish a permanent navy base at the port. The negative publicity generated by these incidents is definitely not conducive to a new investment drive.
The first step should be to acknowledge that China matters and cannot be simply thrown aside. But it is a complex game of cat and mouse; because for all its might, Beijing still doesn't have the political clout that New Delhi enjoys in Colombo.
You need masterful foreign policy navigators, astute economic planners who will not play the market to load their bank balances, and a government that talks with one voice and delivers one message at least in public.
Right now, none of this seems even remotely possible.