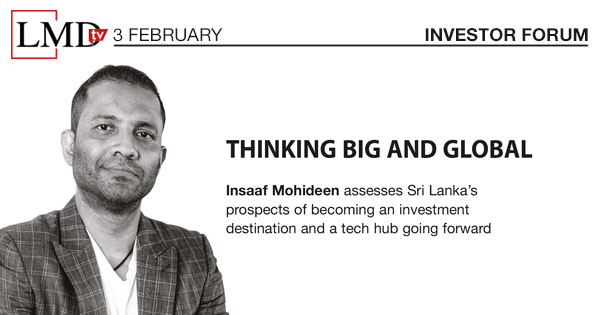 A perceived concern associated with Sri Lanka is its default risk. However, entrepreneur and investor Insaaf Mohideen believes that this is not a point of concern for investors as the government is unlikely to risk the country's reputation and has access to emergency funds to cover deficits while managing the value of the rupee.
"There is a need for emphasis on bringing in meaningful and value added foreign direct investment (FDI), as well as local enterprise and entrepreneurship," he asserted.
Discussing his views on the idea of the stock market being an indicator of investor confidence, Mohideen explained that while markets such as the US and others may have been expected to perform poorly due to the pandemic, retail segments and customer confidence have done well.
And in his opinion, this transpired in Sri Lanka as well along with the stability that prevailed following the country's presidential and parliamentary elections, which would have built confidence.
Assessing the nation's IT industry, Mohideen opined: "We have the skill sets and a budding sense of entrepreneurship among the youth but this is not being facilitated."
Citing the lack of tech parks and efforts to attract foreign companies as examples, he pointed out that nations such as Ireland and Norway have attracted IT firms through similar approaches. "Whether it's from a Board of Investment of Sri Lanka (BOI) or merely a national message perspective, we should encourage the inflow of tech companies and even vocational training, to drive us to think big and think global," he stressed.
In the October 2019 edition of LMD, Mohideen highlighted Sri Lanka's potential to transform itself into a "new age service economy." Following up on this, he cited India's transformation from a country that was previously associated with data entry, back office and similar operations.
"This transformation takes time but if you begin providing value added services – be it technology, a homegrown hedgefund or investment banking skills – these are really the new age services that generate higher income, which is what we should focus on," he explained.
Mohideen believes there's a need to focus on Sri Lanka's education and training systems and mechanisms.
Additionally, despite the challenges presented by the pandemic, he emphasised that virtual work models could serve as an opportunity for Sri Lanka to position itself as a tech hub or even participate in hackathons.
As for the impact of the pandemic on investments, Mohideen pointed out that the wealth creation witnessed in recent weeks will be deployed in various industries so investors – including larger hedgefunds and sovereign funds – will seek opportunities as more markets open up.
He maintained that "if we want to attract foreign exchange, we need to build a robust BOI or global industry in the form of tourism. It's important to be able to market the country – and we haven't seen what Sri Lanka stands for in the context of attracting FDI and quality investors."
To this end, Mohideen stated that this requires a simple solution: ensuring that investors and tourists can return with ease, which involves balancing health risks while facilitating investment.
And with Sri Lanka looking to attract more FDI, he stressed the importance of developing the English language skills of Sri Lankans so they are capable of communicating and negotiating with prospective investors.
To address this need, he suggested vocational and immersion training to help them conduct business.
Commenting on the global investment climate, Mohideen expects the recent boom to continue on the back of pent up demand: "This will probably be driven by monetary easing measures and stimulus packages; but over the next year or so, some of these bubbles will experience adjustments."
"When you make an investment, it must be over multiple cycles as people do not get rich by playing the market but by investing in it," he concluded.