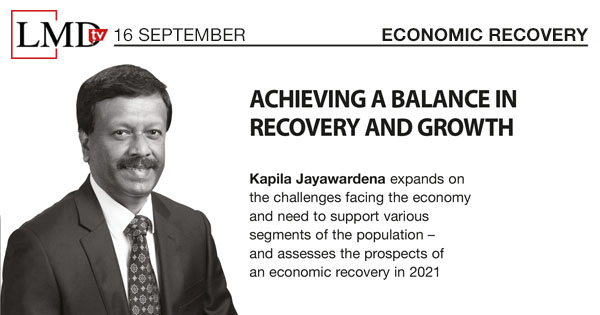 Sri Lanka continues to be in recovery mode following the challenges faced in 2019 and most of this year, the Group Managing Director and CEO of LOLC Holdings Kapila Jayawardena noted on LMDtv.
In a bid to support the nation's recovery, he said the financial services industry can help improve access to capital while also maximising the value of funds provided to customers.
Responding to a question as to whether the country should open its borders in the near future, he opined that this was a decision for medical experts, and those involved in battling the coronavirus and helping Sri Lanka return to normalcy.
However, he also stated that it was too early to reopen the Bandaranaike International Airport (BIA) to incoming travellers, noting that mandating two weeks of quarantine would not be practical for the leisure sector as tourists would have other options in terms of destinations.
"We must be in a position where we're comfortable reopening the airport and inviting people to head to their leisure destinations directly," Jayawardena insisted while pointing out that many Sri Lankans returning from overseas have tested positive for COVID-19, indicating it may be too soon to take such a risk.
As for government policy in the wake of COVID-19, interest rates have continued to decline over the year, which is expected to help stimulate economic growth by offering businesses access to low cost financing.
On the other hand, Jayawardena cited the importance of enabling Sri Lanka's growing ageing population to depend on earnings from interest: "For almost 90 percent of this segment, interest income is their only source of income for those without pensions so we must identify a reasonable rate to achieve a balance between these needs."
Maintaining the importance of a reasonable interest rate that is tied to inflation, he asserted that the banking sector and other institutions should not be expected to subsidise a particular segment of the population.
Despite the low interest rate regime that has prevailed in recent months, Jayawardena observed that few people seem to have invested in new startups and similar ventures: "This could be because the business community is conservative and not looking to invest."
"Similarly, the banking sector has been conservative due to the steep rise in non-performing loans (NPLs) and it is more focussed on recovery rather than new loans," he added. However, he expects an uptick in borrowings during the first quarter of 2021 when "the wheels of the business cycle begin turning."
Expressing his views on the priorities for Budget 2021, Jayawardena noted that the political landscape in the country has stabilised, which is important for business: "The budget should have consistent policies – be they tax, economic or investment – so that people can plan for the long term."
He continued: "Over the last 10 years, we have experienced many inconsistencies with policies being announced and reversed, which is bad for investment."
In Jayawardena's opinion, the government, regulators and other stakeholders should focus on improving Sri Lanka's economic landscape as two important pillars have been negatively impacted by the pandemic – i.e. the tourism industry and workers' remittances. And while the decline in the price of oil and export sector recovery are positive indicators for the future, he emphasised the need to employ strategy in rebuilding the economy.
Commenting on his expectations for economic performance for the rest of this year, he stated that "we have seen the worst and it can only get better as the signals are positive."
As for the recovery of exports to pre-COVID levels, Jayawardena concluded: "If the country can get back on track in terms of the leisure segment and we continue with managed import restrictions, the future could be much better next year in terms of GDP growth and expanding the depth of the economy."