WOMEN OF COURAGE
A TOAST TO BRAVE WOMEN
Rajika Jayatilake salutes the 13 women honoured at the 2017 International Women of Courage Award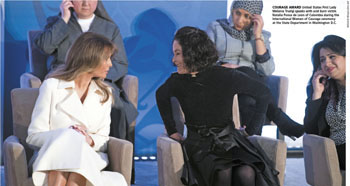 Shakespeare's Hamlet may have typified the conventional image of women through his words: "Frailty, thy name is woman." Yet, history continues to prove that women are anything but frail. In today's turbulent and conflict-burdened world, they're courageously rising to the fore, fighting injustice, and demanding equal rights for women and truth, as well as justice for their communities.
In 2007, the then-US Secretary of State Condoleezza Rice launched an annual award titled 'International Women of Courage Award.'
Accordingly, the 11th International Women of Courage was recently concluded in Washington D.C. to honour exceptionally courageous women in the world. US embassies nominate such exceptional women and the US State Department selects the finalists from among those nominations.
The recent awards ceremony held in Washington D.C. was followed by other events in several cities, culminating in a scintillating reception in Los Angeles. The awards were presented by First Lady Melania Trump and the awardees included 13 women of whom only 12 were able to attend as one is imprisoned in Vietnam.
Each of the recipients has their own story of courage and sacrifice that makes them exceptional.
Malebogo Molefhe, a national basketball player in Botswana, was shot eight times by a deranged ex-boyfriend. The attack has confined Molefhe to a wheelchair due to extensive injuries to her spinal cord. She is now a selfless crusader against gender-based violence and domestic abuse in her country.
Rebecca Kabugho from the Democratic Republic of Congo (DRC) became the world's youngest prisoner of conscience, having been arrested at 22 years for organising non-violent demonstrations demanding credible national elections last year. She and her colleagues were imprisoned for six months. Her organisation continues to peacefully advocate positive change in the DRC.
Major Aichatou Ousmane Issaka is one of Niger's first women to join the Army and attend a military academy. Issaka initiated leadership in the military in Niger as well as in Mali where she worked with the UN. She was awarded the United Nation's first World Peace Prize for Military for gender equality within the UN peacekeeping force.
Veronica Simogun risks her own safety every day as she intervenes through her own association to protect women from gender-based violence in her village in Papua New Guinea. She funds much of the work herself.
Saadet Özkan, a former primary school teacher in Turkey, is now a champion for victims of child abuse. She deliberately chose to work in a village school to make a difference and discovered a decades-old sexual abuse operation in it. She persisted against all odds and pushed for a criminal investigation into the despicable acts of the principal, and now hopes to establish an NGO to fight child abuse.
A member of the Daughters of Mary Help of Christians, Sister Carolin Tahhan Fachakh was born in Aleppo and remains in Damascus despite the ongoing war. She risks her life serving Christians and Muslims, and is seen as a beacon of hope amid the horror and despair around her.
In neighbouring Iraq, Jannat Al Ghezi puts her life in harm's way every day, helping women throughout the embattled country escape violence and death, by offering them shelter, training, protection and legal services.
Fadia Thabet is a Child Protection Officer in South Yemen who constantly faces death, trying to protect children from Al-Qaeda and Houthi militias. She has worked with parents, schools and communities, as well as the kids themselves. She's working with the UN to develop an action plan in South Yemen to save children from the war.
Natalia Ponce de León is a successful Columbian businesswoman who survived an acid attack in March 2014 and is now a symbol of perseverance. She succeeded in having a law passed targeting the perpetrators of acid attacks in Columbia – a country known to have the world's highest number of acid attacks. The law is named after her.
Cindy Arlette Contreras Bautista is a Peruvian activist, lawyer and survivor of domestic violence. She has significantly increased social and political awareness in Peru about women's rights and gender-based violence through her 'Not One Woman Less' movement. Her advocacy against domestic violence resulted in a peaceful protest march of over a hundred thousand people in downtown Lima in August last year.
Sandya Eknaligoda symbolises the search for justice and reconciliation in Sri Lanka. Seeking truth and justice for her husband who disappeared in January 2010, she has become a voice for the voiceless women of the north and east of Sri Lanka who seek justice for their disappeared loved ones.
In a country with one of the world's highest rates of child marriage, Bangladesh's Sharmin Akter resisted being coerced into marrying a much older man when she was only 15. She's dared to break her silence and stands as an example for girls across South Asia who face similar situations.
The 13 ladies were treated as the awe-inspiring heroines they are throughout the two-week programme in the US, no doubt enabling them to return to their home countries with renewed energy and a commitment to do more for their individual causes.
In the words of essayist Anaïs Nin: "Life shrinks or expands in proportion to one's courage."