THE RAILWAYS
ELECTRIC DREAMS FOR LIGHT RAIL?
Zulfath Saheed provides insights into plans to electrify railways in Colombo and beyond
Vehicular congestion in Colombo and the suburbs has exacerbated in recent years with more people entering the city in search of improved economic prospects. Moreover, nearly a fifth of Sri Lanka's population is estimated to have resided in urban areas in 2017.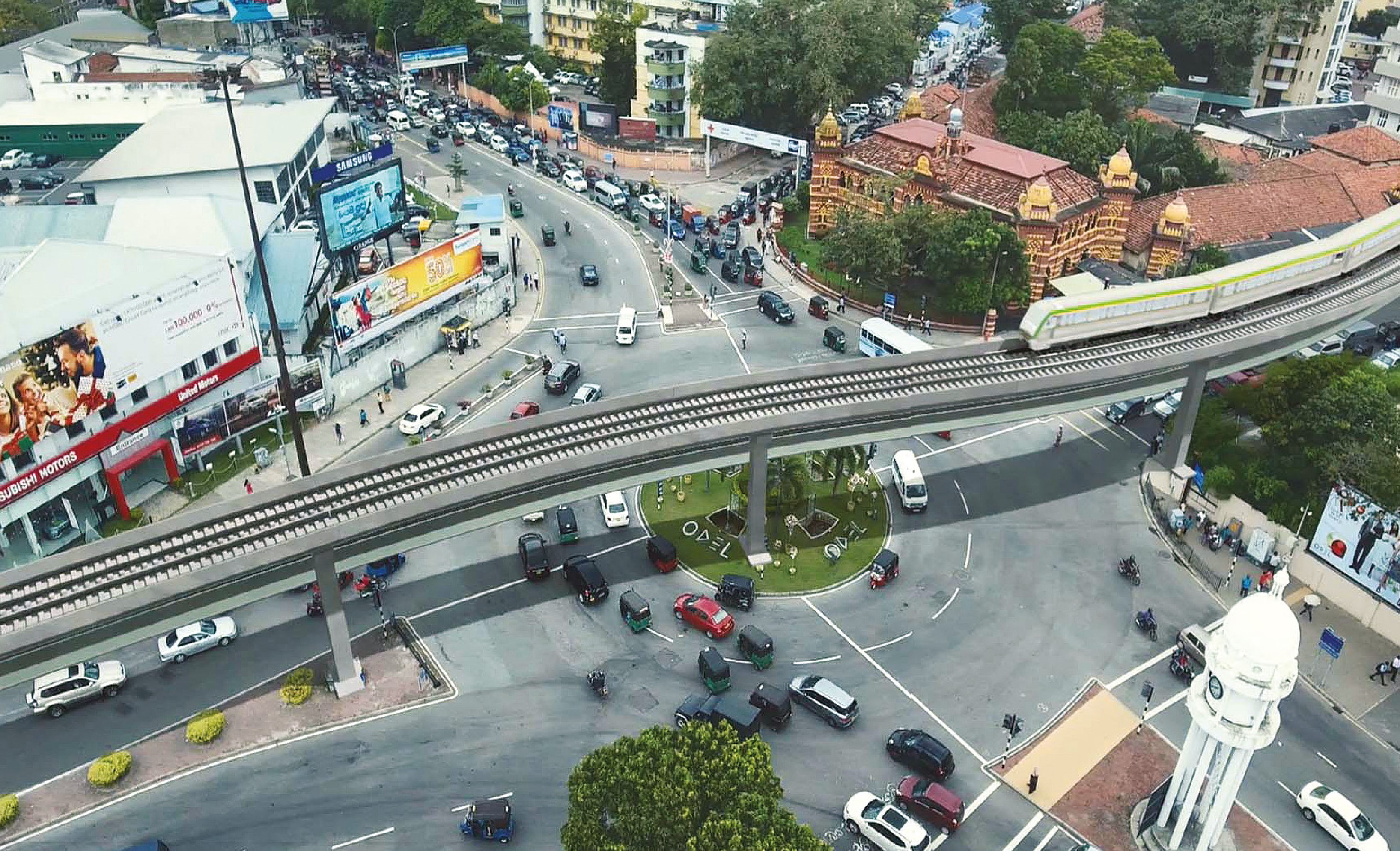 And with the quality of public transport witnessing hardly any improvement, the number of vehicles on the roads – especially in the commercial capital – has increased exponentially.
Although the electrification of suburban railways in Sri Lanka is thought to have been envisioned in the pre-independence era, it failed to see the light of day as a cabinet approved project until as recently as 2015.
In contrast, some 240,000 kilometres of the global rail network was electrified by 2006 with 50 percent of all rail transport being carried by electric traction. In 2012, China occupied first place in the world for electrified railways with over 48,000 kilometres of track. It was followed by Russia, India, Germany, Japan and France.

In December, the Department of Railways announced that it would construct Sri Lanka's first elevated light rail system powered by electricity, catering to passengers travelling from the Colombo Fort to Kottawa. It was to be constructed along the Kelani Valley railway line and forms the first phase of a Western Region Megapolis plan using a soft loan from the Asian Development Bank (ADB).
The project is scheduled for completion by the end of 2022.

PROJECT OVERVIEW The Colombo Suburban Railway Project (CSRP) commenced in July 2016 with a pre-feasibility study in the city's suburban region, which focussed on the passenger and freight demands of Sri Lanka Railways – by 2025 and then 2035.
This included identifying the requirements for infrastructure development, passenger needs, hauling power transition from diesel to electric and business processes.
Having transitioned from the pre-feasibility stage to the detailed design phase, CSRP is considering the construction of 105 km of additional tracks, rehabilitation of 210 km of existing tracks, development of railway stations and multimodal centres, replacement of signalling systems, development of maintenance facilities and acquisition of new rolling stock.
LENDING AGENCY The project is in line with the ADB's Country Partnership Strategy 2012-2016, "as it supports inclusive and sustainable economic growth by developing viable multimodal transport systems, including railways and the public transport system."
It will be processed as a project loan by ADB and the scope will be defined by the preparatory technical assistance. Project preparation including design and support for procurement with safeguards will be provided under a proposed technical assistance loan.
The ADB's transport specialist Johan Georget reveals that "feasibility and detailed design studies are currently ongoing for the Kelani Valley line, main line, coastal line and Puttalam line."
REGIONAL COMPARISON In September last year, the Indian government approved plans to electrify the nation's railways by 2022 in a bid to reduce its dependence on fossil fuels.
Meanwhile, according to an International Energy Agency (IEA) report, Indian railways are expected to represent almost 40 percent of total rail activity across the globe by 2050.
And investments in subcontinental urban rail infrastructure is estimated to reach nearly US$ 190 billion.
The IEA points out that alongside the development of high-speed rail, fuel expenditure could decline by close to 450 billion dollars, thereby saving India up to US$ 64 billion on fuel expenses.
Rail passenger traffic in India has increased by nearly 200 percent since 2000 with future prospects for railway services in the country continuing to remain bright, the report adds.
ADDITIONAL SUPPORT Recently, the Ministry of Finance and Mass Media announced that the Japan International Cooperation Agency (JICA) will lend US$ 1.85 billion to build a light rail transit (LRT) service between the Colombo Fort and Malabe with the aim of easing congestion in the commercial capital.
According to the ministry, the funds are to be borrowed at a concessionary interest rate of 0.1 percent and repaid over a 40 year period – with a grace period of 12 years – and disbursed in six tranches from 2019 to 2024. Sri Lanka is estimated to receive US$ 260 million as the first instalment.
JICA is also expected to offer technical assistance for the rail project, which will operate under the Ministry of Megapolis and Western Development. It will span 17 kilometres with 16 stops.
But despite the promise of an LRT to address the issue of vehicular congestion in Colombo, concerns have been raised regarding the financial feasibility of such a project if it's to be operated by the state.