SYNERGEN HEALTH

Q: What are the main components of a great workplace?
A: The happiness and satisfaction of employees are at the core of a great place to work. SYNERGEN Health (SGH) considers itself a people oriented company and since we prioritise the needs of our team members, they in turn take care of our clients. This has been the key to our success for the past 10 years of operations and will continue into the future as well.
Q: How can a great workplace culture contribute to organisational performance?
A: As our company continues to grow, we face new challenges in maintaining the same work culture that was adopted in the early stages of the firm. This is because we believe that the only way to sustain continuous growth is by ensuring that the company's culture and core values don't change.
Furthermore, even though we did observe a shift in the work culture when we began working from home due to the pandemic, maintaining the company's core values and culture helped SGH to grow by over 20 percent year on year.
Q: Is employee engagement important for a great workplace culture?
A: Engaged employees will always do more than simply their jobs. They will go above and beyond their expected tasks for the company and even act as ambassadors when it comes to attracting new team members.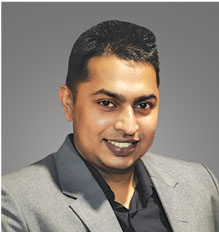 I believe we have achieved this engagement with 50 percent of our new recruits being sourced through internal referrals. Moreover, effective employee engagement strategies can help create a better work culture, reduce staff turnover, increase productivity and build stronger work/customer relationships.
At SGH, camaraderie is a priority and we have invested heavily in this area to ensure that our entire team, which is based in two different time zones and two buildings, is able to work seamlessly together.
Q: What's meant by a culture of innovation and how can this be instilled in the workplace?
A: With the sudden acceleration in technology over the last 15 years, innovation is the only way companies can be a step ahead of their competition. In recognition of this, we have always challenged our team members to question the norm. Innovation has and will always be one of the core principles of the company and we believe it should be encouraged, recognised and rewarded.
Q: Is organisational agility a priority in your workplace; and if so, what measures have been taken to ensure this?
A: Absolutely! Change is the only constant. We must always evolve with the latest technology and adopt the transformations happening around the world. If not, it's only a matter of time before we lose our competitive edge.
When the pandemic hit, we monitored the situation closely and moved our entire operations to the cloud. We also ensured that all our employees were well equipped to work from home. This was all achieved before the lockdown in Sri Lanka and so we didn't receive a single complaint from our clients as we were able to provide a seamless service.
Q: How can organisations create a great workplace for all?
A: It all begins with the company's core values and leadership team. Strict policies have to be implemented and adhered to in order to ensure equality, and also tackle the perception of favouritism. Transparency is key.
Leaders should lead by example and companies must implement an open-door policy that enables workers to talk directly with the leadership team without hindrance.
– Compiled by Avanti Samarasekera
Telephone 2814894  |  Email info@synergenhealth.com  |  Website www.synergenhealth.com