SRI LANKANS OVERSEAS

TURNING HOPE INTO REALITY
Avril Holmes applauds Sri Lanka's post-war progress but says there's more work to do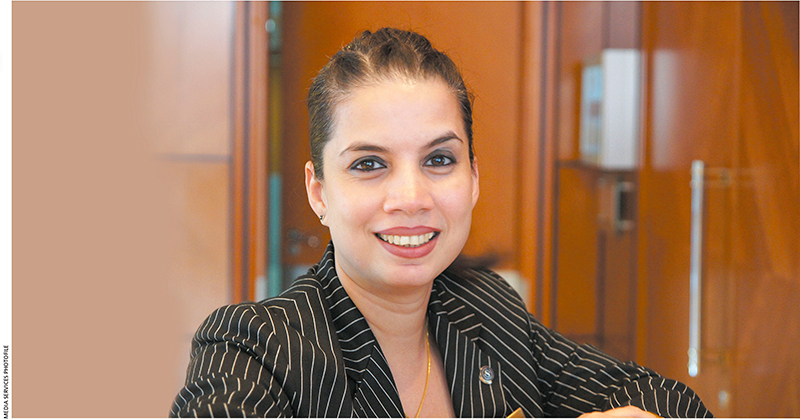 Q: How do you perceive Sri Lanka today, in the context of the progress it is making in the post-war era?
A: I have been away, in Dubai, since October 1996. However, I'd never settle for any country other than my land of birth, and my heart will always remain in Sri Lanka. The country has made progress, and developed in many different aspects. There's most definitely a noticeable difference between what it was and what it is.
With that said, I have to point out that the Government must not limit progress in safeguarding Sri Lankan culture, by holding back the country or letting corruption govern development. The focus needs to be on the bigger picture, without which the Sri Lankan economy and infrastructure would be moving at quite a slow pace.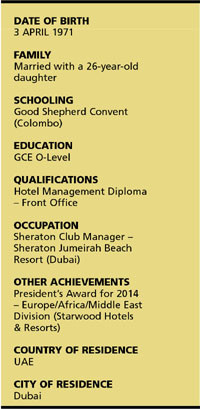 Q: How do compatriots in your country of domicile, the UAE, view Sri Lanka?
A: There is peace in the country, with the end of the war; but political instability is often spoken about. From a tourism point of view, nearly all parts of the country are accessible. Personally, I feel safe to visit the island, on holiday, although the increasing cost of living is quite alarming.
Q: What were your impressions of Sri Lanka on your last visit? And how much has it changed from the past?
A: Life has returned to normal in Colombo, compared to the past. And the expressway offers spectacular views, when travelling from the airport, as well as providing easy access and saving time. The environment appears to be clean, with new buildings, while historical architecture has been preserved in some parts of the commercial capital.
Every time I visit Sri Lanka, it has developed. It's good to see hotels and tourism thriving – because this is a labour-intensive, job-creating industry.
I'm not a politically savvy person, but the country's economic policy has been heading in the wrong direction for some time. There is so much confusion among different politicians, and they don't seem to be able to reach a consensus in the case of most decisions being taken.
There are mixed feelings among the citizens of Sri Lanka. The country doesn't have a unified movement, due to different views on the 'ethnic conflict.' A majority of the Tamil community don't consider themselves to be Sri Lankan. Then, there are some – especially among Sinhalese citizens – who take an extremely optimistic view about where the nation is heading since the war ended. And there are those who lie somewhere in-between.
Q: How do you view the brain drain – and why is there still no reversal of it?
A: Presently, in our society, you have to have a connection to an influential person, to accomplish anything. I feel that this has to change, with the new Government in place. In the past, this has played a major role in driving Sri Lankans out of the country, where they have an opportunity to start all over again.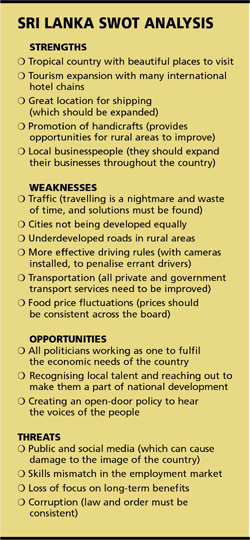 Q: What must be done to entice Sri Lankans living overseas to contribute or return to their country of birth?
A: All of them should be brought under a pension scheme, which would benefit or compensate them for the years they've been out of the country, due to the war. The state must take responsibility, and maintain law and order, as well as meet the basic societal needs in all areas of the country, so that citizens' skills are recognised.
Q: In your opinion, what should Sri Lanka focus on most in the coming decade?
A: Tackling corruption, and maintaining law and order – as well as a properly functioning Parliament – are the areas that must be focussed on, if Sri Lanka is to become an emerging market. And genuine – rather than cosmetic – national reconciliation is needed, to heal the wounds of conflict and war.
Followers of all religions should be treated fairly. We need to also focus on rebuilding society and maintaining a healthy environment.
Q: What are your hopes for the country, in the post-conflict era?
A: I would hope for some sort of turnaround. There's now an opportunity, since there is peace in the country. I hope this would be stabilised.
The global economy offers many possibilities. There are global supply chains – which didn't exist 30 years ago – in manufacturing and services. Sri Lanka can link with these areas, and create wealth with the help of trade and investment. This is critical for a small economy such as ours.
The outcomes are positive. We were living in an era where there was very little multi-ethnic cohesiveness. Having peace in the country will surely foster harmony among the public, and also help instil a sense of optimism.
Investors will also have a positive outlook on the country. Foreign direct investments are flowing in, and multinational companies have plans to extend their operations in Sri Lanka. This will increase the employability of youth, and improve per capita incomes.
Sri Lanka is fortunate when it comes to natural resources, especially in the north and east. This advantage could be used for farming and cultivation of crops, which would ensure that the country is self-sustainable in certain dimensions.
In my opinion, if we can leverage on these positives, we will turn hope into reality.
– LMD