LIFE
Fiona Juriansz Munasinghe
In conversation with Ruwandi Perera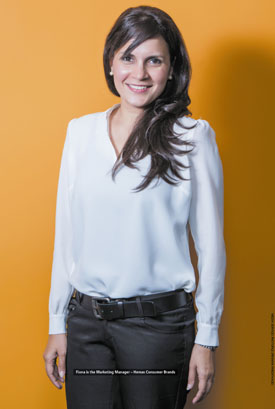 What's a typical day at work like?
It's action-packed, because I'm constantly in and out of meetings. I usually begin the day with a 9 a.m. meeting, then onto key project meetings before lunch – which, at times, represent a working lunch. Discussions follow with the team, on pending matters and areas that call for my direction.
When you were a child, you wanted to become…
During my A-Levels, I wanted to become a lawyer for women's and children's rights.
What is your alma mater?
Ladies' College
If you weren't involved in this profession today, what would you be doing?
I would be working for an NGO to empower women, or teaching. The best way to help people and make an impact is to help them stand on their own feet – and, hopefully, learn to walk and run.
Could you describe your family briefly…
My husband of five years is Hasrath Munasinghe, who is a fellow marketer. We have a two-year-old son (Tejan) and my 13-year-old stepson (Ashane).
My father (Dickie Juriansz) has worked in the tea industry in Sri Lanka for over 40 years, and my mom (Annabelle) is a housewife. We had five girls at home: my elder sister (Zarah), three cousins (Tracy, Kimberlee and Sandrina) and myself.
What are the most outrageous things you've ever done, Fiona?
Getting a tattoo and dying my hair red, while at university.
Could you share your favourite memory with us?
When my son was born, and I saw him for the first time… it's hard to explain, but it was magical to finally look into the little (grey) face for the first time.
And what was your most embarrassing moment?
Probably when I was schooling, and came out of my room in a towel to check the time on the wall clock in the dining room – I turned around, and realised that my parents had guests over, who were staring at me!
If you had six months off work, what would you like to do?
Travel
How do you handle difficult situations or people?
I pray for strength. Then, I try to remain calm and look at things from others' perspective, and find a solution that is mutually beneficial.
What are your favourite places to visit in Sri Lanka?
The Southern Province and Sigiriya
And your favourite overseas holiday destination is…?
Italy – there's so much to see and experience; from art to history, nature and food.
What are your three favourite brands?
Apple, Olay and Absolut.
Where do you shop most often?
Cool Planet
And how do you relax?
By reading; and at present, watching House.
What are your hobbies or interests?
Travelling, reading, watching movies, spending time with family and friends, and building brands.
What are your favourite books?
The Lord of the Rings, Archie Comics, and fiction novels by authors such as David Baldacci, Jeffrey Archer and John Grisham.
Is there a song that moves you?
Dance With My Father (by Luther Vandross)
What has brought you the greatest sense of professional achievement?
Working on home-grown local brands that touch millions of consumers in their day-to-day lives; and seeing these brands grow from strength to strength, and compete head-on with global counterparts.
Is there anything you don't enjoy doing professionally; but must do, because work demands it?
Making a lot of presentations and dealing with stock reconciliations
What do you like the most about your job or profession?
Building brands and creating products that consumers can enjoy
Your all-time favourite movie is…
The Sound of Music
Tell us a phrase you often use?
'Imagine I'm a…'
What inspires you the most?
People who follow their dreams and those who work to enrich the lives of others
Your favourite colour is… And why?
Blue – it's the colour of the sky and the sea, which reminds me that the world is such a vast place, and I have so many places yet to see and experience.
Who are your role models?
Mother Teresa, my father and women who play multiple roles in life.
What is your next goal in life?
To become very good at project management
If you could change one thing about your life, what would it be – and why?
I think good or bad – sometimes, especially bad – experiences make you who you are, and they are there for you to learn from. So I wouldn't change anything.
Could you tell us something that few people know about you?
I still have my pillow from my childhood – it has now become my son's. I remember fishing it out of the garbage dump on the road, when my mother tried to throw it away!
Describe yourself in one word…
Passionate
Fiona is the Marketing Manager – Hemas Consumer Brands