SINO-INDIAN RIVALRY
SOUTH ASIA:

CURBING THE FALLOUT
Zulfath Saheed pays heed to the potential impact of recent tensions in the region
China and India – two global giants jostling for supremacy in the region and beyond – share a complicated history and at times, have demonstrated an extremely strained relationship that's kept the rest of the continent and world on guard for any spilling over of tensions.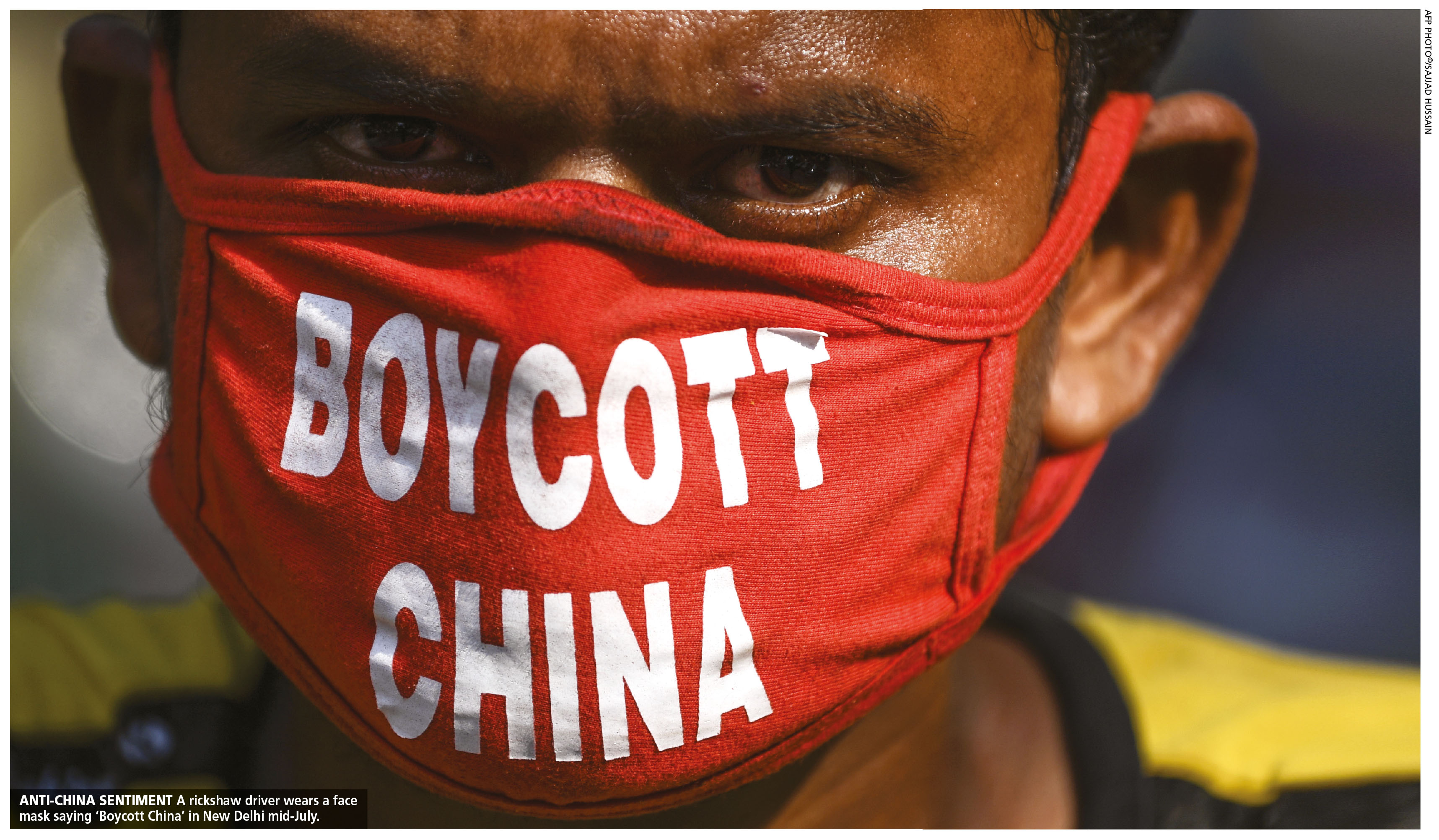 The two immensely populous nations with rapidly growing economies in recent years also have an interest in Asia with Sri Lanka unsurprisingly being part of their agenda towards achieving regional and some might say even global dominance.
In this context, it becomes all the more important to examine the potential impact of Sino-Indian border disputes, which seem to have come to the fore this year.
RECENT CLASHES The most recent skirmishes are considered part of an ongoing military standoff between China and India.
Since 5 May, Chinese and Indian troops have reportedly engaged in an aggressive melee, face-offs and skirmishes at locations along the Sino-Indian border, including near the disputed Pangong Lake in Ladakh and the Tibet Autonomous Region, and close to the border between Sikkim and the Tibet Autonomous Region.
Additional clashes were also reported at locations in eastern Ladakh along the Line of Actual Control (LAC).
In late May, Chinese forces objected to Indian road construction in the Galwan River valley. And following the Galwan valley skirmish on 15 June, Indian state officials suggested that border tensions would not impact trade between the two countries despite Indian campaigns to boycott Chinese products.
But the days that followed saw cancellations and additional scrutiny of contracts with Chinese firms, and barring their entry into strategic markets such as telecom.
INDO-LANKA TIES Sri Lanka has traditionally looked to its northern neighbour as a source of support – both economic and diplomatic – albeit somewhat strained during the civil conflict years. Deep cultural and racial links between India and Sri Lanka have underscored the bilateral relationship.

The two republics share a maritime border, which itself has proved contentious on occasion. More recently, ties have been tested by the administration's decision to review the high value East Container Terminal project agreement of the Colombo Port, which was signed between the former regime and its Indian counterpart.
"Political observers say the move is the latest effort by [President Gotabaya] Rajapaksa to distance himself from grants and other funding offered by the 'Quad' nations – the US, India, Japan and Australia – which are trying to counter China's growing geopolitical influence," the Nikkei Asian Review states.
Nevertheless, the heads of state of the two nations seem to share a somewhat similar political ideology and according to reports, Sri Lanka's president has even sought a 'special' currency swap facility worth US$ 1.1 billion from Indian PM Narendra Modi with the aim of boosting foreign exchange reserves amid the COVID-19 fallout.
SINO INFLUENCE The island's defence sector has been one of the key beneficiaries of Chinese support especially during the latter stages of the civil war, involving military equipment as well as providing training for Sri Lankan armed forces personnel.
China also provided billions of dollars in investment and loans, leading some to argue that the Far Eastern behemoth was engaging in a form of 'debt trap diplomacy,' which is said to be the modus operan-di it employed in other parts of the world as well.
Despite such assertions, media reports suggest that the PRC has more recently been courting not only those in power but stakeholders from across Sri Lanka's political spectrum, marking a shift in its style of diplomacy and thereby possibly cementing an even stronger presence in the country.
REGIONAL IMPACT Whereas the smaller nations in the South Asian region have generally looked to avoid being in the way of hostilities between India and China, continuing to maintain a sense of neutrality could prove difficult in the future.
Sri Lanka along with its regional counterparts such as Nepal and the Maldives may need to reevaluate their relationship with China – which has sought to up its investments in these nations in recent times.
In the case of Bhutan, the Himalayan landlocked nation has encountered tensions over China's opposition to an environmental project located in the Sakteng Wildlife Sanctuary, which falls under Bhutanese control.
Meanwhile, experts believe that the likes of Sri Lanka and the Maldives are less likely to follow India's footsteps in boycotting Chinese merchandise given that they aren't as economically strong to have a substantial impact on China by doing so.
As for Pakistan – with there being no love lost in terms of its immediate neighbour – there can be little doubt as to where its allegiance lies vis-à-vis the China vs India scenario.