PIONEERING SPIRIT

Compiled by Yamini Sequeira
GAME-CHANGING START-UPS
K. H. Wegapitiya envisions entrepreneurism gaining ground in Sri Lanka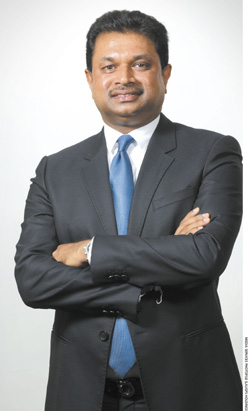 The Doing Business rankings brought good news this year, with Sri Lanka rising to No. 107 in 2016, from 113th place in the previous year. These World Bank rankings reflect an improvement in doing business in this country.
Some of the big-ticket improvements initiated by the Government include eliminating the requirement to notify the Registrar of Companies of the payment of stamp duty for the initial issuance of shares; simplifying post-registration procedures such as tax, and social security registration and licensing; and easing the procedure to gain construction permits, by creating a working group of different agencies that are involved in issuing building permits, so that applicants no longer need to obtain separate approvals.
Since the end of the war, the economy has been projected to grow in leaps and bounds; but over time, those expectations have been moderated and scaled back, due to political upheavals, bureaucratic red tape, global downturns and less than favourable economic conditions, at various points in time since 2009.
PIONEERING SPIRIT Developing economies need a burst of entrepreneurial ventures, to stimulate organic growth. However, access to capital is often cited as one of the roadblocks that discourages the pioneering spirit among Sri Lankans.
As the Group Chairman of Laugfs Holdings W. K. H. Wegapitiya explains, "if an entrepreneur is truly determined, he or she can find a way around the many systemic problems that exist. All an entrepreneur needs is the courage to seek capital, ability to bear risk and have an innovative business proposition. Armed with these three strengths, it is possible to establish a successful business."
"It is a myth that political support is needed to succeed in business. More importantly, we need to deconstruct our bureaucratic policies that have lingered since the country's colonial powers instituted them," he adds.
GLOBAL STANDING Sri Lanka was featured in the recently released annual Global Entrepreneurship Index (GEI), compiled by the Global Entrepreneurship and Development Institute (GEDI). The country appeared on the index for the second consecutive year. But it dropped 16 places, from its debut ranking of No. 71, to be placed 97th in the world.
The International Labour Organization (ILO), in its Sri Lanka Youth Entrepreneurship Roadmap (2004), identified three salient economic factors for potential youth entrepreneurs in Sri Lanka: a lack of access to finance and business support, and the outdated policy and regulatory environment.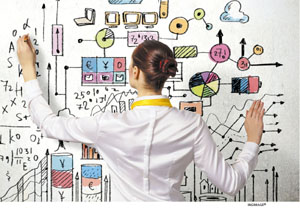 NATURE VS. NURTURE Overall, Wegapitiya avers that Sri Lanka's socio-economic structure does not breed entrepreneurism: "The world over, there's an intense debate as to whether it is nature or nurture that breeds entrepreneurism. Entrepreneurs can be nurtured by planting the seeds early on in life."
"Merely hailing from a business family does not guarantee success. Globally, only 30 percent of businesses survive into the second generation, and a mere 13 percent beyond, to the third generation," Wegapitiya points out.
He decries the usual complaint from businesspeople that the environment isn't ideal, noting that "conditions will never be totally ideal for every sector. Companies must drive growth from within. After all, the demise of great companies is not due to tax policies or labour issues; it's more complex than that. It is usually due to a lack of foresight among managers and business owners, and internal capabilities."
Citing economist Adam Smith, Wegapitiya says certain factors contribute directly to the wealth of a nation – namely, factor endowment and location-specific advantages. He traces the decline of entrepreneurship to a lack of closeness to nature.
"In a country so rich in natural resources, we should be working closely with these resources, to build businesses. Farming should be brought back in a big way, but in a more modernised manner. An abundance of natural resources stimulates creativity, which can then be backed by technological advances," he asserts.

INDUSTRY KNOW-HOW A lack of in-depth knowledge about business is another major failing.
Although many companies are diversifying, so as not to be over-reliant on any one sector, it is important to remain close to the core business, to play to your strengths, he muses.
Wegapitiya harks back to the golden era in Sri Lanka, when successive waves of entrepreneurs helped build rock-solid businesses: "Misplaced nationalism helped dismantle many of these massive enterprises."
"Back in 1957, Sri Lanka had the world's largest private bus network, which was subsequently nationalised, with its management handed over to people who had no knowledge of running a transport business. Similarly, Sri Lanka's flourishing plantations were nationalised, and lost their majesty. There was a time when Sri Lanka had a healthy textile manufacturing industry, too," he recollects.
As we know, the subsequent liberalisation of the Sri Lankan economy, in the 1970s, changed the landscape completely.
TECHNOLOGY INPUTS 'Digital Darwinism' is a new buzzword – it describes an era in which technology and society are evolving quicker than businesses can naturally adapt to, and setting the stage for a new era of leadership, a new generation of business models and the pursuit of 'adapt or die.'
However, for a new generation of business leaders to take root in Sri Lanka, the school and university curricula must promote new ideas and the pioneering spirit. Unfortunately, the Sri Lankan education system does not promote or encourage entrepreneurship that could embed seeds of entrepreneurship early in life.
ANTICIPATING CHANGE In today's fast-changing world, disruptive technology is a new reality with which businesses must contend, which makes what you do today obsolete tomorrow.
Disruptive technology, in the form of new markets and technological innovations, has the power to create and destroy value chains and markets. The chief weapons to combat this would be gaining greater knowledge, visionary foresight, and the agility to transform and evolve.
Sri Lanka's national agency for SMEs, the National Enterprise Development Authority (NEDA), in partnership with the ILO, has launched a national programme to encourage young entrepreneurs to engage in SMEs.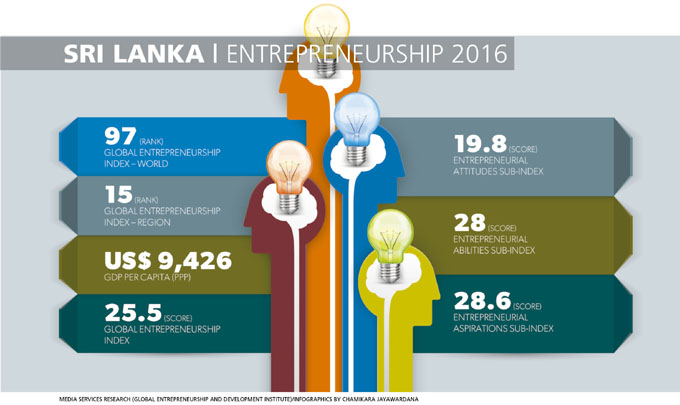 NEDA's Entrepreneurial Reawakening programme opens avenues for youth to embrace entrepreneurship. Just how much ground this programme has covered, since its launch late last year, remains to be seen.

The interviewee is the Group Chairman of Laugfs Holdings