OLYMPIC DEBACLES

BELEAGUERED BRAZIL
Saro Thiruppathy backtracks on the mishaps and missteps that dogged the Rio Olympics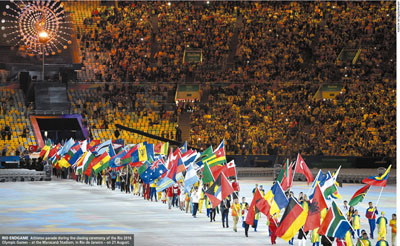 Once a member of the prestigious group of five nations BRICS, Brazil has been the hardest hit over time. Comprising Brazil, Russia, India, China and later, South Africa, BRICS were the big five emerging economies, identified by their advanced economic development. They were also members of the elite cluster of G20 nations.
Since its first summit in 2010, the economies of BRICS members have not been performing too well. Brazil's economy is, in fact, in a shambles. Inflation is over seven percent, which is twice that of Peru and Mexico, while public debt constitutes more than two-thirds of GDP. Graft is high, and political instability reigns, following the impeachment of former president Dilma Rousseff.
Brazil's economy – having contracted by 5.4 and 2.3 percent, in the first and second quarters of this year, respectively – is facing its longest recession since the 1930s. Unemployment has blown out to more than 11 percent, and an estimated 11.4 million Brazilians are unemployed.
So what went wrong in Brazil, when it was destined for greatness?
Turn the clock back to 2009, when Rio de Janeiro won the bid to host the 2016 Summer Olympics, over Chicago, Tokyo and Madrid. While the then president Luiz Inácio Lula da Silva had cause to rejoice the success of the bid, amid a booming economy and high popularity, the news sparked spontaneous dancing on the Copacabana Beach.
OLYMPIC WOES Branded Rio 2016, the XXXI Olympiad was held as scheduled. But it was bedevilled with myriad problems, which ranged from faulty budgeting, to corruption and inefficiency.
The original budget for infrastructure – inclusive of stadiums, transport, the Olympic Village, security and logistics – was an estimated US$ 14 billion.
However, the tab rose to 20 billion dollars, while revenue – according to sports economist Andrew Zimbalist – is expected to be in the region of only 4.5 billion dollars.
In general, cities that host the Olympics do not expect to break even, but Rio has absorbed a huge loss – with money that Brazilians can ill-afford to fritter away. The situation was so bad that less than 50 days before the Games commenced, the State Government of Rio declared 'a state of public calamity,' which is normally associated with natural disasters.
The Governor stated that Rio de Janeiro was bankrupt, and would not be able to honour its commitments to the International Olympic Committee (IOC), without federal help. The Federal Government obliged, with an emergency loan of US$ 850 million.
Trouble continued to dog the preparations, like the polluted Guanabara Bay and the Rodrigo de Freitas Lagoon – the venues for aquatic events
– as well as incomplete infrastructure, both in terms of transport and accommodation for athletes at the Olympic Village. A few days following the beginning of the Games, two pools earmarked for aquatic events turned emerald green – apparently due to a chemical reaction.
Brazil's overestimation of its capabilities and underestimation of costs lie at the heart of its 'Olympian woes.' But the corruption that cuts across the political arena is reflected in other areas as well, and investigations into a number of construction companies involved in building the Olympic sites are afoot.
GLITCHES GALORE According to Reuters, the Brazilian authorities are probing the construction contracts for Olympic venues and infrastructure, for corruption involving the state-run oil firm Petrobras (among others), to the tune of over US$ 10 billion.
Following complaints by participating countries on the appalling conditions of accommodation, the Government rushed in 630 workers, mostly comprising plumbers and electricians, to complete unfinished tasks.
But they were employed without contracts, and made to work on long and unreasonable shifts. Labour inspectors chastised the Government and organisers, noting that if
a worker died or was injured in a work-related accident, his or her family would be vulnerable, as contractual agreements hadn't been signed.
Other glitches included the failure to allot a room for Indian tennis pro Leander Paes in the Olympic Village – he was compelled to leave his gear in Chef de Mission Rakesh Gupta's room.
Nature also chose to add to Brazil's already mounting troubles, entering the fray with the vector-borne Zika virus. The announcement of an outbreak caused a great deal of concern among stakeholders and contenders. Though the Zika virus was predominantly of concern to pregnant women, it was mainly high-profile male golfers and tennis stars who decided to pull out of the Games.
The good news is that there wasn't a single reported case of a virus attack from among athletes or visitors to Rio.
With the coffers running dry, policemen and teachers have not been paid salaries; and Rio's police officers held up a welcome sign to visitors outside the city's main airport, which read: 'Welcome to Hell. Police and firefighters don't get paid; whoever comes to Rio de Janeiro will not be safe.'
These are some of the domestic problems faced by Brazil, aside from the eviction of nearly 400 families to make way for a high-speed bus lane that links the airport with Barra da Tijuca, which hosted the Olympic venues. Eviction of the poor is not new to Brazil; nearly 250,000 Brazilians lost their homes to infrastructure, as the Government prepared to host the FIFA World Cup in 2014.
DRUG CONTROVERSIES Meanwhile, the Russian doping scandal hit the newsstands. Russia's entire track and field squad, and the laboratory responsible for the testing, were banned. In June, the International Association of Athletics Federations (IAAF), the governing body for track and field events, barred Russian athletes from competing in Rio, on the premise that it was not possible to confirm whether any of them were clean or not. Meanwhile, the World Anti-Doping Agency (WADA), in its report, implicated the Russian Government in a state-sponsored doping programme for many years that included multiple sports and hundreds of athletes.
Under pressure to respond, the IOC decided to allow the governing bodies of the different sports to decide – instead of issuing a blanket ban on Russian athletes. Eventually, the IOC cleared the entire Russian synchronised swimming and water polo teams, golfer Maria Verchenova, 18 shooters, an eight-member tennis squad, 29 swimmers, 11 judokas and 11 boxers, to compete in Rio 2016.
MORE CONTROVERSIES There were many other unsavoury incidents during the Rio Games, such as sex-for-money scandals involving participants. Moroccan boxer Hassan Saada was charged with rape, after two local maids accused him of sexually assaulting them. He was stripped of his Olympic competitor status, and spent time in police custody, with a possible jail term of between six and 10 years, if convicted.
A few days later, Namibian flag bearer and boxer Jonas Junias was also arrested, after being accused of sexual assault. Although Junias was allowed to compete in his match (which he lost), he'll also face a similar fate, should he be convicted of the crime.
Then, judging controversies and suspect decisions resulted in the International Boxing Association expelling a number of judges and referees.
On 17 August, the President of both the European Olympic Committees and the Olympic Council of Ireland Patrick Hickey was arrested, and charged with forming a cartel to engage in the scalping and illicit marketing of tickets. Police estimated that the proceeds from the scam were in the region of US$ 3 million. Hickey is currently out on bail, awaiting trial in Rio.
Egypt's judoka Islam El Shehaby was booed by the audience, when he refused to bow or shake the hand of his opponent, Israel's Or Sasson, who won the encounter. The IOC Disciplinary Commission – having issued a severe reprimand to El Shehaby, for violating acceptable behaviour – sent him home.
These were individual incidents, but what brought Team USA into disrepute was the bizarre story spun by gold medallist swimmer Ryan Lochte, wherein he claimed he and his friends had been robbed at gunpoint by persons in uniform, posing as police officers. When faced with CCTV footage, which gave lie to the claim, Ryan pleaded that he'd been intoxicated at the time, hence the whopper. He did offer a cursory apology, but life goes on for Lochte, as he joined the cast of the TV reality show Dancing with the Stars.
Rio 2016 is over, and the victors have returned home. But this time round, there was no dancing on Copacabana Beach; instead, Brazilians were left to clean up the mess, and face the political and financial turmoil that remains – even as they prepared for the 2016 Summer Paralympics.