NOBEL LITERATURE PRIZE
POETIC JUSTICE
Saro Thiruppathy retraces Bob Dylan's contribution to the collective conscience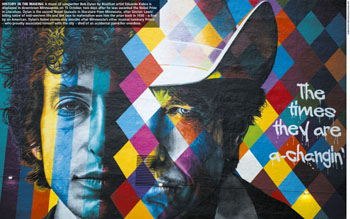 On 13 October, the Swedish Academy that is responsible for the selection of Nobel Laureates in Literature announced that Bob Dylan would be the recipient of the literature prize, which carries a purse worth US$ 900,000. His selection was based on "having created new poetic expressions within the great American song tradition."
According to Alfred Nobel's will, the selectors needed to seek "the person who shall have produced in the field of literature the most outstanding work in an ideal direction." While most of the world rejoiced at the choice, Dylan himself was silent.
On 17 October, his website carried a brief acknowledgement of the award that read 'Winner of the Nobel Prize in Literature,' but that same day the acknowledgement was removed.
Bob Dylan is the first American to win the Nobel Prize for Literature since Toni Morrison in 1993. His notable silence led to much speculation, including that the maverick singer and songwriter was not particularly honoured by the award since Alfred Nobel had invented (among many things) dynamite.
Nobel has been criticised and his motive for creating his prizes questioned over the years. Some have even suggested that it was only done to whitewash his reputation for profiteering in the sale of arms and ammunitions.
However, following nearly a fortnight's silence, Dylan finally accepted the award and said that he had been left "speechless!"
THOUGHT PROVOKING As a child of the 1960s and a teenager in the '70s, Dylan's song Blowin' in the Wind was not only a mantra for some of us, but the first indication that humans could be deaf, dumb and blind when it came to the suffering of others. This may have been the first time I caught onto a song not for its tune (albeit that I didn't find it to be all-endearing) but for the strong message it conveyed.
Many of us lived cocooned lives back then and Dylan's composition had a powerful impact on us. As time passed, his words remained etched in my memory and as I moved on in life, the questions he raised became an active part of my consciousness.
EVOLVED THINKING Born on 24 May 1941 in Minnesota as Robert Allen Zimmerman, he adopted the name 'Dylan' after Welsh poet and writer Dylan Thomas. He received his first guitar when he was 14 and played with rock 'n' roll bands while in high school.
Inspired by musicians like Woody Guthrie, he began to play folk music. He then moved to New York in 1961 to play in clubs and cafés, and released his first album titled Bob Dylan in 1962. This was followed by several more, including Blonde on Blonde in 1966 and Blood on the Tracks in 1975.
What makes Dylan's lyrics so poignant is that he writes from the heart. He protests not only government action but also social injustice. And his passion is embodied in songs like Blowin' in the Wind and The Times They Are A-Changin', which became rallying calls for the American Civil Rights and anti-war movements.
Speaking at a MusicCares event where he was being honoured as 2015's Person of the Year, Dylan referred to his first album Bob Dylan and explained: "All these songs are connected. Don't be fooled. I just opened up a different door in a different kind of way."
It was this 'difference' that has made his songs timeless, continuing to inspire people even half a century later… because the social and political issues that dog society have only become worse over the decades.
ANTI-WAR PROTEST The lyrics of Blowin' in the Wind – especially its reference to war and peace (as cannonballs and doves) – made it ideal as an anti-Vietnam protest song…
"How many seas must a white dove sail
Before she sleeps in the sand?
Yes, how many times must the cannon balls fly
Before they're forever banned?
The answer my friend is blowin' in the wind
The answer is blowin' in the wind."
COLD WAR FEARS Interpreting Dylan's lyrics is not always easy as was the case with A Hard Rain's A-Gonna Fall. This was one of his most dire protest songs and explaining the lyrics, he said that "every line in it is actually the start of a whole song. But when I wrote it, I thought I wouldn't have enough time alive to write all those songs, so I put all I could into this one."
A Hard Rain's A-Gonna Fall was written in 1962 amid the uncertainty of the Cold War. Dylan explained that his reference to 'pellets of poison' was about the "lies that people get told on their radios and in their newspapers," and did not refer to acid rain or nuclear fallout.
The composition was in the form of a question and answer pattern that is similar to a traditional British ballad…
"Oh what'll you do now, my blue-eyed son?
Oh what'll you do now, my darling young one?
I'm a-goin' back out 'fore the rain starts a-fallin'
I'll walk to the depths of the deepest black forest
Where the people are many and their hands are all empty
Where the pellets of poison are flooding their waters."
Though he did not intend it to be an environmental awareness song, it was adopted by the United Nations (UN) as the unofficial anthem for the Copenhagen Climate Summit decades later.
The meaning behind the lyrics Bob Dylan penned for Masters of War in protest against the Cold War was as clear in 1963, when it was released, as it is in today's turbulent world…
"You fasten all the triggers
For the others to fire
Then you sit back and watch
When the death count gets higher
You hide in your mansion
While the young people's blood
Flows out of their bodies
And is buried in the mud."
FIGHTING RACISM Other songs like Oxford Town were written as a result of the racial tension of the 1960s in the US. The 1962 song Ole Miss Riot was the result of segregationist civilians protesting the enrolment of James Meredith – a black US military veteran – at the University of Mississippi (aka Ole Miss) in Oxford, Mississippi, as the lyrics suggest…
"He went down to Oxford Town
Guns and clubs followed him down
All because his face was brown
Better get away from Oxford Town."
In February 1963, a 51-year-old black barmaid Hattie Carroll died after being struck by William Zantzinger – a rich young inebriated white tobacco farmer in Maryland. But he received only a six-month jail sentence for his crime, because of his social position and the colour of his skin.
This case symbolised the deep divide that existed between the blacks and whites, and the rich and the poor, in America in the '60s. Dylan chastised the system in The Lonesome Death of Hattie Carroll…
"William Zanzinger who at twenty-four years
Owns a tobacco farm of six hundred acres
With rich wealthy parents who provide and protect him
And high office relations in the politics of Maryland
Reacted to his deed with a shrug of his shoulders
And swear words and sneering and his tongue it was snarling
In a matter of minutes on bail was out walking
But you who philosophize disgrace and criticise all fears
Take the rag away from your face
Now ain't the time for your tears."
Bob Dylan's disgust with the prevailing racism and prejudice towards blacks was further immortalised in his famous song Hurricane, co-written by Jacques Levy in 1975, which spoke of the false imprisonment of black boxer Rubin 'Hurricane' Carter in 1966.
The civil rights song was credited with making Carter's case known to the public and rallying support for his defence, as it narrated…
"All of Rubin's cards were marked in advance
The trial was a pig-circus, he never had a chance.
The judge made Rubin's witnesses drunkards from the slums
To the white folks who watched he was a revolutionary bum
And to the black folks he was just a crazy nigger.
No one doubted that he pulled the trigger.
And though they could not produce the gun,
The D.A. said he was the one who did the deed
And the all-white jury agreed."
The lyrics of many of his songs are as relevant today as they were at the time he penned them. Dylan is not merely a writer, singer or artist; he is the voice of social consciousness for people all over the world – regardless of their age, race or religion.