MARKETING STRATEGY
THE APPEAL OF INSTAGRAM
The power that Instagram wields in the world of marketing
BY Suganya Manivannan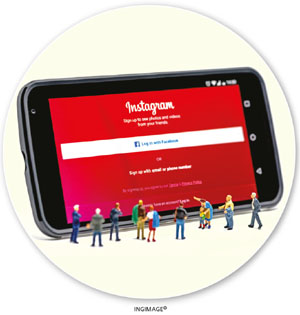 With marketing methods becoming competitive and saturated, a visual real-time platform such as Instagram is often viewed as a blessing in disguise for marketers. According to recent statistics, Instagram counts over 400 million active users monthly with about 3.5 billion photos 'liked' everyday!
That's a whole heap of engagement on a single platform. So if used properly, Instagram can be a fantastic marketing tool. It helps brands create a visual story and engage in real time with their followers. And that's not all. Marketing on Instagram allows you to create user generated content through contests, hashtags and reposts. You can reach double or even triple the number of users with minimal effort and provide share worthy content.
Instagram can work for your brand with a few simple strategies to make the platform a blessing in disguise for your marketing strategy.
But before you begin marketing on Instagram, it's important to determine the overall marketing strategy for your brand. It is common for brands to create brand specific strategies that work across all their social media platforms. With Instagram being owned by Facebook, it is now easier than ever to connect these two powerful social media platforms to boost your marketing efforts.
While most digital marketing initiatives enable brands to reach a mass audience, a platform such as Instagram allows a brand to take this a step further with the use of hashtags. Relevant hashtags allow potential customers to search for you rather than you having to find them. You can also check out what hashtags competitor brands are using to help determine what's working with potential customers.
Many brands also create unique hashtags for the contests they run – which allows other participants to check out the competition and create a buzz – or even centre entire campaigns on a hashtag. In fact, hashtags have become so popular that most Instagram users have begun to use them for personal events such as weddings too.
Another unique aspect of Instagram is its visual appeal. Being an image driven platform, it affords brands an exclusive opportunity to not only turn customers into 'famous people' but also use this base as a means of driving sales. This can be achieved by encouraging users to share pictures of themselves with your products on their Instagram feeds.
Moreover, running contests that invite users to 'regram' their brand images or even acknowledge users who share images of the brand on their social platforms are effective marketing tools. This real-time engagement can make a brand seem more 'human' and encourage users to promote it among their personal social audiences, thereby reaching out to larger but similar consumer groups.
Starbucks has often made use of its followers to create new social content. For example, every few weeks or so, Starbucks acknowledges its appreciation of fans by updating their Facebook cover photos using Instagram images taken by followers.
Brands can also acknowledge their fans by facilitating interaction and engagement on their page. Simply liking and responding to followers' photos, and mentioning them in comments, can lead to the belief that the brand is listening to its fans. In this way, Instagram offers brands an opportunity to market like never before by providing a platform on which to actively converse with and understand fans.
Surprisingly, Instagram – which is often accused of creating 'false truths' – can be the perfect tool to offer followers insights into the inner workings of a brand and help them connect at a more human level.
But with so many brands competing for precious social media space as well as the constantly changing algorithms of social media giants, how can you ensure that Instagram is a blessing in disguise for your brand?
A common mistake many brands make when launching their Instagram strategy is to wait to accumulate followers before posting frequently. This can be a catch-22 situation since it is through frequent posts that you can increase your count of followers. Whether you have only a hundred followers or one million, keep in mind that your fans are following you for quality content. If you fail to deliver, they may forget your brand… or worse, stop following it.
Constantly track progress, and look back on what you're posting and when you are posting. Studying the behaviour of followers – such as with what content they most engage, other businesses and influencers they follow, and the times at which they're active online – will not only help you plan your Instagram marketing strategy but also provide key insights for your other marketing campaigns.
Instagram is not a blessing in disguise – it's a blessing!