LMD TV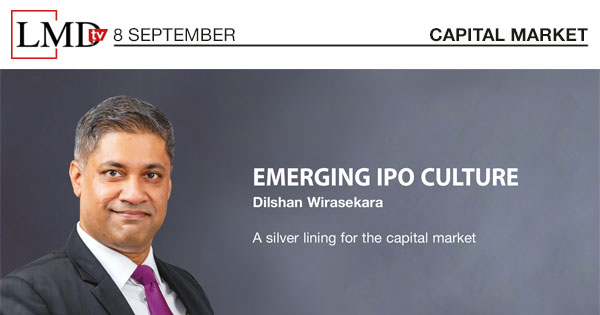 The Director and CEO of First Capital Holdings Dilshan Wirasekara said that "being optimistic and looking at some of the positives that have come about as a result of the present challenges will help us make the best out of the situation."
"The lockdowns and travel restrictions have impacted the economy especially with the tourism industry being closed," he stated, adding that "we have about two and a half million tourists a year, generating revenues of around US$ 4.5 billion and this has been lost for the last 18 months."
However, he believes that the country has done quite well in terms of its vaccination drive, managing to inoculate almost 10 million citizens at the time of his appearance on LMDtv. And he perceives the equity market's performance to be another silver lining: "Our equity market stands as the best performing market in the region."
He remarked: "Import restrictions and substitution brought about due to foreign exchange pressures have benefitted the manufacturing sector where local companies have resorted to producing those goods while the export sector is performing well too."
Wirasekara observed that "public-private partnerships are essential as the government is stretched for resources with a fall in revenue and a high debt to GDP ratio." He explained that "measures to revive the economy such as tax breaks have placed a lot of pressure on the fiscal side," and added that "the private sector is far more efficient and has the drive to succeed."
In addition, he stated that "CEO confidence is dependent on the sector," since the pandemic resulted in an asymmetric impact on different sectors. "According to KPMG's recent survey, 60 percent of corporate leaders were confident about the global economy's recovery over the next three years," he observed.
And he remarked: "The IPO culture received a massive boost as a result of last year's budget proposals," adding that "it incentivised companies to be listed on the Colombo Stock Exchange (CSE)."
A 50 percent corporate tax benefit on corporate profits led to greater enthusiasm among corporates to opt for an IPO.
"Five equity IPOs and a few debt IPOs have taken place this year," Wirasekara observed, stating that "the CSE has raised about Rs. 75 billion capital so far this year from both debt and equity IPOs." He anticipates another 10 IPOs in the pipeline.
Wirasekara noted that "the industry is lobbying for the government to continue offering the tax incentive." Organisations can't complete the listing process within a 12 month time frame, he maintained. And he hopes that the government will extend the tax relief.
"Our capital markets have been undervalued in the last four to five years, which obstructs companies from obtaining the valuations they deserve," he said, pointing out that this has hampered the chances of being listed on the CSE.
However, things have changed for the better, he acknowledged: "With valuations increasing, we've seen markets rebounding… We are still quite well priced regionally."
And he believes that more companies will aspire to be listed on the CSE. To this end, the Securities and Exchange Commission of Sri Lanka (SEC) and the CSE have released new initiatives and different classes of products.
"We've started an SME board and got the first SME listed on it," Wirasekara noted.
And he continued: "There are plans to list a dollar board where companies can be listed to raise foreign currency for overseas expansion."
He perceives "a bright future for the IPO culture and we'll also see a few state entities getting listed on this exchange to find investors."
Rounding up his thoughts on the SME sector, he remarked: "As citizens, we can support this sector by purchasing goods and services from them."
He also highlighted the importance of moratoriums being given only to those who deserve it to avoid adding undue pressure on the banking or the non-bank financing and leasing sector.