LMD TV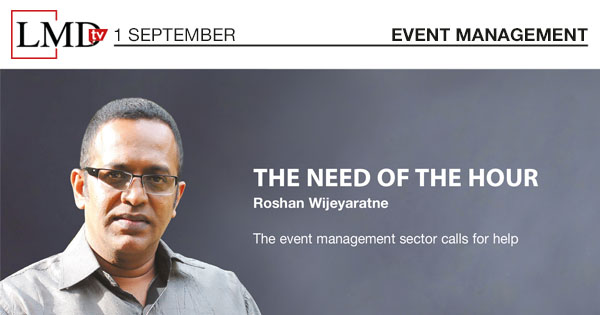 "The only way to control the spread of the virus is through a lockdown so that the healthcare sector can get its act together," noted Roshan Wijeyaratne – President of the Event Management Association of Sri Lanka.
He cited the crisis in the event management sector and lamented: "Our sector has been shut for the last 18 months since the first wave… Once it reopens, we're likely to face issues in finding staff and replacing equipment."
Wijeyaratne pointed out that "the event management sector has invested substantial sums of money on technology and training people – i.e. technicians, creative and so on."
"We work seven days of the week, 20-30 hours at a stretch," he revealed, adding that the sector anticipates challenges in getting staff back once they find work in other jobs and become accustomed to regular '9-5 jobs.'
And he stated: "Companies have spent hundreds of millions of rupees on technology and electronic equipment, such as sound systems, LED screens, projection equipment and so on but these have been in storage for one and a half years."
"The challenge is in how to replace this equipment due to lack of funds," he added.
Wijeyaratne continued: "We'll also have import restrictions with the exchange rate devaluation." And he shared his concerns about the viability of importing equipment, summing up as follows: "It's a sector that was built over time and I feel that we have a lot of work to do to restart from the bottom to get it going."
Sri Lanka's event management sector has conducted events for the last three decades. Initially, it lacked infrastructure, equipment and talent. And as he noted, "even when we managed foreign events, we had to bring down people, expertise and equipment from overseas."
"Our local market is estimated to be a Rs. 32 billion sector with more than 100 event management companies," stated Wijeyaratne, adding that "the global sector was valued at US$ 1.1 trillion in 2018 and is projected to grow to 2.3 trillion dollars by 2026."
He believes Sri Lanka has the potential to grab a "huge piece of this cake – especially through the meetings, incentives, conferences and exhibitions (MICE) sector," and revealed that the Asia-Pacific's MICE sector is worth US$ 230 billion.
"This is why I say that this sector is absolutely important for the economy to earn foreign exchange," he stressed.
Commenting on the role of the Event Management Association of Sri Lanka, he said: "The association was established by the sector following the Easter Sunday attacks to see how we could engage with the government and work together."
The association focusses on the long-term operations of the sector and aspires to raise standards. He noted that "we were keen to ensure that the government recognises our sector."
With 65 members at present, the association maintains rigorous criteria for membership admission. "To join the association, companies must have a minimum of five years' experience in the sector, have conducted at least 30 events with an average of five events a year and be a legally registered company in Sri Lanka."
Wijeyaratne noted: "Immediately after the [first] lockdown was imposed, the local event management sector shifted to online events… It's not a matter of simply doing a Zoom event but involves creativity to develop the software, studio and so on when organising a virtual event."
With the sector's experience conducting virtual events for foreign clients due to its high standards, it has managed to continue this form of event management for the past year or so but he noted that "it's not the answer for us since virtual events will not pay the bills."
Concluding his interview, he remarked that government support is vital to help revive the sector: "Sri Lanka will be a MICE destination once the CIFC (Port City) opens since many companies will arrive."
Finally, he added that "regulations must be decided with the main stakeholders of the sector."