LEASING SECTOR
VEHICLE LEASING 

PULL OVER
Compiled by Yamini Sequeira
AT THE POLICY CROSSROADS
Sabry Ibrahim discusses the impact of Sri Lanka's new import policy regime
The performance of non-bank financial institutions (NBFIs) slowed during 2017 – a year characterised by low credit growth, declining profitability and an increase in nonperforming loans.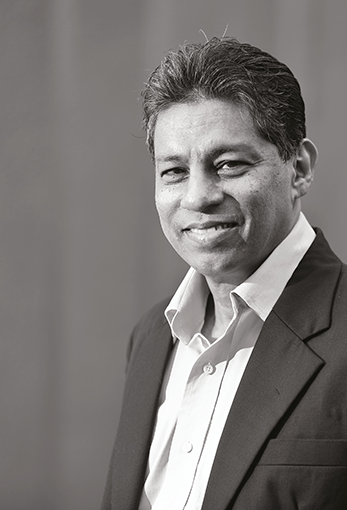 This slowdown was a result of fiscal and macro prudential policy measures to curtail the importation of motor vehicles, moderate economic growth, high interest rates, and natural calamities such as floods and drought conditions. This led credit growth in the sector to decelerate to 9.8 percent compared to 21 percent during 2016.
Around 62 percent of this growth emanated from finance leases while 36 percent came from secured loans and advances. Meanwhile, the hire-purchase portfolio contracted by nearly 36 percent in 2017. The growth of the finance lease portfolio in 2017 was 13 percent compared to the 17 percent recorded in 2016.
The number of new vehicle registrations decreased by 8.4 percent in 2017 to 451,653 following a decline of slightly over 26 percent in the previous year. This slide was witnessed most in relation to three wheelers and dual purpose vehicles, as well as motorcars. Meanwhile, the registration of buses and vehicles for transporting goods increased last year.
TOUGH TIMES The reduction in motor vehicle registrations in 2017 could be attributed to the slump in loan to value (LTV) ratios for selected vehicles with the aim of reducing imports to the country. Tax revisions on the importation of motor vehicles and a marginal depreciation of the Sri Lankan Rupee against the US Dollar also contributed to a decline in new vehicle registrations last year.
Sabry Ibrahim remarks: "We understand the challenges that the government is facing in terms of the balance of payments, congested roads, spiralling pollution and poor air quality. However, given that vehicle leasing represents a major chunk of commerce for NBFIs, business has been impacted adversely."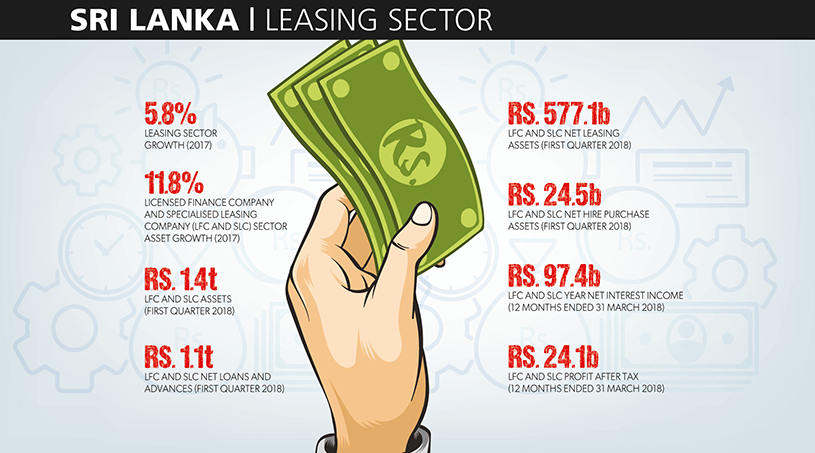 "The LTV restriction on vehicle imports has put a dampener on imports. But since the restriction does not apply to commercial vehicles, this sector has helped mitigate the losses experienced in the passenger car segment," he notes.
Yet another fallout of the LTV rule is that it suddenly rendered leasing a bankable business for banking institutions, which enthusiastically entered the fray since LTV ratios render leasing a less risky proposition. Ibrahim contends that "considering that banks have access to cheap funds and the facility of current accounts, it is inevitable that they will carve out a share of the market from NBFIs."
He goes on to note that access to funding remains an issue, and finance companies are filling this void due to their greater risk appetite compared to most banks – and consequently, their reduced reliance on security. However, Ibrahim feels that provision should be made to secure collateral more efficiently as the prevalent legal route could take anywhere from five to seven years and prove to be prohibitively expensive.
GOING GREEN One of the key motivations for increasing LTV ratios was air pollution levels in Sri Lanka. Studies indicate that the main source of ambient air pollution is vehicular emissions, which accounts for over 60 percent of total emissions in the city of Colombo.

The government has introduced a carbon tax with applicable rates for a motorcycle, car and passenger bus being around 17 cents, Rs. 1.78 and 2.74 rupees a day respectively.
Proposed under the 'Blue-Green Economy' budget, and aimed at reducing environmental risks and ecological imbalances, the tax will be based on the engine capacity of motor vehicles with the rate depending on the age of a vehicle and the fuel it uses. Electric vehicles are exempted from the levy. The government expects an inflow of Rs. 2,500 million in revenue from this tax.
The proposed carbon tax in Sri Lanka could well be a key policy instrument to help the country meet its commitments under the Paris Agreement, which is an action plan aimed at mitigating greenhouse gases, as well as facilitating adaptation and finance.
Reconditioned vehicles represent a sizeable chunk of vehicle imports. And the rule that reconditioned vehicles older than two years cannot be imported is a positive move. This is because it will control emissions from vehicles that are not roadworthy.

Cognisant of the impact on the environment, large companies in the sector have embarked on a variety of environmentally-friendly initiatives. Some leasing companies have implemented robust CSR programmes to reduce the carbon footprint and finance environmentally-friendly hybrid vehicles backed by government concessions.
Ibrahim elaborates: "The increase in vehicle taxes has put paid to the plans and aspirations of customers wishing to purchase their dream cars – and passenger vehicles have witnessed a steep decline during the year. Fortunately for the sector, the commercial vehicle segment grew because it doesn't have to deal with LTV issues."
"Rapid infrastructure development and construction of high-rises and roads are driving demand for commercial vehicles for transporting men and materials," he adds.
RECOVERY HOPES Looking ahead, Ibrahim asserts: "The government has projected 4.5 percent economic growth for 2018. For a country at our stage of development however, we need six to seven percent growth to really take off."
"But to achieve more, there's a need for political stability and policy consistency to attract direct investments in large projects since we do not have sufficient savings to fund our own infrastructure projects. There is a need to create the right environment for which we must invest in and promote tourism – it has the potential to be a game changer because we enjoy a distinct competitive edge in tourism," he emphasises.
Ibrahim says that although road connectivity has improved tremendously over the last few years, economic growth needs to filter down to rural areas. "We need to go much further as there's still a lot to do in terms of improving infrastructure, road networks, power generation and so on," he says.
"The leasing sector is vulnerable to policy instability and interest rate volatility. There's a surfeit of players in the sector but the Central Bank of Sri Lanka has tightened regulation and challenged these entities with much higher minimum capital requirements. This will lead to mergers and consolidations, and an eventual rationalisation of numbers," he concludes.
The interviewee is the Chief Executive Officer
and GM of People's Leasing & Finance (PLC)