JAPAN TRANSITION
JAPAN'S
LAST

STATESMAN?
Sandesh Bartlett deliberates over Shinzo Abe's role as a master statesman
When Shinzo Abe made known he would be vacating the Kantei in August this year, he left several problems for his successor and right-hand man Yoshihide Suga. Abe's resignation, announced only days after he became Japan's longest serving prime minister, comes at a time of waning brilliance for the land of the rising sun.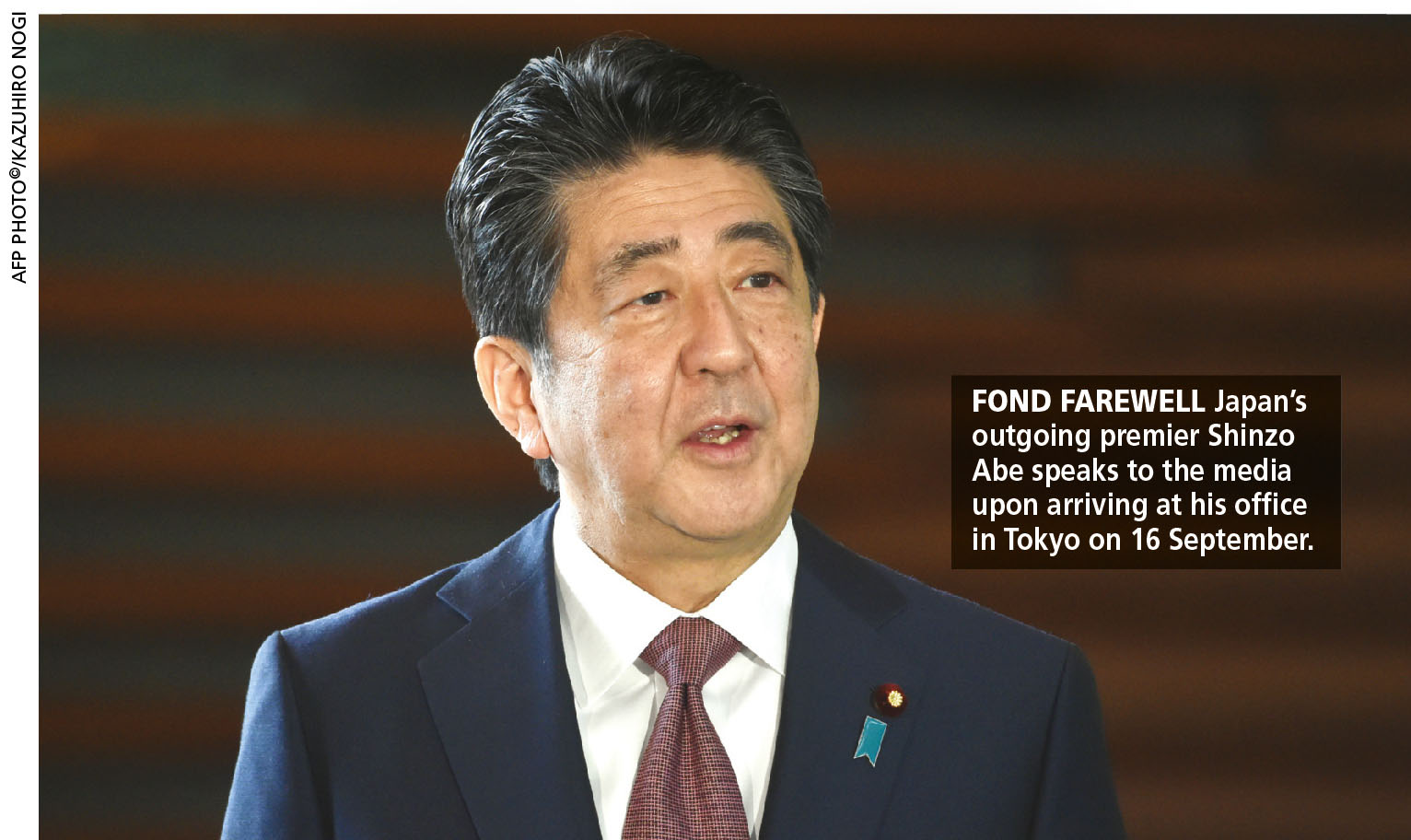 Suga will assume duties during a period where an anaemic Japanese economy has to wrestle the economic repercussions of the COVID-19 pandemic. Additionally, the new premier has to man the helm at a time when Japan's shrinking and ageing population must be content with the growing aggression of China as a regional and international player.
This in turn is compounded by Abe's inability during his tenure to revise and broaden the interpretation of Article 9 of the Japanese Constitution to offer the country's Self-Defense Forces the teeth to engage in war collectively with better legal grounding.
Yet, as several commentators have noted, Abe's resignation – necessitated by his long battle with a chronic intestinal ailment – mutes the statesman's brilliance. As The Economist says, the former premier's success as a leader must be gauged sans the environment of his resignation.
'Abenomics,' the suite of economic policies introduced by Abe upon his return to power in December 2012, was in fact revitalising the Japanese economy prior to COVID-19 – albeit not at the pace Abe had hoped.
The three 'arrows' of Abenomics have witnessed mixed success. Although the first – viz. monetary easing – missed its target of two percent inflation, it helped pull the economy out of deflation to positive levels with more vigour being injected as a result of the second arrow of fiscal stimuli. Critics argue that it may have been the third arrow, structural reforms, which struggled to gain the desired momentum.
While Abe targeted both female empowerment – through a combination of subsidies and free nursery schools – as well as digitalisation to tackle Japan's tendencies for bureaucracy and an antiquated corporate sector, he may not have gained the level of success he'd hoped for; although more women are willing to work as a result of the reforms, corporate culture in Japan remains a sexist quagmire unwilling to fully make use of their skills.
Furthermore, whereas Abe's tenure has seen more migrant workers in Japan and increased foreign investment, both the corporate sector and government maintain a level of rigidity and unwillingness to digitalise that will not enable the country shirk its taste for bureaucracy.
Abe who famously declared "Japan is back" had hoped to return some pride to the Japanese public and boost nationalism by spearheading the 2020 Olympic Games bid. While the pandemic might have diminished his hopes with the Tokyo Olympics being postponed, Abe may have succeeded in another sense.
The Economist also notes that Abe – a nationalist through and through – was expected to lock horns with China and isolate the country from its traditional allies.
Instead, he steered Japan's military capabilities and assertiveness away from its pacifist post-Second World War constitution, with legal changes and more spending, while simultaneously being an able handler of diplomatic ties with China – most likely due to his personal rapport with Chinese President Xi Jinping. His diplomatic deftness in helping thaw Sino-Japanese relations has also meant that Abe handled US-Japanese ties as skilfully.
Abe's diplomatic charm worked wonders on President Donald Trump; he was not included in Trump's tiradeof barbed comments targeted at G7 leaders in 2019 and the US president has since offered his "highest respect" for the outgoing premier whom he deemed "a very great friend," according to Bloomberg.
It should come as no surprise then that Abe's international contemporaries have praised the Japanese premier for his leadership with Australia's Scott Morrison calling him the region's 'senior statesman' for his stabilising role – Abe brought about security ties with Australia and many nations in Southeast Asia while also building a rapport with India – all without earning the enmity of China.
Suga must now resume Abe's work while also dealing with what his predecessor could not address. There will be short-term measures for the new premier such as dealing with the myriad challenges posed by COVID-19 as well as other long-term issues.
Abe might have revitalised the economy to some extent but he also left his post with several unresolved issues such as an ageing population and a large public debt. At the end of last year, Japan's gross government debt ratio amounted to 230 percent of GDP.
The complications of a fragile economy on the mend, compounded by the events of this year, mean that Suga – who was once quoted saying he preferred to work in the shadows rather than live in the limelight – must step out of his predecessor's shadow and play his cards twice as skilfully.