GEM AND JEWELLERY SECTOR

Compiled by Yamini Sequeira
A TREASURE LIKE NO OTHER
Shezard Careem shares his vision for the precious gem and jewellery sector
Q: In your opinion, how has the gem and jewellery sector contributed to the economy?
A: Historical records indicate that the gem and jewellery sector existed here in Sri Lanka as far back as in 400 BC. So it has been an integral part of the national economy for a very long time.
The sector provides employment throughout the supply chain ranging from miners, gem cutters and dealers, jewellery craftsmen and wholesalers, to the tens of thousands employed in the retail trade. It is also a leading source of foreign exchange for the country by way of exports as well as sales to tourists visiting our shores.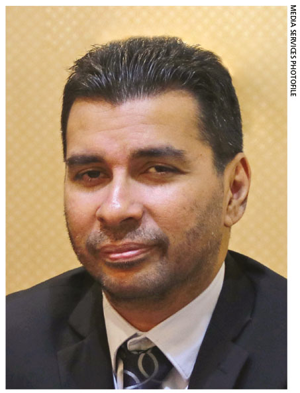 Q: Has the sector grown substantially in the last five years?
A: Overall growth has been moderate in the last few years. On the export front, the main obstacle has been the slowdown of the Chinese economy, which is our main market. Economic growth in traditional markets such as the US and Europe has also been nominal.
Q: What are the obstacles to more rapid sector growth?
A: Besides relatively slow economic growth, there's a lack of a long-term vision to transform Sri Lanka into a competitive international hub for luxury goods.
For example, luxury goods producers, and the economies of markets such as Singapore and Dubai, continue to benefit immensely from low taxation and import tariffs, which encourage tourists to spend lavishly at shopping malls.
The Sri Lankan government needs to look at these success stories, and implement similar business friendly policies as well as a complementary regulatory environment. At present, import taxes on gold and a majority of luxury goods continue to be excessive.
Q: Could you outline the challenges faced by the sector?
A: The shortage of skilled jewellery craftsmen is a major challenge. In the past, craftsmen would follow in the footsteps of their parents and ancestors, and take up the same profession.
Since it requires many years of training to become a skilled craftsman, many present-day youth prefer to take on easier jobs. And we lack the capital and branding know-how to market Sri Lankan gemstones and the sector on a global scale.

Q: Has the gem and jewellery sector evolved in terms of tech adoption?
A: Yes, computer-aided design and manufacturing (CAD-CAM) are increasingly being used, which enables jewellery designs to be displayed to customers more realistically prior to production.
Also, manufacturing processes can be more accurate and expeditious. On the marketing front, many retailers are employing social media and various online platforms to connect with customers, both locally and globally.
Q: Which gem and jewellery products have the highest demand?
A: First and foremost, Sri Lanka continues to be the world's premier source of fine quality sapphires. Blue sapphires as well as sapphire studded jewellery enjoy the highest demand. Diamond jewellery is popular globally. As far as engagements and weddings go, the younger generation in Sri Lanka prefers diamond jewellery. The market for traditional gold jewellery also continues to be steady.
Q: And what is on your wish list for the sector?
A: I wish to see Sri Lanka emerge as a major international hub for coloured gemstones and high quality jewellery, comparable with markets such as Dubai, Bangkok and Mumbai. And I would like to see Sri Lankan jewellers following in the footsteps of entities such as Dilmah and Spa Ceylon.
Q: Are other foreign markets proving to be competitive?
A: Competition from markets such as Thailand, India and China has existed for many decades. These countries have much larger pools of labour, and are able to achieve economies of scale to mass cut gemstones and produce jewellery.
Sri Lanka's strategy should be to leverage on the high quality of gemstones we're able to source locally and focus on manufacturing high end uniquely designed jewellery.
Q: What are the strengths and weaknesses of the sector?
A: The strengths would include the global reputation for the fine quality of gemstones we are able to offer and a sector where many firms remain deep-rooted family businesses, with knowledge and passion having been passed down the generations.
But the lack of a training school of international standard for jewellery design and manufacturing is a definite drawback. There's also so much that local firms can learn and adopt – in terms of marketing, branding and best practices – from larger established international jewellery brands in Europe and the US.
Q: And last but not least, how would you describe the future potential of the sector?
A: I remain optimistic about the future of the sector, which boasts many talented and knowledgeable stakeholders. And it's heartening to see young creative designers emerging with their own niche jewellery businesses that focus on a unique sense of style.
As long as there's a consistent business friendly regulatory environment – and the sector continually strives to improve, commit to best practices, and understands the importance of being innovative and creative – a bright future lies ahead!
The interviewee is the Managing Director of Careems