THE US TODAY
MAKE AMERICA GREAT AGAIN?
Monita Pesumal has the low-down on the world's largest economy and foremost military superpower
Fifty economically diverse states, a GDP that accounts for a quarter of the world's output, an average annual growth rate of three percent, unemployment of 3.6 percent coupled with wage increases in the low single digits, US$ 610 billion in annual defence expenditure, some 200 billion dollars in tariffs imposed on Chinese goods, government debt at an all-time high of US$ 22 trillion – and in the midst of it all, a Twitter loving president!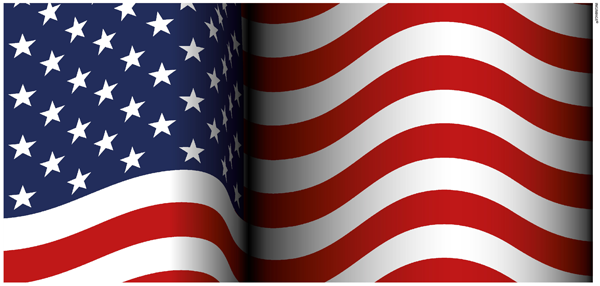 "In just over two years since the election, we have launched an unprecedented economic boom; a boom that has rarely been seen before. There has been nothing like it," President Donald Trump said at the start of his State of the Union Address in February, adding that "an economic miracle is taking place in the United States."
Was this fake news?
Trump is known to utter a lot of nonsense… but not this time. In fact, he was on point.
According to recent data, the current US expansion is the longest on record. This June marked a decade of the United States' economic recovery. So in all probability, Trump can only take 20 percent of the credit for the surge in the US economy.
In his two and a half years in office so far (eventful for him but stressful for the rest of the world!), Trump has renegotiated NAFTA with Canada and Mexico, held talks with North Korean leader Kim Jong-un, withdrawn from the Iran nuclear agreement, recognised Israeli sovereignty over Jerusalem and the Golan Heights, and more recently, imposed tariffs on Chinese imports.
The US is the world's largest importer and second largest exporter. Agricultural produce, machinery, electrical equipment, computers, minerals, oil, aircraft, spacecraft, vehicles, medical apparatus and pharmaceutical exports make up 12 percent of the economy. Over a third of these goods go to Canada and Mexico, and the rest to Japan and China in the main.
This brings us to Trump's trade war with China. In March last year, he signed a memorandum to impose tariffs on Chinese products such as those related to aerospace, ICT and machinery, which were brought on by the fact that China absorbs eight percent of all US exports while America's Chinese imports are higher at 21 percent.
The trade war was launched on the premise that the US economy is stronger than that of China. In May last year, following trade talks in Beijing, the US and China agreed to put the trade war on hold – with China reportedly agreeing to purchase more American goods to reduce the gap between the two countries.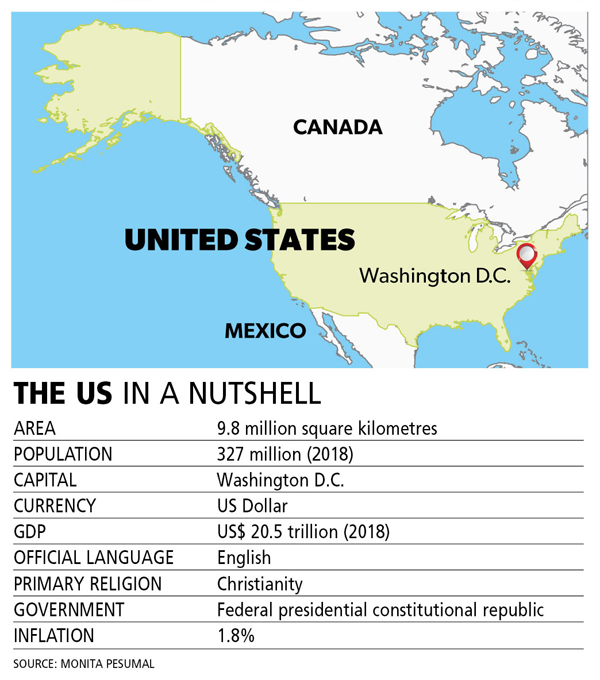 But in July 2018, the war began to heat up as the American economy was booming whereas China's was slowing down. Therefore, the US was in a better position to withstand any backlash from China. The US has already slapped tariffs on US$ 250 billion worth of Chinese products and threatened to impose tariffs on a further 325 billion dollars.
For its part, China has imposed tariffs on US$ 110 billion worth of American goods and is threatening measures that would affect US businesses operating in China. More recently in May, the US placed Huawei on its 'entity list,' banning American companies from selling to the Chinese telecommunications giant without government approval.
Meanwhile, Trump met with Chinese President Xi Jinping at the G20 summit in Osaka at the end of June. Previously, Trump had gone on record stating that an additional wave of US tariffs on Chinese goods would come into effect if Xi didn't meet with him during the summit.
Trump's other aggressive trade moves include threatened tariffs on Mexico. He proposed a tariff on all goods from Mexico to force authorities to stop immigrants from Central America crossing the border into the United States. However, the plans were suspended in June after the two countries struck a deal on immigration. The dispute had threatened to raise costs for US companies and consumers, and expand the world trade war.
On the political front, tensions between the US and Iran have escalated in recent weeks with Washington bolstering its military presence in the Middle East through an additional 1,500 troops and Tehran threatening to enrich its uranium stockpile closer to weapons-grade levels from 7 July.
These tensions have come a year or so after Trump withdrew from Iran's 2015 nuclear accord and reimposed sanctions that are destroying the lives of ordinary Iranians while sending inflation through the roof.
Another probable reason for the great American boom right now is the rapid advance of technology. For example, the 'FAANGs' (an acronym for the market's five most popular and best performing tech stocks – viz. Facebook, Apple, Amazon, Netflix and Alphabet's Google) are based in the United States.
However, that isn't to say America doesn't face any persisting challenges – they include the treatment of minorities by the criminal justice system, illegal immigration, climate change, the rich-poor disparity and gun violence.
One might also be tempted to add Trump's 2020 reelection bid to this list along with his constant barrage of tweets!