DICTATORS' BOOKLIST
REMEDIAL READING FOR BRUTAL DICTATORS
BY Angelo Fernando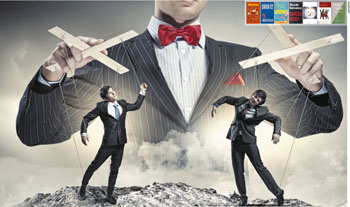 I'm not sure what books Syrian President Bashar al-Assad is supposed to have read while he was in medical school in Damascus… but I'm itching to blame his professors in London for not giving him some compulsory reading.
Don't you think many geopolitical conflicts could've been avoided had despots read some decent literature in their youth? I'm not talking about books like the Handbook for Dictators, which shockingly doesn't feature topics like 'How to distract UN inspectors sniffing out chemical weapons.'
What if Robert Mugabe had read Robert Frost? Or Joseph Stalin had read Joseph Conrad? Would history have been different had Pol Pot been taught to appreciate Tennyson? Would Donald Trump have taken a different world view had he read Rabindranath Tagore?
You know – 'Where the world has not been broken up into fragments by narrow domestic walls' and so on…? Just asking!
So I consulted a few experts on how to fix this problem and here's a remedial reading list for current and would-be dictators.
CHINAMAN (by Shehan Karunatilaka) First off the bat, this book comes highly recommended by Dr. Harshana Rambukwella of the Open University of Sri Lanka (OUSL). He says it deals with the moral values of those who manipulate the game of governance. "Rich in humour and narrated by a cynical drunk uncle, it takes a whack at several of Sri Lanka's holy cows," he observes.
One reviewer on Goodreads says that even if cricket makes you snore, it packs a "sly wit, and penetrating social and political critique… of human nature." Could someone send Vladimir Putin a link to the book on Amazon?
CATCH-22 (by Joseph Heller) This 1955 classic that everybody likes to quote from is about the deceptions and falsehoods we cannot distinguish between.
It deals with how war is being run as a private enterprise. A character (Milo) who supports the allies but does business with the axis of powers says: "If I can persuade the Germans to pay me a thousand dollars for every plane they shoot down, why shouldn't I take it?"
It is a book that any military general who takes over the presidential palace would find difficult to put down. Not sure if this was compulsory reading for Egypt's Abdel Fattah el-Sisi who read for his Masters at the US Army War College.
THE BFG (by Roald Dahl) The acronym BFG stands for 'Big Friendly Giant.' This is a children's classic but don't let that fool you. Through BFG's eyes, we see a tribe of giants who get their kicks (well proteins really!) by snatching and devouring humans every night. They have no moral code but they don't kill their own kind.
Dahl was a fighter pilot and intelligence officer during World War II. If only he could have knocked some sense into Hitler.
CANCER WARD (by Aleksandr Solzhenitsyn) Evidently 'cancer' is an allegory for the brutality of the regime. First published in Russia and then banned, it made it to the outside world through an unauthorised version of it being published in the UK and US.
While seemingly being about disease, it's often read as being about the cruelties of a police state that focusses on the vulnerabilities of the human condition. Let's pray that Kim Jong-un gets his hands on this one.
STONE SOUP (by Jon J. Muth) This book is about three monks who travel a mountain road seeking what makes them happy. They arrive at a tiny village that is mistrusting of strangers. But a farmer, tea merchant, scholar, seamstress, doctor and carpenter realise that sharing their individual resources is what made them richer.
Know any capitalist tyrants who could take a page from this?
MACBETH (by William Shakespeare) For leaders medicating themselves with large doses of hubris and greed, and some even consulting clairvoyants, note that the warning has been around for more than 500 years – the fate of a nation is tied to its moral corruption.
As demonstrated by Lady Macbeth, things go into a downward spiral when the First Lady becomes involved. Imelda Marcos and Eva Peron probably skipped this complex tragedy.
ANIMAL FARM (by George Orwell) It reads like a handbook for dictators (and is apparently banned in North Korea) with some awkward outcomes.
Orwell famously said: "One does not establish a dictatorship to safeguard a revolution; one makes a revolution to safeguard a dictatorship." The next time you see a VIP driving around in a super-luxury car, run to the nearest bookstore, buy a copy of this book, place it in a large envelope and drop it off at the parliament. Address it to 'His Excellency,' with no return address of course.
For added effect, stick a Post-It on the page that says: 'All animals are equal, but some are more equal than others.'