COVER STORY

WHERE THE BUCK STOPS  
A WISH LIST FROM THE HORSE'S MOUTH
Yamini Sequeira

  speaks to a cross section of export sector leaders about the state of play amid multiple crises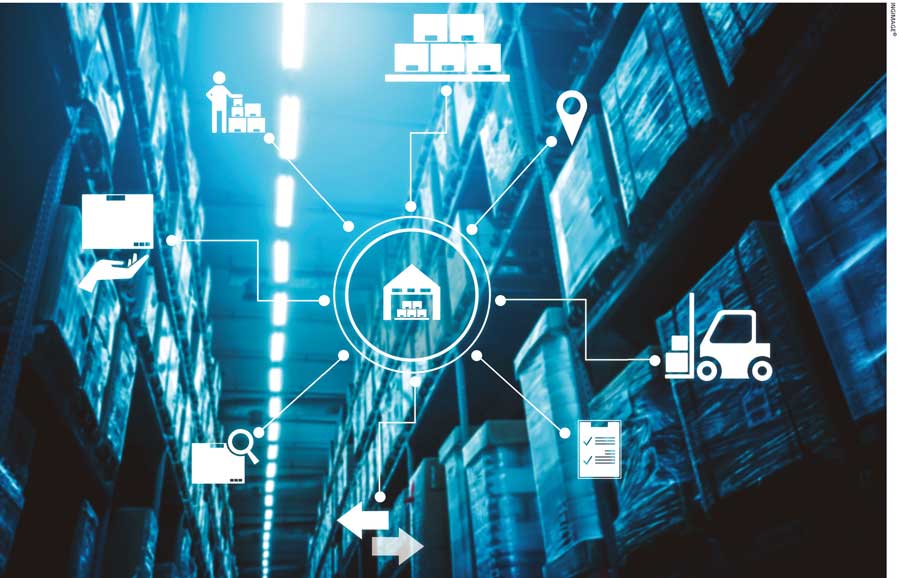 "Our export results in 2021 are particularly noteworthy given the global trading environment. Some of our peer nations have experienced material declines in trade while Sri Lanka has maintained growth. This is a testament to the tenacity of our exporters and the relentless enhancement of their value proposition to customers," says the Chairman and Chief Executive of the Sri Lanka Export Development Board (EDB) Suresh de Mel.
Sri Lanka's merchandise exports surpassed a milestone of US$ 12 billion and reached 12.5 billion dollars in 2021. Many sectors including major export earners experienced a noteworthy revival during the year. These sectors include apparel and textiles, tea, rubber and rubber finished products, coconut and coconut-based products, electrical and electronic components, spices and essential oils.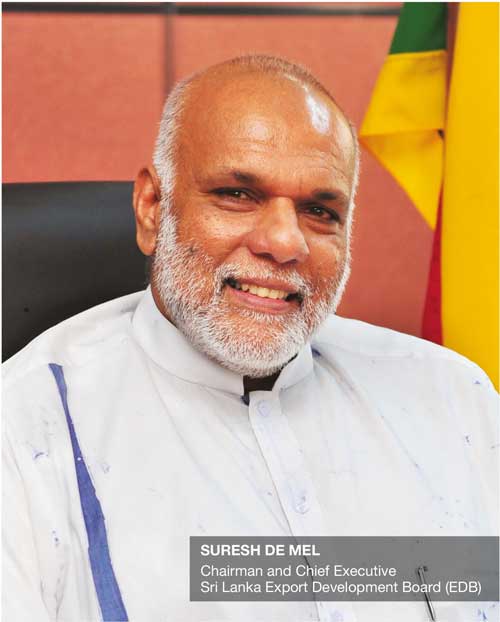 The export of services also displayed a significant improvement last year as it expanded by 22.6 percent compared to 2020. These consist of ICT/BPM, construction, financial services, transport and logistics in the main.
Commenting on how he perceives the global economic recovery, De Mel responds: "Economies around the world are now experiencing a third year of the COVID-19 pandemic. According to the World Bank, the output of many countries rebounded last year in comparison to the substantial decline in 2020. Global economic growth recorded 5.1 percent in 2021 but this is expected to decelerate to 4.1 percent this year."
He points out that output in the South Asian region has recovered since the third quarter of 2021. Inflation in the region has spiked due to supply-side problems, and increases in energy and food prices. However, the challenges faced in 2021 are gradually resolving with output in the region expected to expand by 7.2 percent in 2022 compared to seven percent last year.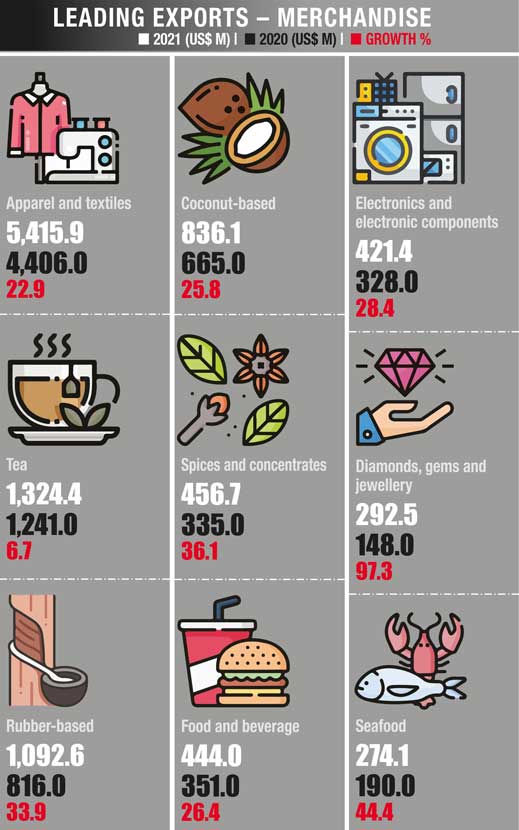 On our nation's position, De Mel asserts that "Sri Lanka is among the top countries in the region to vaccinate most of its population against COVID-19. Our macroeconomic policies remain accommodative to keep the economy stable. Therefore, we believe that the economy and export sector will recover further in 2022, and achieve set economic and exportation targets."
Some of the potential items for export currently being developed are organic products, natural ingredients (e.g. spices and concentrates, as well as health food and superfoods), herbal teas, personal protective equipment (PPE) related items (e.g. face masks, surgical gloves, polythene coveralls and sanitisers), and marine and offshore services.
Regarding roadblocks that the exports sector faces, he avers: "We need to come together to work as a united force aligning with government policies. Due to COVID-19, many SMEs struggled but e-commerce was highly successful and changed spending patterns in most consumers. So the growth of e-commerce is the new business model that should be embraced by enterprises to operate in the post-pandemic era."
Sri Lankan SMEs represent a high percentage of established businesses in the country and the sector is fragile – so it needs to be nurtured with due care. De Mel stresses: "Being part of a larger value chain is critical for SMEs to become more stable."
In his view, Sri Lanka needs to look for avenues that add more value: "Being a small island, we have to pursue greater value addition. Furthermore, we should be looking at high end niche markets that will pay premium prices. Sri Lanka has investors who have invested heavily in value addition but this should be a practice among all our entrepre­neurs."
What's more, Sri Lanka has been overdependent on a few markets and catering only to them for the past few decades. De Mel recommends: "We should be willing to diversify to new markets, and it's high time to make that change happen. Businesses should look for new sourcing destinations in the future to maintain production lines."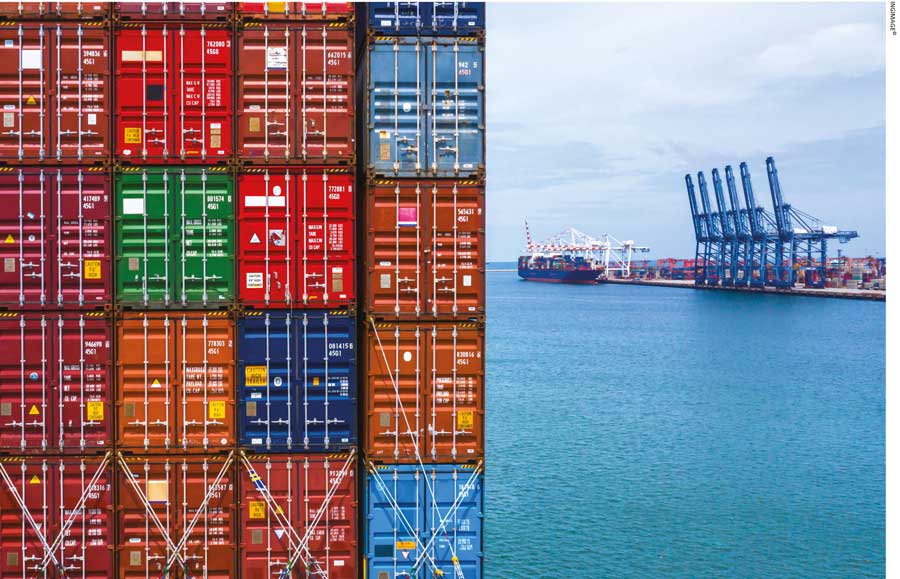 The COVID-19 pandemic has certainly affected the outlook for global maritime trade and the world economy; and Sri Lanka is no exception, since it's a part of this supply chain. Moreover, the Sri Lanka Ports Authority (SLPA) has had to adjust to the reality of lower volumes, workforce shortages, implementation of occupational health and safety measures for dockers and shore personnel, and the adoption of teleworking and remote operations for office workers.
Dr. Prasantha Jayamanna – the Chairman of SLPA – states: "Various policy changes had to be made by all the cargo and container handling terminals to resolve issues relating to COVID-19 and work challenges in the port sector. Despite these issues, SLPA was able to realise a number of impressive achievements."
"Sri Lanka sealed its largest ever investment in the port sector worth US$ 650 million together with joint project promoters India's industrial giant Adani, conglomerate John Keells Holdings (JKH) and SLPA. The three parties signed a build, own and transfer (BOT) deal for the Colombo West International Terminal (CWIT)," he elaborates.
SLPA has launched a project to develop and promote the Galle port as a fully fledged tourist facility and leisure hub with an investment of US$ 175-200 million. The four year project is headed by the SLPA and will be developed as a public-private partnership (PPP).
Phase II of the East Container Terminal (ECT) of the Port of Colombo has also commenced. It will comprise a quay that's 1,320 metres long to accommodate three ultra-large container carriers (ULCCs) with an approximate terminal area of 72 hectares. This will be the second deep-water terminal and add another 3,000,000 twenty-foot equivalent units (TEU) to the port.
Meanwhile, SLPA has also begun construction of Phase Five of the Jaya Container Terminal (JCT) to improve the capacity of Colombo's port. Upon completion, a new yard area of 40,000 square metres will be added to the JCT.
In 2020, the port's annual throughput decreased to 6.8 million TEUs but regained its momentum in 2021 to reach pre-pandemic levels. Last year saw a total of 7.2 million TEUs being recorded. Domestic container operations at the port increased by 10 percent while transhipment volumes rose by 4.2 percent in 2021 compared to the previous year. Overall, the port realised 5.8 percent growth in terms of container operations.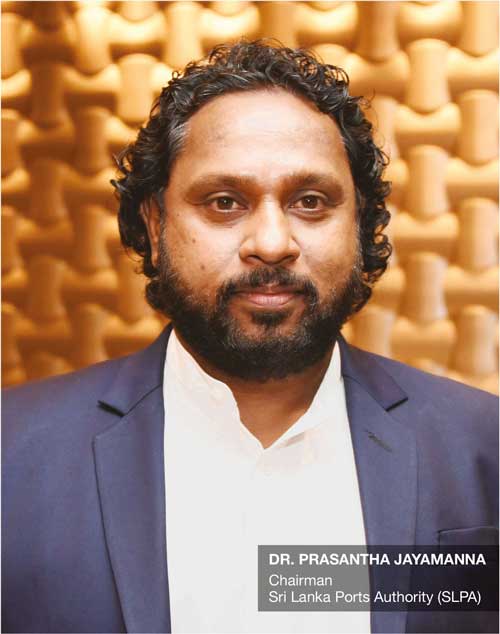 Some of the operational issues encountered included staff shortages, 'blank sailing' (service/vessels) causing cargo congestion at the port, space not being available on board and high freight rates. And although exporters were looking for space, higher freight rates acted as a discouraging factor.
"In what was a positive impact of the pandemic, SLPA implemented projects related to greater digitalisation of operations for contactless documentation and electronic payments using the internet,"  Jayamanna discloses.
His wish list includes seeing the ECT fully operational as a semi-automated terminal in terms of accuracy and efficiency by mid-2024; the WCT becoming a fully functional deep-water terminal by 2025; making SLPA's workforce more effective and competitive to match industry standards, by means of training and awareness programmes; utilising modern equipment to enhance safe handling of cargo; and increasing the quality and efficiency of port services.
Furthermore, there should be a conversion of all ports into green operations that are underscored by energy efficiency and environmentally-friendly practices.
Finally, he recommends: "The capacity of the Port of Colombo has to be increased to attract investments and accommodate more ships, which will ultimately result in an inflow of foreign exchange. Logistics facilities and value-added services need to be enhanced while facilitating exports. Lastly, Trincomalee should be converted into an industrial port and investment encouraged through PPP, as SLPA has done in Colombo and Galle."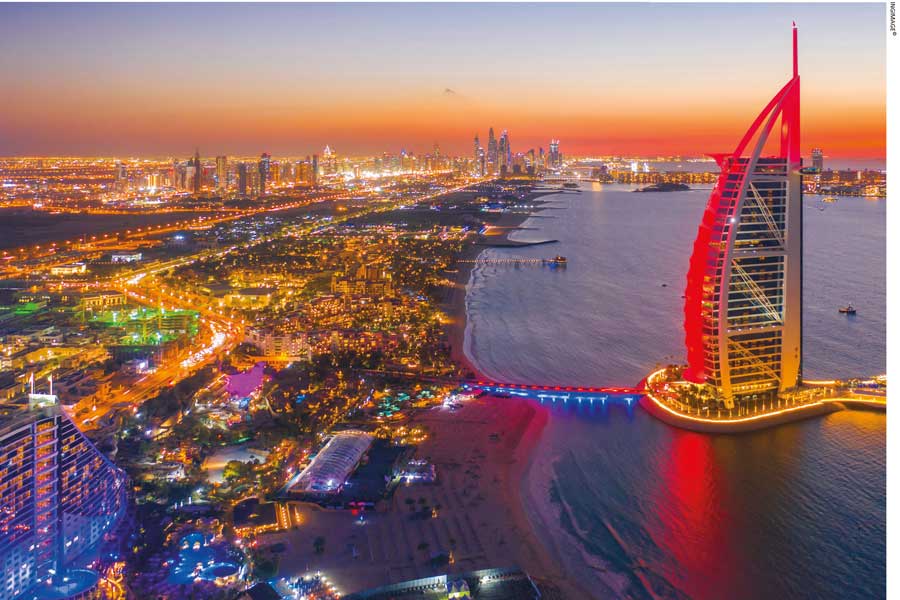 In the export sector, trade fairs are considered one of the most popular means of promoting and gaining recognition. Participating in a trade fair provides a great opportunity to engage with customers and determine where the market is heading.
"Trade fairs help to conduct research and evaluate competition – and develop market access plans by identifying new agents and distributors. They provide an ideal platform to meet customers and industry partners, and identify opportunities and market trends – and also learn about the activities of competitors," the Secretary General/CEO of the National Chamber of Exporters of Sri Lanka (NCE) Shiham Marikar explains.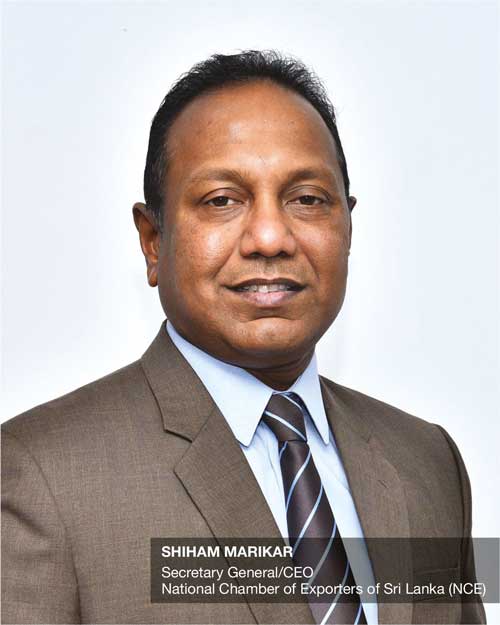 Participation depends purely on the exporters' choice since the country, market access opportunities, product sector barriers to enter the market and so on will be key determinants for participants. "Sri Lankan exporters participate at many trade shows in Europe, the US, the Middle East and other markets. Some are regular participants at leading trade fairs where they meet buyers and secure new orders," he says.
While trade fairs are an integral part of business promotion however, the value or volume of business generated can't be predetermined.
Marikar points out that "it's not possible to calculate the success rate of trade fair participation based on annual or project budgets, because the results may come in at the event or after several months have elapsed. In some instances, the results are known only after a year or two. But this process should be considered an important investment in marketing a business' products and services." Sri Lanka is currently participating at Expo 2020 Dubai – which commenced in October 2021 – and has the island's country pavilion showcasing tourism, culture, Ceylon Tea and many leading brands.
"It is too early to assess the response of visitors. There have been many inquiries and expressions of interest; but what's important is that these are followed up and converted into business," he urges.
As the only chamber in Sri Lanka exclusively serving exporters, NCE provides a variety of services for its members. He explains: "Creating awareness of Sri Lanka's export brands is our prime objective."
Expo 2020 Dubai is one of the largest international exhibitions in the world, and NCE joined hands with this extraordinary event to spearhead a trade show in February under the banner 'Sri Lanka Export Brands' to showcase the nation's export products and services.
Some 50 multi-sectoral Sri Lankan export ventures were part of this initiative – they range from food and beverage, spices and spice-based products, herbal and Ayurvedic products, packaging, water purification, rubber and rubber-based products, rubber tyres, floriculture and horticulture to confectioneries to name a few.
The event provided the ideal platform for Sri Lanka to create awareness among prospective buyers and consumers, about its range of products and service offerings.
Marikar reveals: "By participating in the event, exhibitors from our country were able to connect directly with prospective buyers, facilitate buyer-seller interactions and negotiations to establish business partnerships; and attract the attention of the international media and other promotional bodies regarding Sri Lanka's product offerings to international markets."
Due to the impact of the pandemic, Sri Lankan ex­porters faced many hurdles in reaching their markets and finding new buyers since overseas travel was restricted.
Against this backdrop, Expo 2020 Dubai and the Sri Lanka Export Brands exhibition provided the perfect opportunity for the country to reach potential international buyers.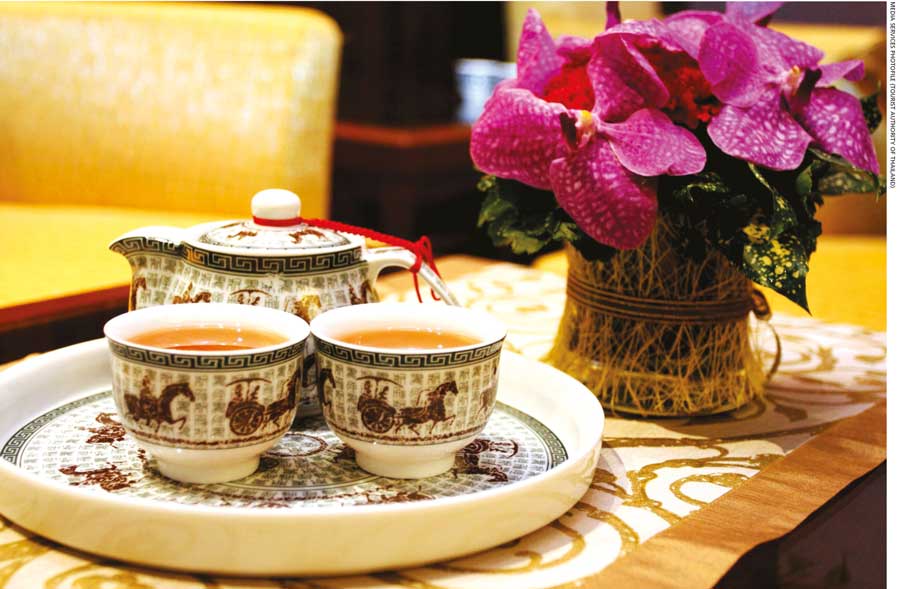 Though the global pandemic caused disruption across many sectors, Sri Lanka's 150-year-old tea industry has stood resolute. Chairman of the Sri Lanka Tea Board (SLTB) Jayampathy Molligoda says: "Fortunately, the tea industry supply chain was not severely affected."
He adds: "Tea export earnings dipped to US$ 1.24 billion in 2020, which represented a marginal drop from 1.3 billion dollars previously. That was due more to the prevailing drought conditions in the first three months of 2020 than the pandemic."
"Nevertheless, the industry recorded export earnings of US$ 1.32 billion in 2021 – and this reflects the resilience with which the tea industry surmounted pandemic-related challenges. This effort was supported by the digital transformation of the tea auction to a sophisticated e-platform in April 2020," Molligoda reveals.
As for the negative impacts affecting the industry, cost components of the supply chain increased as freight rates, packaging material and fertiliser prices rose sharply. This was compounded by container shortages that led to a lack of shipping space.
Molligoda continues: "The impact of the chemical fertiliser ban on the tea industry has not been severe as stocks of ammonium sulphate mixtures and chemical fertilizer, together with organic and mineral fertiliser, are now available. The fertiliser subsidy mentality needs to be addressed and a more balanced nutrient management policy adopted. Now that economics are at play with sky-high fertiliser prices globally, growers are using it sparingly."
He recounts that over the last eight years or so, the yields of tea plantations have been gradually declining –  partly due to climatic changes (excessive rain or severe drought), labour shortages, deficient labour management relations and excessive use of chemical fertiliser without due consideration for improving soil fertility management strategies. This has resulted in a declining return on investment.
A balanced nutrient management policy will improve soil fertility and arrest the trend of declining yields. Local R&D initiatives are also being pursued with the Sri Lanka Institute of Nanotechnology (SLINTEC) producing a nano-hybrid fertiliser.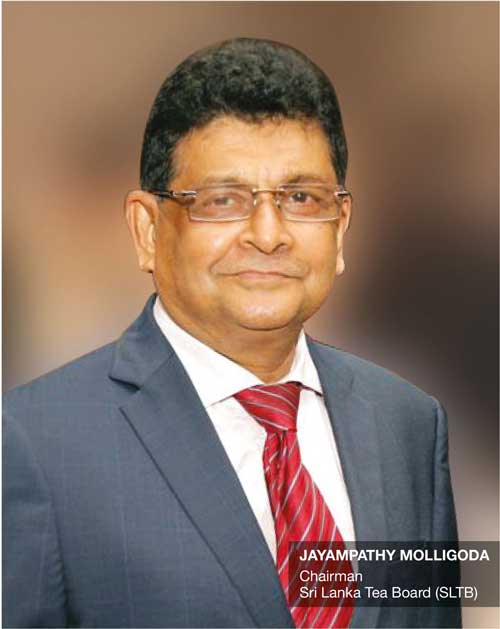 Ceylon Tea is the most expensive black variety of the brew in the world, gram for gram. It's also considered the best-in-class orthodox tea, commanding 35-40 percent of global market share in this category. There's an opportunity to tempt discerning international consumers with a premium quality beverage by positioning it in the 'sustainable foods' category.
As for export markets, Iraq overtook Turkey as the largest importer of Ceylon Tea, followed by Russia, the UAE and emerging market China – and then Syria, Chile and Japan. Although there is a desire to regain lost markets such as the UK, Pakistan and Egypt, the rising popularity of less expensive teas from Kenya, East Africa and Vietnam have edged out Ceylon Tea in the mass market segment.
SLTB has embarked on tea promotion campaigns on social media and online, with opinion leaders in Russia and Ukraine. "The thrust of the digital campaigns is to emphasise superiority and authenticity, and the wellness properties of Ceylon Tea. Its purity has to be maintained because the brand story of Ceylon Tea being the cleanest in the world must be reinforced," he emphasises.
Molligoda elaborates: "Although tea is marketed as a beverage, the industry is not simply a business but a way of life for over two million people. There are some 480,000 smallholders who contribute 73 percent of total tea production along with 580 operational factories, an estimated 135,000 estate workers and over 280 exporters."
"It is important to pay tribute to all the stakeholders – from growers and pluckers, to manufacturers, brokers, exporters and brand marketers – in the tea industry. What is needed today is a shared understanding," he remarks, in conclusion.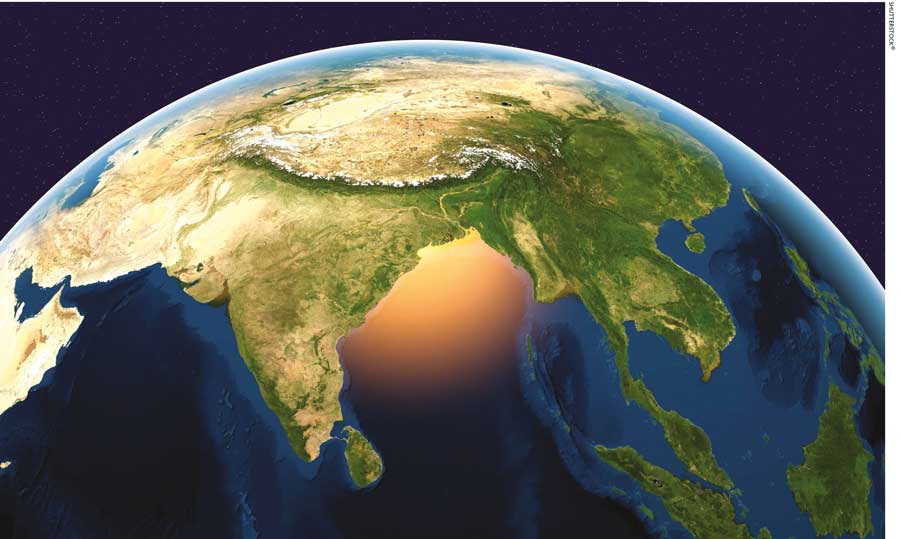 Although the economic fallout from the COVID-19 pandemic ravaged most sectors, Sri Lanka's exports recorded a successful year in 2021. Export performance saw a faster than expected recovery and healthy growth in almost all subsectors – including industrial, agricultural and mineral exports. These sectors registered 23 percent growth (to the tune of US$ 15.1 billion) through goods and services, according to the Sri Lanka Export Development Board (EDB).
The medium-term growth trajectory focusses on the ongoing thrust of the government to create an export-oriented production economy with greater diversification of economic activity. With the economy adjusting to the 'new normal' gradually, the sector is expected to accelerate its growth momentum in the period ahead.
Chairman and Chief Executive of Hayleys Group Mohan Pandithage observes: "We see a welcome thrust for exports. While the priority for export development is positive, there's also broader recognition that we need to be thinking long term."
"One of the most pressing concerns is ensuring that sufficient dollar flows are allocated for uninterrupted imports of raw materials and machinery to sustain exports. Over time, this will ensure that the export sector remains productive, and corporates are encouraged to deploy capital and invest," he adds.
High on his wish list are policy consistency and simplification, two factors that will be crucial in attracting more foreign direct investments (FDIs) to boost exports. In addition, the development of infrastructure to attract more export services is paramount, and this should include the expansion of airports, terminals and facilities for warehousing.
Pandithage asserts: "We need to leverage the innate advantages of our strategic location to make a serious leap forward."
Following the initial social and economic disruptions, the export sector has been agile in learning to work within limitations that have resulted from the pandemic – this includes entering and developing key markets to address emerging requirements. "The pandemic gave us improved perspectives on the need for managing and diversifying our supply chains and bases. By being resilient and thinking on our feet, Sri Lanka's export sector has grown, following the height of the pandemic," he affirms.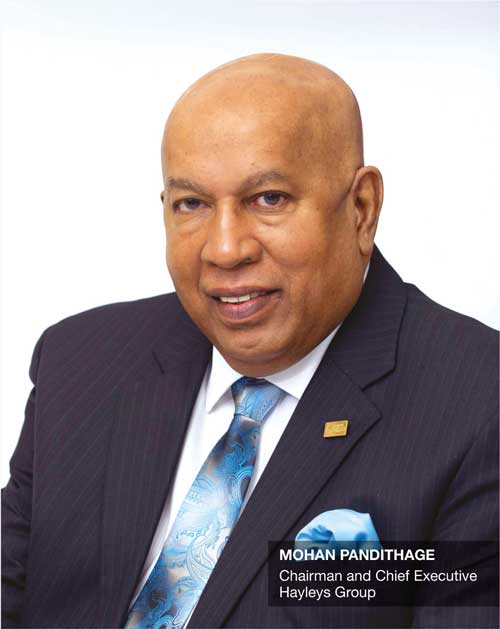 Pandithage explains that "broadly speaking, government policy has been quite supportive towards exports and this momentum must be leveraged to drive modernisation. We are not attracting sufficient FDIs to the export sector yet; and we need to ramp up related efforts considerably if we're serious about realising our potential."
Simplification of tax and governance structures for exporters will improve effectiveness, and reduce delays in processing and clearance. Businesses outside the Katunayake and Biyagama Export Processing Zones (EPZs) have faced difficulties in accessing land with adequate space and resources such as the supply of water for industrial operations.
From an exporter's point of view, the expansion of existing EPZs and commencement of new zones are important, and must be considered if we hope to increase export earnings.
Success will depend on our ability to mobilise more private sector investments for commercial scale infrastructure projects. We must en­courage and catalyse public-private partnerships (PPPs) in the long term so that sufficient returns can be generated while avoiding debt capital.
Macroeconomic stability and maintaining a competitive exchange rate will help keep Sri Lankan exporters competitive in relation to other countries.
"We must dare to innovate – and exercise our homegrown expertise, passion and ingenuity. Investment and innovation in this period may seem daunting but I believe it's the only way. We saw our manufacturing teams demonstrate their engineering prowess to complete capacity expansion on time with top-notch technologies put in place while battling the triple threat of three waves of COVID-19," he notes.
Pandithage sums up: "A never-say-die attitude to­wards investment and innovation will help the export sector to stay ahead of the game."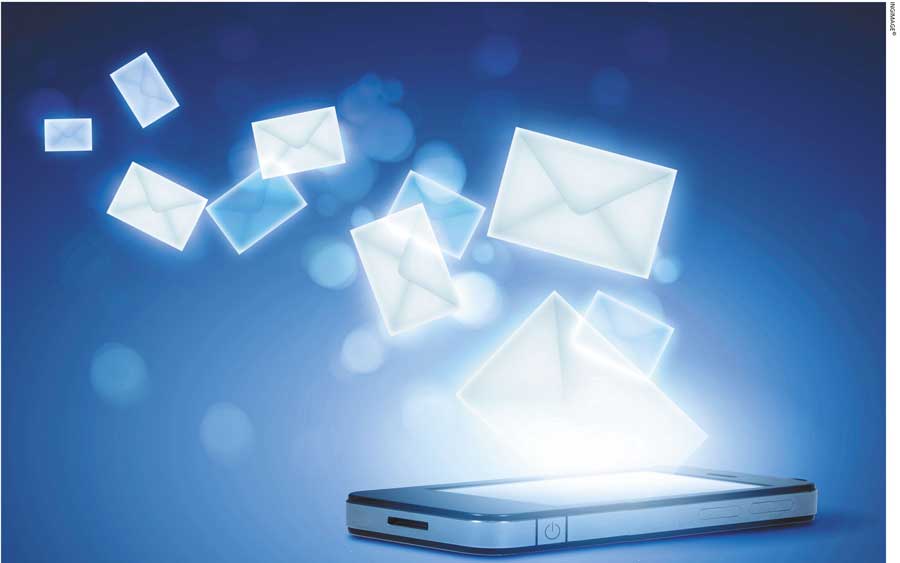 Sri Lanka's information communications and technology (ICT) sector thrived despite the challenging conditions created by the pandemic as an accelerated adoption of ICT was witnessed at the time. "An initial challenge was to provide a scaling up of telecommunications infrastructure to meet the upsurge of demand for data by 40 percent in April 2020, soon after lockdown," the Chairman of the Information and Communication Technology Agency (ICTA) Oshada Senanayake recalls.
"However, the Telecommunications Regulatory Commission of Sri Lanka (TRC) and ICTA were able to supply the required increased bandwidth across regions to facilitate the continuity of ICT services," he adds.
In the last few years, the digital road map for developing the ICT sector has been making steady progress as related bodies under the purview of the Ministry of Technology – such as ICTA, TRC and Sri Lanka's Computer Emergency Readiness Team (CERT) – have worked to enhance capacity and drive the digital economy to transform it into a US$ 3 billion industry by 2024.
At the end of last year, ICT sector earnings were projected to be in the range of 1.5 billion dollars.
The greatest challenge lies in upscaling human capital in the sector. Currently, Sri Lanka is home to a pool of some 175,000 skilled IT workers and this number needs to be raised to around 300,000 if the country's ICT sector is to achieve its ambitious target.
"We have initiated a strategy that includes engaging with the university ecosystem as well as conducting road shows in all provinces to spark an interest in IT, and propagate tech entrepreneurship and a startup culture. This spark needs to fire up across smaller towns to mobilise youth and improve digital literacy for a truly digitalised economy," he posits.
Senanayake states that "it's great to see local tech companies such as hSenid and Kapruka being listed on the Colombo Stock Exchange (CSE). Hatch – a Sri Lankan coworking space, startup incubator and accelerator – was recognised as 'The Best Co-Working Space in the World' at the Global Startup Awards 2021.
"ICTA's Senior Manager Startup Ecosystem Develop­ment Nevindaree Premarathne was declared 'Ecosystem Hero of the Year' at the awards ceremony. These awards show that innovation is moving ahead expeditiously and more businesses are pivoting on technology," he maintains.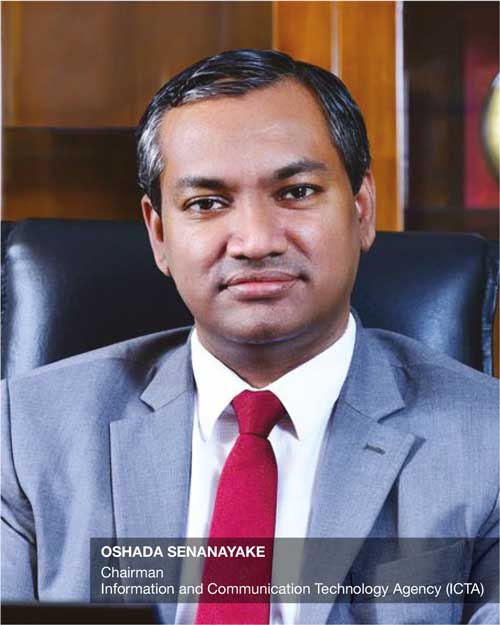 Local startups have achieved an ecosystem value of US$ 132 million compared to 32 million dollars in 2017, representing a fourfold growth. Senanayake informs that "ICTA is playing a key role in supporting these startups with coworking spaces in the newly introduced SPARX Labs and seed funding through the Spiralation programme, along with an open day for them to pitch to prospective buyers and investors."
The target is to reach 1,000 startups by 2024; by the end of 2021, the ecosystem had grown to 601 on the Startup SL national platform driven by the ICTA. Access to funding and working capital without the traditional collateral requirements, as well as more venture capital, are key aspects of this programme.
A 'zero tax' policy continues in the ICT industry and potential waivers for IT enterprise formation charges – as mooted in the budget – will encourage more tech entrepreneurships.
"Although the ICT sector in Sri Lanka is service oriented, we must also drive productisation by creating our own software products. Several local businesses have gone international with product development in the ICT sector. We should also be paying closer attention to creating 'unicorn companies,' which have the potential to reach billion dollar valuations in the future," Senanayake urges.
He concludes: "The vision to make Sri Lanka an ICT hub is alive and kicking – ICTA and ICT, and all other telecom sectors, are ensuring that critical infrastructure is in place for that. The five techno parks in Galle, Kurunegala, Digana, Nu­wara Eliya and Habarana will provide a 'plug and play' environment for global tech giants that are willing to set up in Sri Lanka."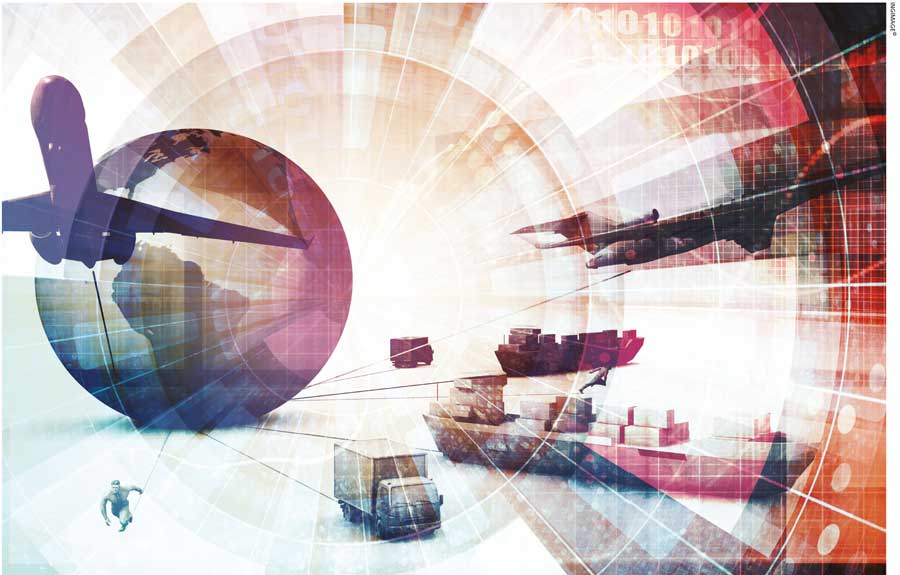 The pandemic has affected the apparel industry in unprecedented ways. Before it struck, the main focus was on sectoral growth and value addition; but COVID-19 made worker welfare and safety a top priority.
"Despite the challenges, the industry displayed resilience and adaptability, innovating its supply chains and products. Sri Lankan manufacturers were quick to respond, and adapted to virtual work by leveraging 3D and digital product development technologies to ensure that production cycles weren't affected," says the Immediate Past Chairman of the Joint Apparel Association Forum (JAAF) A. Sukumaran.
Sukumaran – who is the Managing Director of STAR Garments – adds that "our strategic partnerships with clients, reputation and buyers' trust have been critical over the past two years." Prior to the pandemic being declared in late 2019, apparel exports amounted to US$ 5.2 billion. That's almost 48 percent of all merchandise exports, making it a crucial contributor to trade and external finances."
In 2020, the spread of COVID-19 led to a steep decline in trade and export earnings. The global spread of the virus has had a massive impact on supply chains – especially as regards China, which is a key supplier to the industry.
He notes: "To add to this, countrywide lockdowns impacted the logistics of our products and gave rise to labour shortages. Although our apparel exports declined sharply to US$ 3.93 billion in 2020, we managed to meet our target of 5.1 billion dollars by the end of 2021. If we're to achieve our target of US$ 8 billion in export earnings by 2025, concerted efforts must be made by the government and the industry."
"Since Sri Lanka accounts for around one percent of global market share, we must strengthen backward vertical integration of the apparel value chain through initiatives such as the Eravur Fabric Park. These efforts will also improve the sustainability offerings of the industry," Sukumaran stresses.
In parallel with this, Sri Lanka needs to improve access to key export markets including those in the Asian region to boost market share. Ensuring the retention of GSP+ privileges with the EU and other key trading partners is also critical.
Before the advent of COVID-19, it was probable that Sri Lanka would 'graduate' from the GSP+ regime. However, the pandemic changed this dramatically.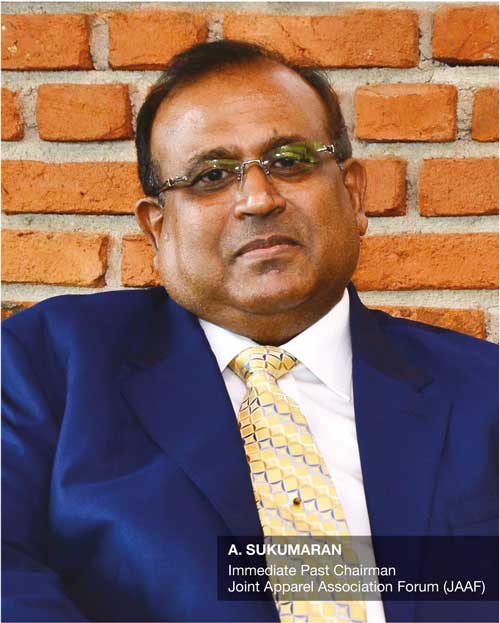 Retaining these privileges beyond December 2023 should be advocated intensely, he urges. Compounding present-day challenges is the unstable economic environment that has arisen due to the foreign exchange crisis, which hampers both the export and import sectors.
The pandemic has forced the global industry to go digital. Sri Lankan businesses have embraced this challenge, and are at the forefront of digital product creation and sampling. In the fashion industry, the pre-pandemic development cycle tended to rely on traditional design processes where buyers preferred to touch and feel apparel or fabric samples in multiple iterative rounds of development before confirming production orders.
This was no longer possible with the closure of both buyer offices and those of apparel businesses in Sri Lanka. Sri Lankan manufacturers adapted by leveraging 3D and digital product development technologies, which existed before the pandemic but had low utilisation rates.
Leveraging 3D product development technology to its full potential brought in a host of improvements as well as shorter duration of the product development cycle by a massive 84 percent – i.e. from 45 to only seven days.
Sukumaran explains: "In the short term, businesses must remain agile and flexible to disruptions in the supply chain, and where buyers and suppliers are increasingly engaging virtually with us. Our long-term focus should remain on growth as an ethical and sustainable supplier of apparel to the world. To do this, enterprises must integrate sustainable business practices at the core of their operations."