COVER STORY
EXCLUSIVE
BANKING IN FOCUS
Mark Prothero offers an in-depth take on the banking and
finance spheres amid shifting global undercurrents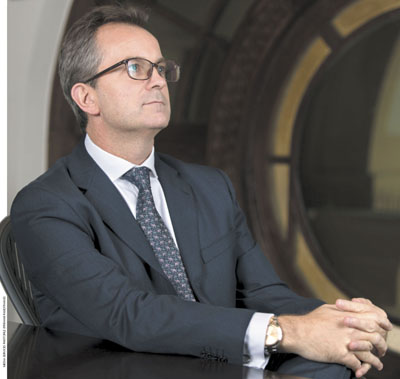 In a career spanning more than 26 years with the HSBC Group, Mark Prothero has held senior positions in commercial banking, global banking and markets, risk management and internal audit. His international experience has spanned North America, the Middle East, Europe and Asia with roles in markets in the US, Bermuda, the UK, Egypt, the UAE, Hong Kong and Thailand among others.
Prothero was appointed Chief Executive Officer of HSBC Sri Lanka and Maldives from 1 October last year. Prior to his appointment, he was the Regional Head of Internal Audit for HSBC's Middle East and North Africa (MENA) region and responsible for audit coverage across nine countries.
In his exclusive interview with LMD, Prothero sheds light on a range of subjects relating to the macro economy with a particular focus on banking and finance – including the state of the banking sector, Sri Lanka's country profile and image, foreign direct investment (FDI) prospects, workforce dynamics and external trade prospects, as well as global market conditions and their impact, and currency concerns.
Commenting on the country's potential to achieve economic prosperity, he notes that "there is a significant opportunity ahead for Sri Lanka," and that "we are entering into an important and exciting economic phase."
Given his extensive audit background and specialisation in anti-money laundering perhaps, Prothero has bribery and corruption on the list of priorities for Sri Lanka to enhance its country image at a time when the nation is focussing on attracting quality investors from overseas. At a recent Euromoney forum in Colombo titled 'The Sri Lanka Debate,' he noted: "The president has made it clear that reducing bribery and corruption is a key ambition for the government, and this is a vital issue for investors."
Prothero highlights the fact that "the banking sector is performing well with impressive compound average growth rates in recent years," while noting the positive competition among banks in the country. He also touches on Sri Lanka's potential to integrate with the region and world at large through free trade agreements (FTAs), and leverage the island's strategic geographic location.
Concluding his interview, Prothero turns to the global priorities of this day and age, pointing to protection of the environment as a key focus area "especially with global warming being a significant threat to future generations."
– LMD
---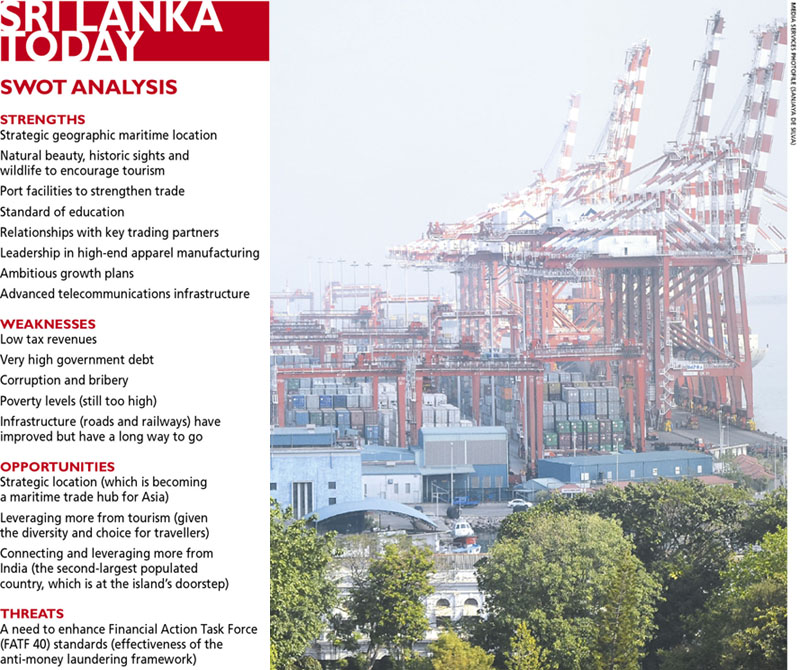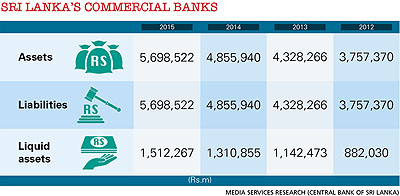 Q: What were your impressions of this island we call 'home' when you arrived here? And have they changed since then?
A: Having come over from Dubai, it was wonderful to see the lush greenery and listen to the thunderstorms. I have not yet travelled extensively within Sri Lanka with my few excursions being mainly to coastal areas; but it is indeed a stunning country and I'm looking forward to exploring it in due course.
Q: How do you view the country's image and potential to drive economic prosperity?
A: Sri Lanka is enjoying positive relationships with the international community and key trading partners. They are witnessing a government that is improving its fiscal discipline and  has ambitious plans for the country in the coming decade.
I believe there is a significant opportunity ahead for Sri Lanka, and that we are entering into an important and exciting economic phase. The island is reaching out to establish a number of better trade relationships with many countries – so there are clear signs that the country is looking to achieve its economic and social potential.
Q: Do you believe that Sri Lanka has benefitted from an improved country risk profile – and if so, since when?
A: The risk profile has improved tremendously since 2009. More recently, the new three-year IMF programme with its requirements for tougher reforms – particularly tax reform – was positively received externally. And the 2017 budget was more fiscally responsible. Moreover, the president has publically declared the government's intention to tackle bribery and corruption, which is also very important for the country's risk profile.

Q: In your assessment, is the prevailing business climate conducive to attracting foreign direct investment (FDI)?
A: Sri Lanka's FDI inflows have been modest historically, given the size of the country's economy with inflows rarely exceeding two percent of GDP, according to Central Bank of Sri Lanka (CBSL) data. But one must take care with statistics and comparisons because the definitions as to what constitutes FDI in this country have changed.
There have been factors in the past that have held back FDI but the government is actively looking to address these areas with the hope of material improvements in investment inflows in the coming years. I believe that increasing the level of FDI is a key objective of the government.
A public-private partnership (PPP) unit has also been established and it is likely that many new projects will result from this in the next couple of years as the country embarks on an ambitious path.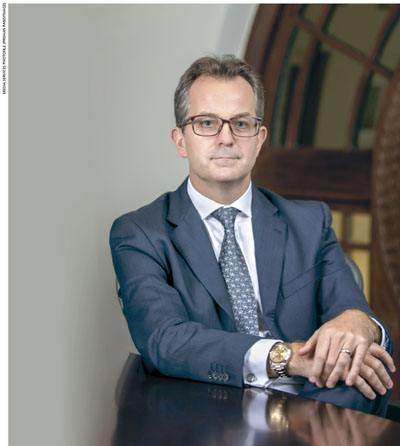 Q: How do you view the state of Sri Lanka's banking sector? Is it overcrowded, in your opinion – and if so, is there room for consolidation?
A: The banking sector is performing well with impressive compound average growth rates in recent years. And there is generally strong leadership in this sector and healthy competition among banks. The most recent budget has introduced increased minimum capital requirements for banks that will likely encourage some consolidation in the sector.
Q: Do you believe that the local workforce is geared to meet current and future economic realities – and why or why not?
A: I believe that one of Sri Lanka's strengths is the standard of education and its literacy rate of over 90 percent. The key is to encourage the brightest people to stay in the country, which requires good employment opportunities being available both in the private and public sectors.
One potential growth area is the IT and business process outsourcing (BPO) industry, which can provide better opportunities that are relative to traditional outsourcing into areas like accounting, engineering, telecom­munications, architecture and legal services.
Q: What are the main challenges faced by foreign banks that seek to expand their reach in Sri Lanka?
A: Naturally, a domestic bank – with extensive branch networks, and significant infrastructure and staff numbers – will want to compete across the board in all areas, be that in retail banking, wealth management or corporate banking. Foreign banks in Sri Lanka will typically have a more defined or niche focus.
Here in Sri Lanka, HSBC focusses on areas such as financing international trade, corporate banking, global markets, premier banking for high-net-worth individuals and credit cards.
Our global reach and range of services place us in a strong position to serve clients as they grow from small enterprises into large multinationals.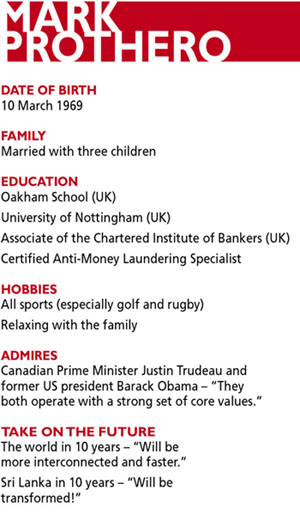 Q: Is there scope for the country to expand commerce and trade to other Asian nations – and if so, where do such opportunities lie and how should Sri Lanka approach these goals?
A: Yes, there is. One of the success factors of Sri Lanka's export performance is that we have key markets in the US and Europe where 27 and 29 percent of exports respectively take place predominantly through apparel, according to CBSL data. The fact that the island has achieved such success over the years in these wealthy and distant markets against such strong competition is often overlooked.
With the likely re-introduction of GSP+ concessions in the EU markets, the pros­pects appear to be positive.
The ideal scenario would be if Sri Lanka can maintain these relationships with the West while building on the growing intra-regional trade within Asia – especially the Association of Southeast Asian Nations (ASEAN), which has approximately 500 million consumers and an economy that is valued at over US$ 2 trillion.
Moreover, the government is negotiating a number of FTAs with countries like Singapore, Thailand and Bangladesh, and the business corridors established with these nations will open new opportunities for growth.
We believe that Sri Lanka has much to gain through its strategic location in Asia. The country is positioned centrally along the Maritime Silk Road, and is therefore an integral part of China's One Belt, One Road (OBOR) initiative that aims to increase investment and foster international collaboration.
This touches on all aspects of the infrastructure and construction value chain – from governments to contractors, investors, equipment manufacturers and commodities producers. Trade volumes between China and OBOR countries are expected to surpass 2.5 trillion dollars over the next decade.
Q: In terms of the regional landscape, where do our local banks stand? And similarly, how would you compare the multinational banks operating in Sri Lanka with their offices in Southeast Asia?
A: Local banks are primarily focussed on serving the local community. Ambi­tions further afield are moderate and linked with the trade corridors, primarily with other South Asian countries.
The foreign multinational banks in Sri Lanka have a varied focus with some having limited target markets compared to other Southeast Asian hubs where the ambitions and services that are offered are greater.
As the largest foreign bank in the country, HSBC has a long and successful history in Sri Lanka – 2017 being our 125th year – and we continue to have a strong business presence across retail and corporate banking, as well as global markets.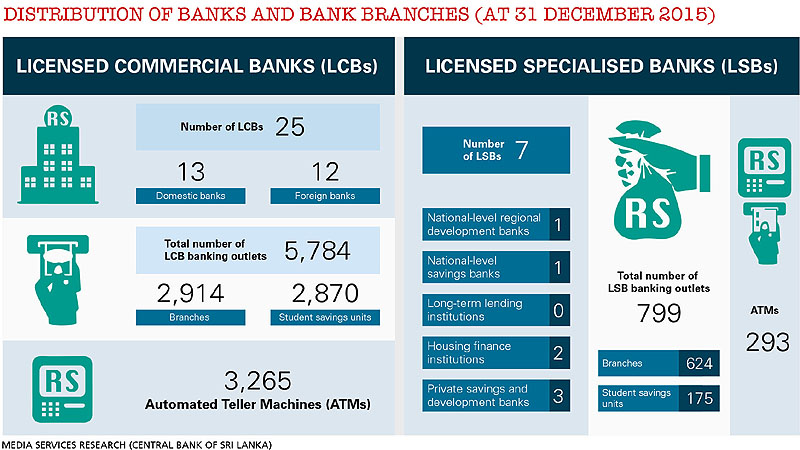 Q: Are global market conditions im­pact­ing banks in Sri Lanka – and if so, to what extent?
A: Global market conditions impact the performance of all economies and with it the banks operating therein. Currently, there has not been a significant impact on Sri Lanka but there is uncertainty as to what the future holds with the ongoing shifts in geopolitical relationships. This is why there is real importance in developing intra-regional trade flows.
Q: Given the state of the world today, how would you rate the health of financial institutions across the globe?
A: Today, regulations require ever-in­creasing levels of higher-quality capital to be held by banks to act as a buffer against any future 'stress' or 'shock' events.
The banking sector has also heavily invested in risk management and compliance functions, both in terms of more people and much better systems.
Being aware of the need to manage the risk of financial crime makes financial institutions safer and stronger, thereby safeguarding customers.
Q: What are your thoughts on the advent of digital currency and future trends in this sphere?
A: The digital space will disrupt and be the way of the world going forward – and naturally there will be ongoing and significant changes to the banking sector.
This is especially the case with mobile banking given that current mobile penetration in the country is over 100 percent. Such significant shifts can also be seen in many other sectors as people are able to turn to quicker, cheaper and easier ways of processing transactions and transferring value from place to place.
At HSBC, we realise the importance of technology to serve our customers better. So we continue to invest in technology and innovation.
Q: In your opinion, what are the global priorities of this day and age? And likewise, could you briefly describe HSBC's corporate priorities and related projects?
A: We are at a critical point at which the world has to rally around to protect the environment in which we live especially with global warming being a significant threat to future generations. This is a clear priority for the HSBC Group given that one of our key pillars of sustainability is the 'environment.'
Furthermore, as water plays a pivotal role in not only the lives of Sri Lankans but from a global perspective, I am delighted that the recent project on which the bank has embarked – the Kapirigama cascade tank project in Anuradhapura that will indirectly benefit over 60,000 people in the area – was recently recognised at the Best Corporate Citizen Sustainability Awards 2016 conducted by the Ceylon Chamber of Commerce.