COUNTERTERRORISM STRATEGY
A HEARTS AND MINDS APPROACH
Dr. Jehan Perera draws attention to containing globally inspired terrorism
The sudden deterioration of Sri Lanka's security situation has come as a shock to citizens as well as the international community. Moreover, the targeting of churches and hotels in the Easter Sunday attacks, and the high level of casualties, has generated mass global media attention.
Indeed, the suicide explosions have brought Sri Lanka into the orbit of global Islamic extremism. It is frightening to find ourselves being dragged into an international conflict that we didn't think about too much and over which we seem to have little control.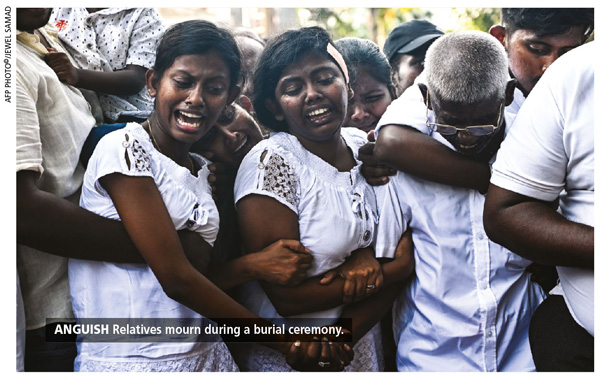 Why was Sri Lanka chosen as an Islamic State (IS) target? And why did the suicide bombers want to give up their lives to attack Christians in a country where they are a minority of a little over seven percent of the population?
Christian-Muslim relations in Sri Lanka have been largely cordial and accommodative even as they join hands in common causes affecting them as minorities. Both Christians and Muslims, who represent an estimated 9.3 percent of the population, have faced problems with the majority community and localised violence at times. But strangely, Christians became the targets of the Muslim suicide bombers and this has given rise to conspiracy theories.
In the Catholic Church, which suffered attacks on two of its houses of worship, there's speculation that they were targeted because of their support for the anti-drug campaign initiated by President Maithripala Sirisena.
Sri Lanka has become a transit point for the global drug trade, and the president's campaign has netted large quantities of drugs and led to dozens of drug dealer arrests. In some circles, the loss of income and personnel is thought to have precipitated attacks by drug syndicates linked to IS.
Today, with national security given the highest priority, hardly any objections will be voiced publicly against the vesting of emergency powers with the security forces. Public sentiment is to ensure that the apprehension of terrorists is priority number one.
In a bid to contain the security threat, the government brought in emergency regulations that give special powers to the security forces. Soldiers who have limited training in dealing with civilians are entering people's homes in cordon and search operations. And there are reports that the military are being tough on Muslims when visiting their homes.
The danger is that unless they're conducted with professionalism and courtesy, such search operations can alienate Muslims and lead more youth to join the ranks of militant organisations. This will be a throwback to the past – to the nearly three decade long civil war that the Sri Lankan state waged against Tamil rebels. There were search operations then that led to allegations of human rights violations that further alienated the targeted people.
As a way to remedy the past, for the last four years or so Sri Lanka has committed and recommitted itself to abide by international norms in regard to dealing with human rights issues.
The reported failure of the security apparatus and intelligence agencies to share information with political leaders, and engage in proactive security measures, was shocking. And the opposition charges that this was due to the government's over-deference to working within the global human rights framework set by the international community.
Dealing with religion based extremism requires a nuanced approach in which human rights considerations must moderate national security imperatives. Civic, moral and religious leaders of all communities should reflect on areas where each community could do more to improve engagement and relationships with others.
We should not repeat the mistakes of the past. In 1979, the late President J. R. Jayewardene issued orders for the security forces to eradicate terrorism in the north within six months. However, the alienation that set in due to heavy-handed counterterrorism action alienated the people – and the seeds of a protracted war were sown.
Sri Lanka is not alone in facing multiple terrorist bombings – even developed, wealthy and more powerful nations have suffered a similar fate. We can expect their support as our problem is also theirs.
The government's task is to deploy security forces personnel who can operate within the law and take action that yields results. So the challenge of governance – and to the security forces – is to act within the framework of the law and human rights norms, and prevent acts of terrorism through a combination of national security, international cooperation, and domestic 'hearts and minds' strategies.