CORONAVIRUS RESPONSE

THE WORLDWIDE CONTAGION
Saro Thiruppathy analyses the rapid responses by some nations to contain the spread of COVID-19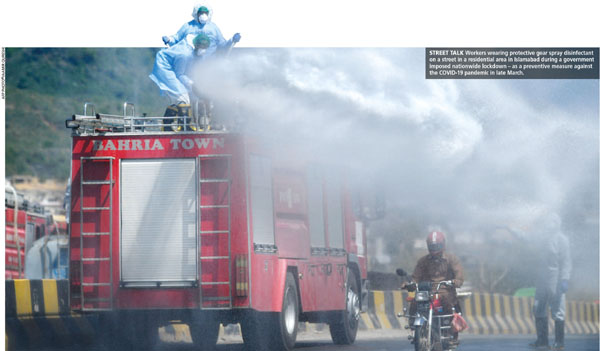 Even a sci-fi movie couldn't have prepared us for the global havoc being caused by the microscopic novel coronavirus. Though China informed the WHO on 31 December that it was experiencing several incidents of a mystery respiratory illness, the World Health Organization delayed declaring a PHEIC (Public Health Emergency of International Concern) until 30 January.
Although many of the world's leaders ignored the PHEIC, countries that had previously experienced the SARS epidemic in 2003 were on the ball and rapidly implemented their emergency response protocols.
Singapore, Hong Kong and Taiwan were quick to take action, and mitigate the spread of the coronavirus. And even though South Korea's response was slightly delayed, it was extremely effective once the containment measures were implemented.
SRI LANKA The Sri Lankan reaction was a little slow at the start perhaps because the island hadn't experienced pandemics such as SARS, MERS and H1N1 that had affected others in the region. But once the Sri Lankan government got into gear, its response was rapid and thorough.
Our doctors, nurses and armed forces have been on the frontlines battling the virus – and indeed, the ignorant among us. The lockdown was initiated in stages – schools were closed, airports were shut for arrivals, quarantine measures were put in place and an islandwide curfew was declared for an extended period.
In the meantime, public health advisories continue to be transmitted via phone, radio, TV and the press.
Testing is free for anyone displaying symptoms and if confirmed positive, the police have resorted to contact tracing. Then depending on the data, people are advised to self-isolate or are quarantined. Due to Sri Lanka's free healthcare system even hospitalisation and quarantine facilities don't place a financial burden on patients.
SARS SURVIVORS The unfortunate timing of the COVID-19 outbreak not long before the Lunar New Year placed Singapore, Taiwan and Hong Kong at risk even before the Western world, because millions usually travel between the mainland and these territories during this time.
In fact, it is believed to be the world's largest annual migration of people. So without wasting time, Singapore, Taiwan and Hong Kong responded aggressively to the threat from the outset.
Taiwan subjected all arrivals from Wuhan to health screenings even before the person-to-person transmission of the disease was confirmed in late January. By 1 February, the three territories had implemented travel restrictions on visitors from the mainland. They acted proactively in spite of the WHO's insistence that travel bans were unnecessary.
Taipei's central command for epidemics began coordinating the government response. It compiled a list of 124 safety protocols that included border controls, school and work policies, public health service communication processes, and an assessment of available resources in hospitals.
By mid-February, Singapore reported 80 infected patients – the highest outside China. And in order to prevent any further spread, the government initiated widespread testing of all patients who displayed any symptoms that resembled influenza and pneumonia; and as a result, the initial numbers were high. Vigorous contact tracing and a locally developed test for antibodies also helped contain the deadly disease.
Public health service announcements urged Singaporeans to seek medical assistance even if they experience mild symptoms, and requested them to practise social distancing and refrain from venturing out. The state provides free testing and hospitalisation for infected persons. It also offers financial assistance to self-employed persons and prohibits employers from deducting quarantine days from employees' annual leave. And in order to help buffer the economic impact of the pandemic on Singaporeans, the government recently passed a hefty Resilience Budget.
Hong Kong, which was badly hit by the SARS epidemic, immediately initiated social distancing protocols and closed schools until Easter. Mass gatherings were cancelled, businesses closed and employees were asked to work from home. Most Hong Kongers voluntarily decided to sequester themselves in their homes – the streets were largely empty and bustling neighbourhoods quiet.
This mix of government rules and voluntary self-isolation appears to have been successful in keeping the numbers down and Hong Kongers relatively safe.
SOUTH KOREA Government measures have resulted in containing the spread of the virus. When the Chinese published the sequence of COVID-19, South Korean companies rapidly developed test kits and the state screened 20,000 people a day.
People can use drive-through testing centres if they exhibit symptoms; and if they test positive, they're placed in quarantine. Vigorous contact tracing has also been implemented in the country.
All these rapid responses display common features such as the availability of free healthcare, testing of patients showing symptoms, contact tracing, voluntary self-isolation, quarantining of positive cases, and observing WHO protocols on personal hygiene and physical distancing.
However, what's most important is that these governments opted to protect their people and the planet – yes, even at the cost of economic losses.