CEYLON CHAMBER OPENS MARKET AT CSE TO CELEBRATE 180 YEARS
A special market opening ceremony was held at the Colombo Stock Exchange (CSE) today in recognition of the Ceylon Chamber of Commerce cerebrating 180 years. The Ceylon Chamber of Commerce (CCC) was founded on 25 March 1839, for the purpose of best promoting the interests of commerce. This was among the very first group of chambers established in Asia.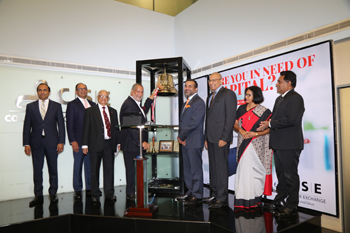 The Chamber has grown from having 26 memberships at its initial stages, to just over 600 today – with an outreach of 8,500 institutions. Twenty-nine (29) of the current members have been members of the Chamber for over 100 years. Over the last 180 years, the CCC has diversified its services across the field.
Chairman Mr. Rajendra Theagarajah, Former Chairman Desamanya C.P. de Silva, Deputy Vice Chairman Mr. Vish Govindasamy, and CEO Mrs. Dhara Wijayatilake from Ceylon Chamber took part in the ceremony and was joined by the President of the Confederation of Asia Pacific Chambers of Commerce and Industries Mr. Samir Modi. Chairman Mr. Ray Abeywardena, Director Mr. Shanil Fernando, CEO Mr. Rajeeva Bandaranaike and the Senior Management of CSE were present at the event, which was also graced by Sri Lankan business leaders.
Chairman of Ceylon Chamber Mr. Rajendra Theagarajah speaking at the event said "Today as the premier business chamber in this country Ceylon Chamber plays an important role in engaging on policy advocacy with the government in promoting economic activity and growth. I think it is also a great thing to note that of the 600 or so members at Ceylon Chamber, we have 29 who have survived the entire journey and I think it is only fitting that we recognize those 29 companies who have steered themselves during 18 decades. It is also fitting to recognize of these 600 members we have 97 companies who are listed on the CSE."
Speaking at the Ceremony the CSE CEO Mr. Rajeeva Bandaranaike congratulated Ceylon Chamber on achieving the milestone of completing 180 years and commended the contribution of the chamber towards the promotion of trade and economic activity over the years. The CSE CEO further said "The stock exchange has partnered the Chamber in the area of investment and encouraging entrepreneurship through various forums and seminars. We look forward to a greater collaboration between the two institutions, especially given that both our institutions have a mandate the promote trade and investment."
Over the past 180 years, the Ceylon Chamber has responded to the needs of the business community that has experienced an evolving landscape — from a focus on a few traditional commodities' trade, to a widely diversified commercial business arena shaped by new consumer needs, export diversification, and deeper engagement with countries across the world, fueled by technology and the advent of the digital economy.