BRI REPORT

BELT AND ROAD

 ON TRACK
Saro Thiruppathy checks the status of the BRI in the context of the global economic crisis
As the world struggles to come to terms with the havoc caused to economies by the COVID-19 pandemic, China is taking stock of its Belt and Road Initiative (BRI), which was launched in 2013. The BRI has since then incurred a tab of more than US$ 450 billion.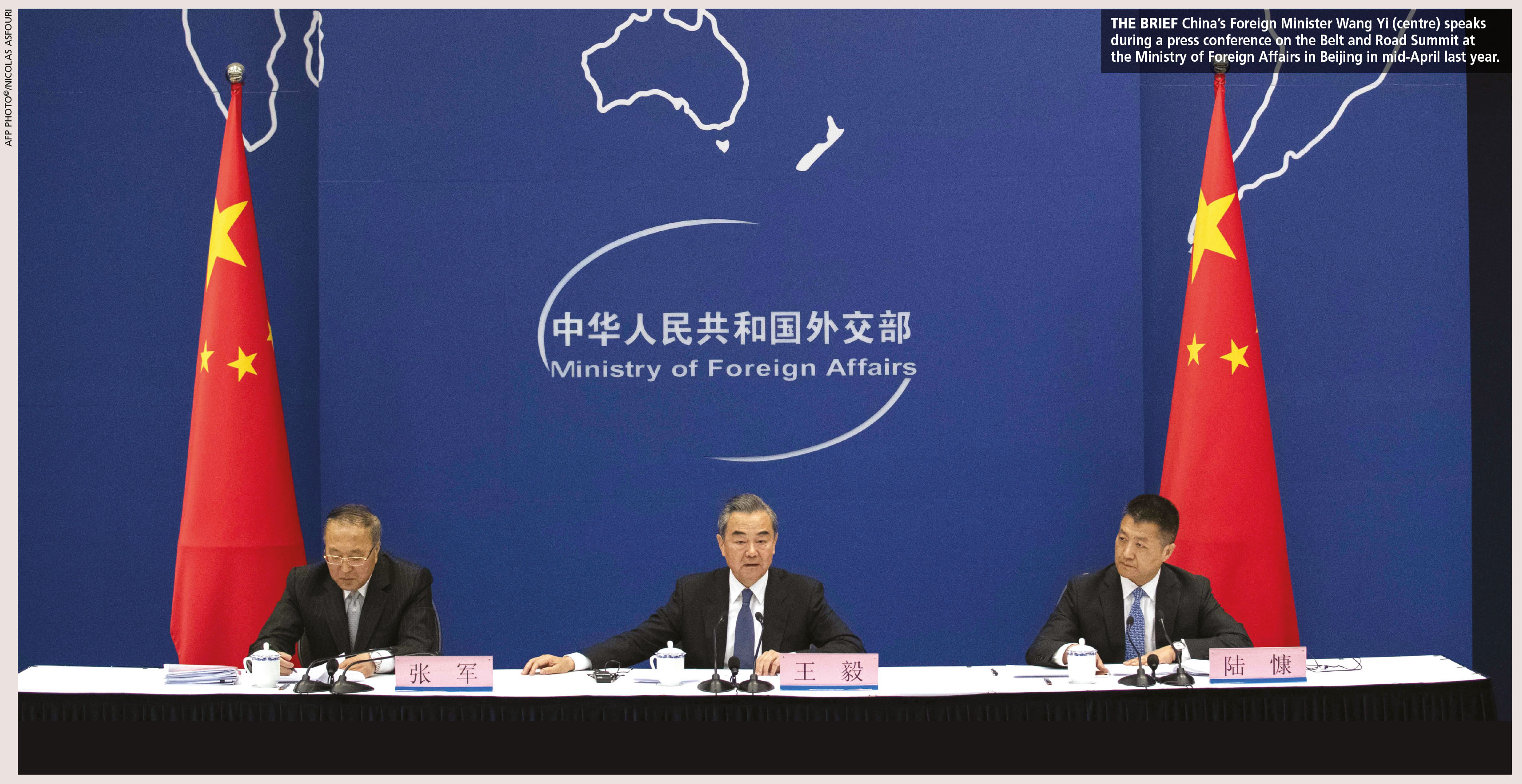 This foreign policy programme of the Communist Party of China (CCP) focusses on global infrastructure development. Beijing has invested in 138 countries of which 38 are in Sub-Saharan Africa, 34 are in Europe and Central Asia, 25 are East Asian and Pacific countries, 17 are in the Middle East and North Africa, 18 are in Latin America and the Caribbean, and six are in Southeast Asia.
Almost all beneficiaries under this initiative are in serious trouble because their economies came to a standstill at the height of the pandemic. However, it seems that Beijing is going full steam ahead with different projects under the BRI since its investment is too deep to back out now.
ECONOMIC WOES Countries such as Pakistan and some African states that are at the heart of BRI are requesting a review of their debts and a rescheduling of payments in the light of economic woes.
Even though outright debt cancellation doesn't seem possible, Beijing has suspended repayments and is trying to provide relief through interest payment suspensions and debt restructuring on a case-by-case basis.
In spite of COVID-19, China's trade with BRI nations grew 3.2 percent in the first quarter of this year, which is particularly impressive when compared with only 10.8 percent in all of 2019.
Apparently, 30 percent of Beijing's annual trade comes from 56 BRI nations that are scattered across Asia, Africa, Europe and South America.
And contrary to dire predictions by Western nations, China claims that its exports rose by 3.5 percent in April in contrast to a fall of 6.6 percent in March. Further, China's stoicism and survival will help to build up global supply chain networks that have taken a serious beating for nearly six months.
MADE IN CHINA Chinese President Xi Jinping's first order of business will be to revive the Made in China brand and his anti-poverty agenda. Once Beijing has secured its own national interests, it will focus more on BRI's overland and maritime connectivity corridors and the Health Silk Road.
As expected, the BRI is facing short and midterm problems in relation to fractured connectivity due to breakdowns in supply chains, global travel restrictions, border controls and increased costs.
The 150 kilometre long Jakarta-Bandung high-speed rail in Indonesia costing US$ 6 billion is only now slowly resuming work as technical experts are being allowed to travel to the site.
Similarly, progress along the China-Pakistan Economic Corridor and projects in Bangladesh and Sri Lanka were frozen for some months due to national quarantine restrictions.
However, work on the 414 kilometre long China-Laos high-speed rail connecting Yunnan via Vientiane with Thailand, Malaysia and Singapore hasn't faltered, and officials believe that the scheduled completion at the end of 2021 is achievable.
Even during the height of the COVID-19 crisis, it appears that Beijing has been signing deals for new BRI projects in Myanmar, Turkey and Nigeria – and ASEAN is said to be China's best trade partner ahead of the EU.
Analysts believe that China may need to work with global lenders such as the World Bank and the Asian Development Bank (ADB) to spread its financial risk. And this may serve the dual purpose of building confidence in China among existing BRI nations and other prospects.
MEDICAL DIPLOMACY China is still facing Sinophobia in many countries due to how it mishandled the COVID-19 outbreak and ensuing global chaos. Therefore, one of Beijing's more important tasks in the coming months will be to revive global confidence in the country once more.
The CCP plans to woo back its friends and cajole detractors through the Health Silk Road (HSR) initiative. It is pushing through the implementation of HSR as a means of creating opportunities in the areas of healthcare facilities, and increasing trade in healthcare related goods between China and BRI nations.
So instead of only roads, railways and ports, the HSR offers an extension of the BRI vision by focussing on the healthcare and wellbeing sector. It will not only address infrastructure and trade but also build on knowledge sharing between BRI nations.
FIRM FRIENDS While the BRI continues in former USSR states, Xi and Russian President Vladimir Putin recently pledged to strengthen bilateral ties and coordination in international affairs. They placed particular emphasis on "strong mutual support" for sovereignty and prevention of interference in internal affairs, as well as upholding international law.
The backstory to this lies with Washington's missile defence systems that have been deployed very close to Russia's borders and US funded bioweapons labs in former USSR states. Russia claims that there's one in Georgia, several in Ukraine and one in Simferopol, which had been established in 2014 before Russia reannexed Crimea.
So a strategic partnership between China and Russia is bound to make things interesting since they will be a formidable team, especially during bilateral negotiations with the US and others.