TOURISM INDUSTRY
AN ISLAND LIKE NO OTHER
Shimazie Adjumain highlights destination Sri Lanka's laudable strengths
Compiled by Lourdes Abeyeratne
Q: What is your take of domestic tourism here in Sri Lanka?
A: There is more to domestic travel than meets the eye as we can offer much more than luxury stays in hotels. Local travel has been a saviour as it was instrumental in reviving Sri Lankan tourism following the Easter Sunday attacks in 2019 and COVID-19 imposed lockdowns.
With foreign travel restrictions, there was a large increase in locals embarking on leisure travel around the island with special offers not being the only deciding factor. We must understand their interests and motivations.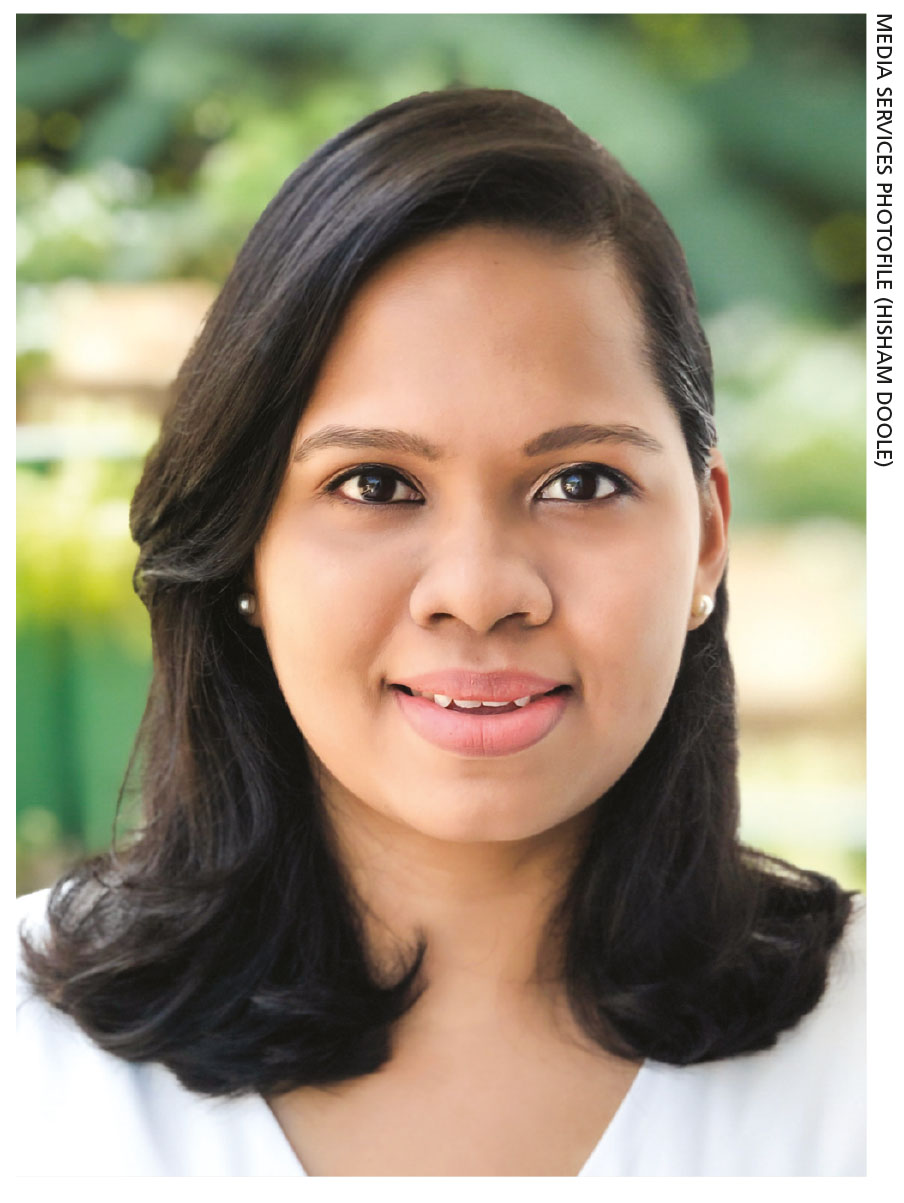 The local market is often driven by discounted rates with the aim of experiencing total luxury at hotels with facilities such as pools, buffets and more. Recently, there has been a shift with experiential travel taking precedence.
More local travellers are displaying an interest in exploring destinations and excursions. We should focus on how value can be added to their holiday experience and encourage them to enjoy destinations beyond hotel rooms.
Many local hospitality brands offer such packages but there's room for development. We must come up with unique offerings to capture the local market and retain its interest.
Q: And what should the industry's main objective be at this time?
A: To implement and strengthen safety standards and health protocols, while ensuring uniformity and consistency. Given the interest in reopening our borders, safety guidelines need to be in place to protect tourism service providers, guests and the community from COVID-19.
Strict measures must be implemented to ensure that tourism institutions abide by guidelines, which is crucial as we look to guarantee international travellers a safe stay in Sri Lanka.
Enhancing human capital and sustainable tourism are secondary areas that require focus. Particularly in tourism where service plays a pivotal role, our focus must be on enhancing human resources.
With Sri Lanka's potential to be a player in the major league of tourism, there is space to develop language proficiency, communication skills and etiquette. Our objectives must be aligned to strengthen human capital through training to meet high service and safety standards.
As for sustainable travel, many travellers are seeking 'responsible tourism' options – i.e. to ensure that their impact on destinations is positive.
Our island is blessed with unparalleled resources so we must align tourism goals with safeguarding its natural and cultural heritage. Human and wildlife welfare, and preserving nature, are avenues to focus on. Guidelines or certifications should be issued for meeting sustainable standards to help protect what's ours.
Q: Which trends must the industry capitalise on?
A: One such trend is private group bookings where entire boutique hotels or villas are booked for families or friends with minimal staff interaction, facilities being reserved, limited exposure to the outside world and so on.
These curated holidays could attract 'reunion travel' among those seeking escapism following prolonged lockdowns.
There's also room for wellness tourism – no destination can cater to this market better than Sri Lanka with its indigenous medicine. Ancient healthcare and healing practices could be incorporated into holiday packages to appeal to those interested in 'healthful travel.'
All travel scenarios are driven by safety, health and hygiene. These factors will influence decision making so all stakeholders must embody these principles.
A collaborative effort is needed to ensure that service providers consistently implement all precautionary measures. A commitment to providing safe stays in Sri Lanka must be instilled.
Q: How do you view the tourism industry's prospects?
A: They're promising – our island's diverse offering and unique position provide a distinct advantage.
We have experienced major back-to-back setbacks but this island topped major publications' travel lists in 2019 and last year – including Lonely Planet, Travel + Leisure, CNN Travel, Forbes and more – setting the right tone for Sri Lanka's tourism prospects.
Sri Lanka enjoys a unique position with its extensive offering. From beautiful beaches to a scenic hill country, rich history and culture to majestic wildlife… where else would travellers encounter such a holistic experience?
With a unified PR and marketing strategy, we will be able to capture potential travellers' renewed interest. However, given the challenges of the recent past, we must invest in human capital, infrastructure and resources, to reap short and long-term benefits.
The interviewee is the Manager of Marketing Communications of Serendib Leisure Management