WORLD HABITAT DAY COMMEMORATION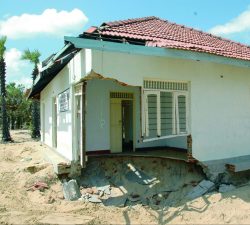 A ceremony was held in Matara under the patronage of Ministers Mangala Samaraweera and Sajith Premadasa to celebrate World Habitat Day 2017. This year's celebration was themed 'Sarilana Niwahanaka Urumaya Samata' (granting everyone access to proper housing).
At this occasion, 1,000 Samata Sewana loans, 100 title deeds, 100 Sonduru Piyasa loan cheques, 50 Samata Sewana funds, 25 Viru Sumithura funds, 135 Shilpa Saviya certificates, 100 carpenter tool kits and a house for an athlete were presented.
Addressing the gathering, Minister of Finance and Mass Media Mangala Samaraweera also stated that the government expects an income of Rs. 2.2 trillion in 2018.