WICKRAMARACHCHI OPTICIANS
Luxury Eyewear comes to One Galle Face with Wickramarachchi Opticians
Colombo, Friday 08th November 2019: Pioneering opticians and hearing care specialists Wickramarachchi Opticians and Hearing Care opened its luxury eyewear store at the One Galle Face Mall today. The store was declared open by His Excellency President Maithripala Sirisena. Founder and Managing Director of Wickramarachchi Opticians and Hearing Care Mihira Wickramarachchi was also present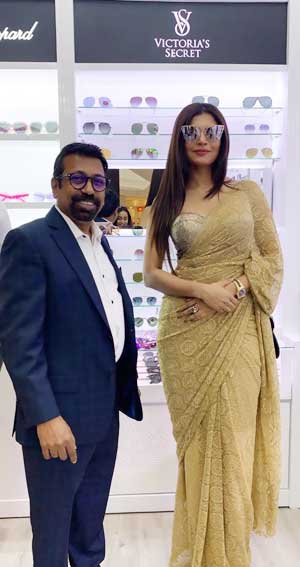 Speaking at the launch Mr.Wickramarachchi said, "Wickramarachchi Opticians has been trusted for decades as the go-to place for eye care and eye wear solutions. Whether it is for reading or correction glasses or fashionable sunglasses, we provide world class brands to our discerning customers. This new store at the prestigious One Galle Face Mall takes our product portfolio to a new level of high quality, luxury brands".
The opening of the store also coincided with the launch of the exclusive Victoria's Secret sunglass collection, available only at the Wickramarachchi Opticians One Galle Face Mall outlet. The line was launched by actress and Ms. Sri Lanka World (2013) Asanki De Silva. Asanki is the Official Brand Ambassador for Victoria's Secret sunglasses in Sri Lanka.
The Wickramarachchi Opticians showroom at One Galle Face Mall houses only premium international brands such as Prada, Ralph Lauren, Versace, Chopard, Dolce & Gabbana and much more.
Meanwhile, the opening of the store also marked the launch of Wickramarachchi Opticians' new logo and brand identity.
"Our aim has always been to cater to different segments of society and this store at the One Galle Face Mall opens up brand new markets for us. With Colombo becoming a hot tourist destination we strongly believe in the presence of international brands and are proud to represent some of the best in eye wear", Wickramarachchi added.
The Wickramarachchi Opticians store is located on Level 1 – Shop No.37 at the One Galle Face Mall. Please contact 0774 743970 for more information.