TECH INDUSTRY
SHORT TAKES
Compiled by Savithri Rodrigo 
Chrishan Mendis
Ramesh Shanmuganathan
Q: What are your growth projections for the tech sector? 
Chrishan Mendis (CM): The IT industry has the potential to double in size to US$ 4 billion with a key dependency on all government and private universities or training institutes to plan for exponential growth and oversupply by taking into consideration the large number of IT professionals who are migrating.
Ramesh Shanmuganathan (RS): Average but with the potential of a compound annual growth rate (CAGR) of 10-15 percent for the economy to grow at between five and eight percent. It has much catching up to do to stay relevant in both the regional and global contexts. We can do much more given the transformative and disruptive potential of IT and digitalisation.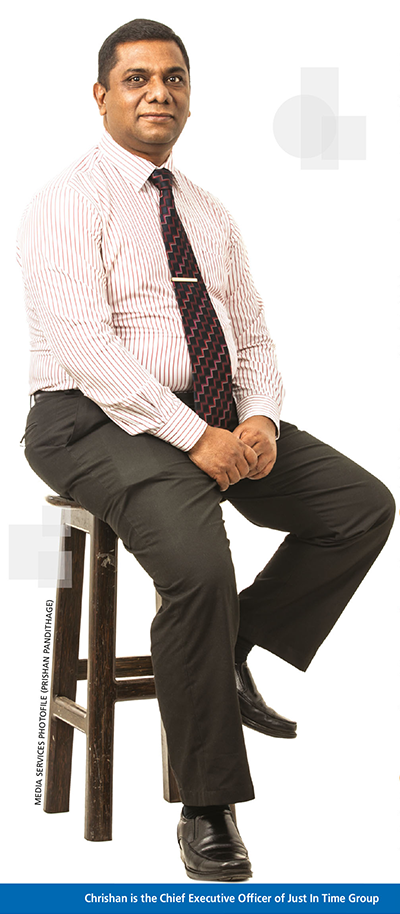 Q: Which sectors are driving the demand for ICT in Sri Lanka?
CM  Telecommunications, banking and finance, and the public sector. Much more is achievable in the public and healthcare sectors. 
RS  The public sector, financial services, hospitality, manufacturing and retail are the sectors commanding future demand.
Q: What is your take of the ICT talent available in the country? 
CM  Very knowledgeable but lacking initiative and the courage to be daring. The quest should be to learn and not spoonfeeding to spur innovation. There are many entrepreneurs and startups with talent that must be supported to grow the industry.
RS  It's very limited given the expanding horizons of the IT landscape, and especially in the case of newer platforms including mobile, data science, IoT, AI, blockchain, integration and security.
Q: So how can companies procure and harness this talent?
CM  Currently hackathons, career fairs at universities and conventional interview methods are used. But companies need to be futuristic to cater to millennials and gen Z, to attract and sustain them, amid value additions such as leadership and soft skills for holistic growth. 
RS  By incubating them as part of science, technology, engineering and math (STEM), or similar programmes in or having co-op programmes with universities. There could also be collaboration externally with organisations that may have these or work on a crowdsourcing model.
Q: Could you cite examples of how digital transformation is driving enterprises today? 
CM  Having 24/7 services the way banks do with technology being the business core in extending services through digital channels. Another example would be 'medtech' through wearables or IoT gadgets to obtain consultations, prescriptions and even doorstep delivery of medicine. 
RS  Digital transformation is disrupting many businesses today. This is forcing organisations to reconsider all the aspects and dynamics of their businesses – including business models and customer engagements – and create new opportunities for themselves in the process.
Q: How is the Internet of Things shaping the office of the future? 
CM  Process automation, energy saving, robots and much greater data capture for analysis, building and equipment maintenance, personalised workspaces with lighting, heating and ventilation, performance evaluation and compliance, making offices more efficient and automated. This will free up the workforce to engage in outcomes that are more productive. 
RS  IoT will be the platform of automation, from smart homes to smart offices and buildings. We have launched our first smart home product and will be looking at smart offices soon since this will also drive greater efficiencies. It will make 'hot seating' a reality.
Q: Is there adequate technology adoption in the small business segment? 
CM  Yes! Today, we see a healthy rate of adoption of cloud computing. SMEs and startups can enable IT based services in hours or days, by using cloud based solutions and mobile apps without any capital investment. 
RS  Not really, and that's mainly due to IT being perceived by smaller businesses as expensive and irrelevant.
Q: How are emerging technologies impacting the bottom lines of IT companies? 
CM  When traditional technology is becoming outdated, new opportunities emerge for those who change their business models to adopt emerging tech. IT companies that are slow to adapt and cater to future digital needs will see their bottom lines being affected. 
RS  Emerging technologies have the potential to disrupt the bottom lines of IT companies if they fail to reinvent themselves and stay relevant.

Q: What are the main competitive pressures in the IT space? 
CM  Transformation has become the main challenge. Adoption of emerging technologies, and finding the right talent with a millennial mindset and problem solvers, are among the competitive pressures. 
RS  The main competitive pressures revolve around talent acquisition, access to markets and capital, innovation and differentiation in a commoditised market. 
Q: How are organisations addressing growing cybersecurity concerns? 
CM  Cybersecurity threats are growing by the day and firewalls alone cannot solve these challenges. Businesses must now enable security operation centres (SOCs), which must be embedded in the strategic road map. SOCs provide multilayer protection for articulating multiple integrated security offerings. 
RS  One has to take an all-encompassing view from policy to execution, and employ people who understand and are able to guide the organisation in all these aspects. Better organisations have a structured approach to cybersecurity with the appointment of a chief information security officer (CISO) reporting to a board member to maintain independent reviews.
Q: What needs to happen for there to be a more optimistic business future for tech firms? 
CM  Government policy in the total digitalisation of citizen processes and services will create demand internally. Export markets should target areas such as software services to expand. Marketing and matchmaking companies engaging at the country level should improve. 
RS  Macro and microeconomic stability are vital while nurturing the requisite talent for the industry, brand development and access to growth markets are also crucial.
Q: And finally, what can tech companies do to capture end-to-end value? 
CM  With technology being the core of future business, tech companies must differentiate themselves by adopting innovation based business models – models that will solve real world or business challenges that capture end-to-end value. 
RS  Tech companies must focus on creating platforms and ecosystems that are 'sticky,' and continue to create greater value for their customers, through long-term engagement and based on an operating expenditure model.
Chrishan is the Chief Executive Officer of Just In Time Group
Ramesh is an Executive Vice President and the Chief Information Officer of John Keells Holdings