SRI LANKANS OVERSEAS

LIVING IN THE PRESENT
Dr. Dilani Perera
Finding solutions to the problems we face calls for planning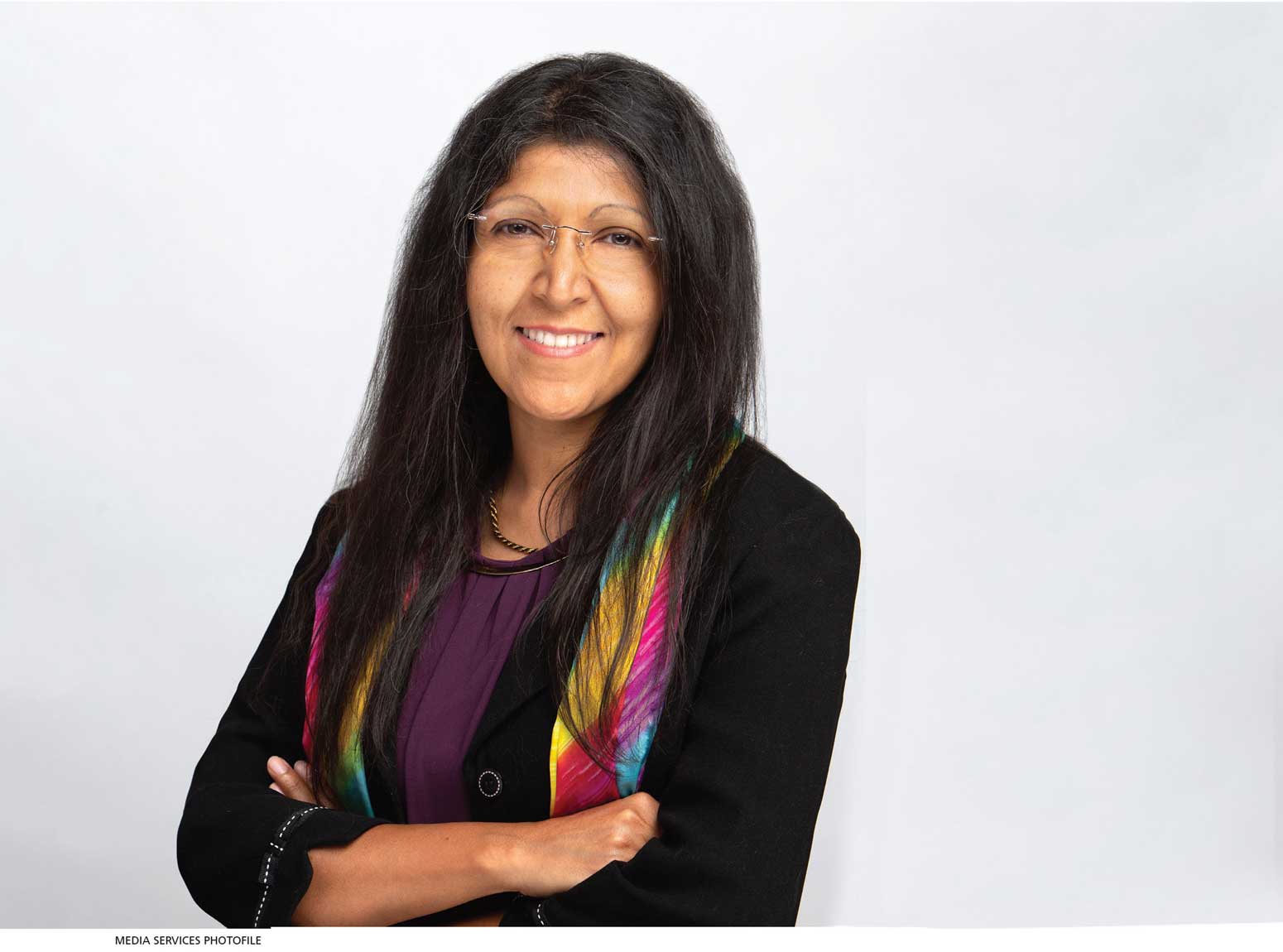 Q: How do you perceive the state of the nation in Sri Lanka today?
A: I see progress, the lack of it and opportunities to grow. There is a struggle for good leadership, without which a country cannot develop. And there's also a lack of culturally appropriate systems to address the issues affecting people. An area continuously lacking in progress is mental healthcare.
Although mental health issues are present among Sri Lankans due to numerous natural and man-made disasters, the stigma attached to mental illness and cultural norms of silence interfere with addressing this issue. Sri Lankans are quick to welcome Western practices but mental health counselling isn't one of them.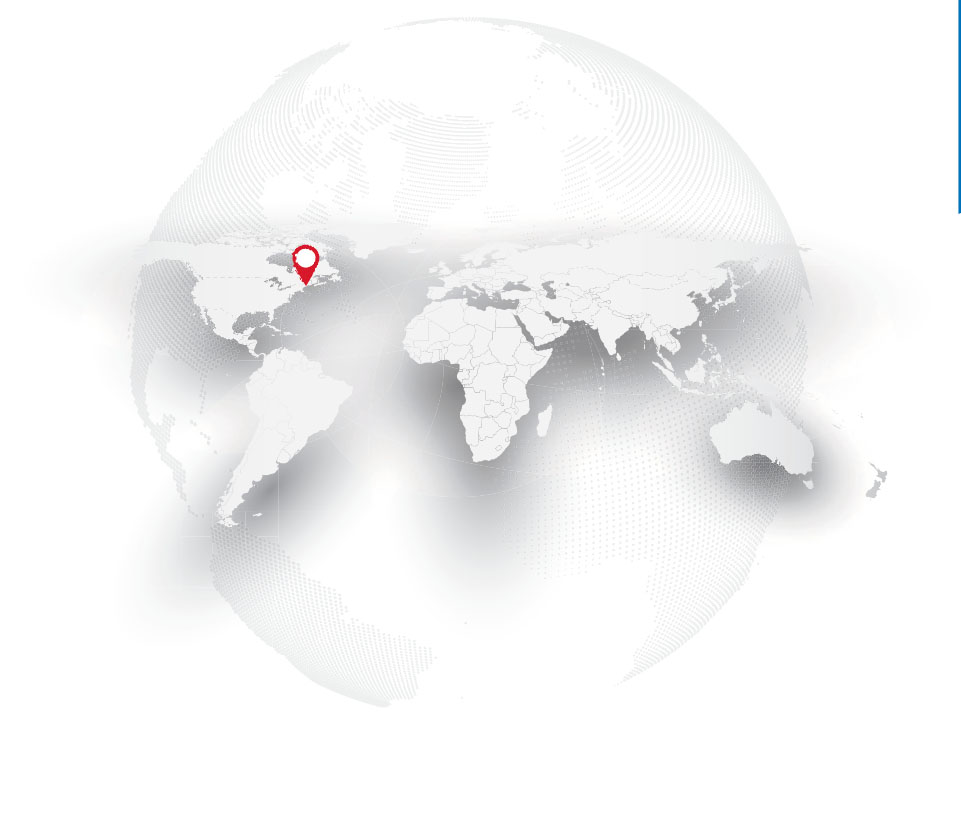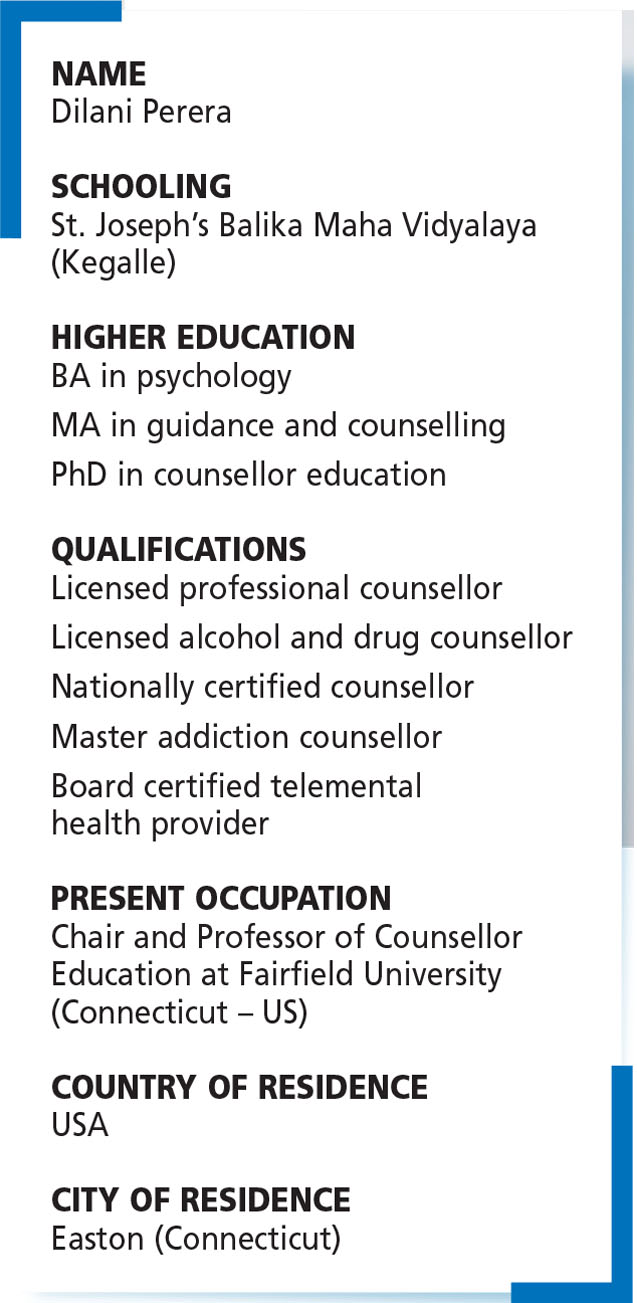 Q: Do you think Sri Lanka is capable of regaining its composure in the aftermath of multiple challenges that it has faced in recent times – including the ongoing economic crisis?
A: Sri Lankans are resilient. The past and their recent activities demonstrate the collective strength of the people, an ability to pull together for change, and how this can happen if Sri Lankans action a strong and reasonable plan.
I am hopeful that the country will regain its composure in the future.
Q: From afar, what advice would you offer Sri Lankans in the context of crisis management and finding solutions to the problems they face?
A: Giving advice is not one of my strong suits. I do believe that looking back will bring pain and anger however, and looking forward may cause fear and perhaps create hope.
But I also think that living in the present with a hopeful and realistic action plan for the future may be the best way to manage any crisis, and find solutions for many problems.
Q: How do compatriots in your country of domicile view Sri Lanka?
A: Those who are familiar with Sri Lanka inquire about the safety, wellbeing and recovery of the people, both physically and mentally.
Q: In a similar vein, how do other Sri Lankans living in the United States view Sri Lanka?
A: Most reminisce fondly about the country but are sad about the lack of development that's needed to benefit all people living in Sri Lanka.

Q: What were your impressions of Sri Lanka on your last visit – and how much had changed since you were previously here?
A: My last visit was in 2019. Sri Lanka has changed with more buildings, vehicles, noise, litter, mobile phones and the overall bustle.
People are still warm, welcoming and humble however, and I treasure that. I did notice an increase in crowds on the streets and wondered if unemployment was on rise.
Q: How do you view the brain drain – and why is there still no reversal of it, in your opinion?
A: People who are highly qualified leave the country in search of more opportunities to learn, serve and be valued for their contributions.
While the relaxed atmosphere of Sri Lanka is an attraction, the limited opportunities – as well as political and economic instability coupled with a high level of corruption – contribute to a brain drain. It is hard to find value in one's job while working in the midst of such negative forces.
Q: So what should Sri Lanka focus on most in the decade or so ahead?
A: A good place to begin would be to start meeting people's basic needs such as food, clean water, shelter and safety. Establishing infrastructure is important for the development of the country based on its strengths and resources.
Further, a strong mental healthcare system will help optimise Sri Lankans' talents and skills that can contribute to uplifting the nation, and address any negative effects of the different traumas people have endured.
Q: And what are your hopes for the country in the next 10 years or so?
A: My hope is that Sri Lanka will have a strong leader who would make decisions for the development of the country and betterment of its people.
I believe Sri Lankans have the temperament, cultural values and beliefs, and knowledge and skills, to develop the country in a way that will benefit all.
– LMD