ROYAL CASHEWS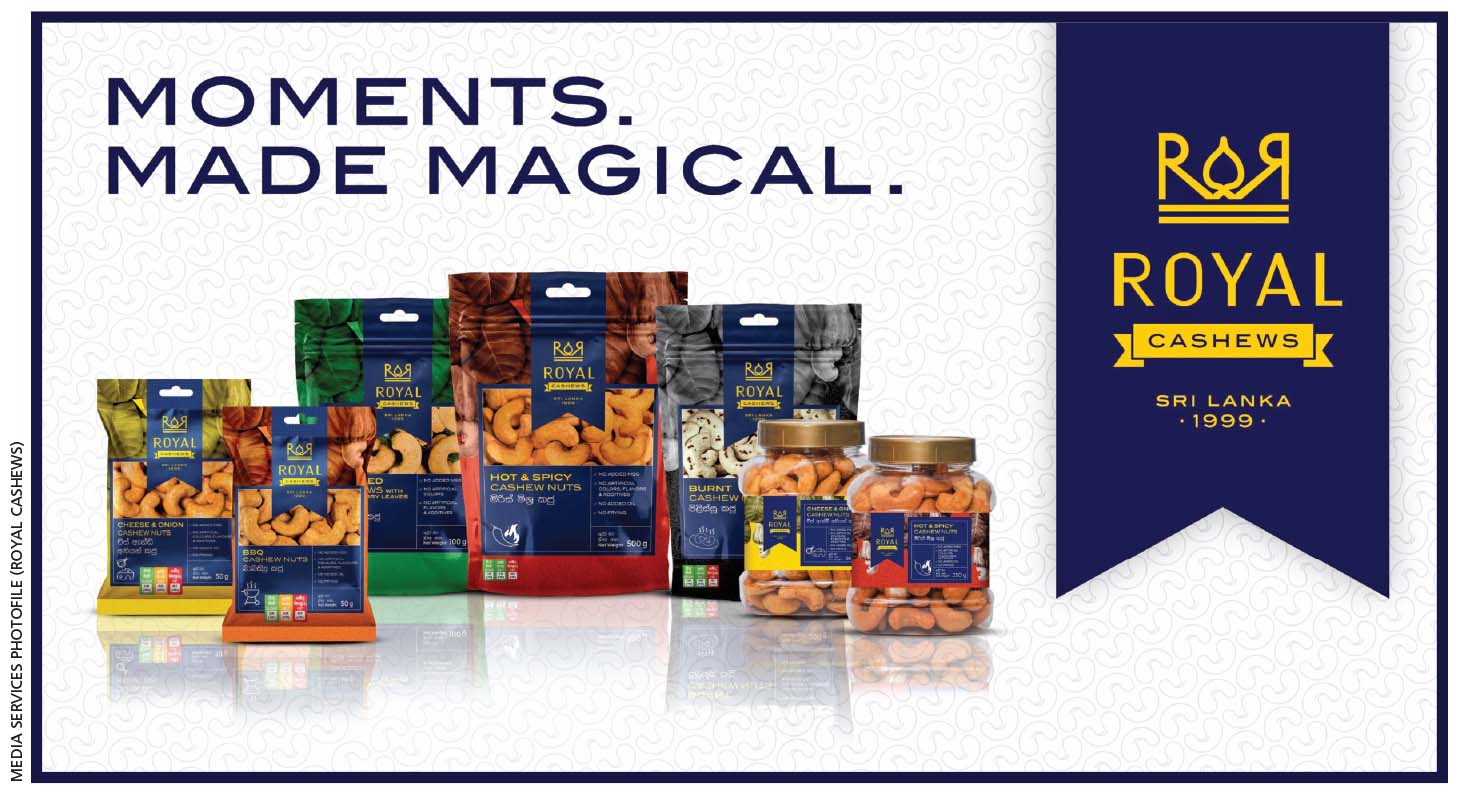 From Sri Lanka's basket of agro-exports, the creamy, milky flavoured cashew nut takes centre stage for its distinct taste, health benefits and versatility as a key ingredient in a range of delectable dishes.
For Dr. Ruwa Wathugala, who hails from Kirindiwita in Gampaha – a region lauded for being one of Sri Lanka's main cashew processing areas – it was love at first bite. And his passion to promote sustainable Ceylon cashew gave birth to Royal Cashews in 1999.
Positioned as a leading cashew processing estab­lishment in Sri Lanka, Royal Cashews offers an assortment of products that range from salted, roasted, burnt and dehydrated nuts to cashews of different flavours such as barbeque, cheese and onion, chilli garlic, hot pepper, shrimp and red onion, and hot and spicy to name a few.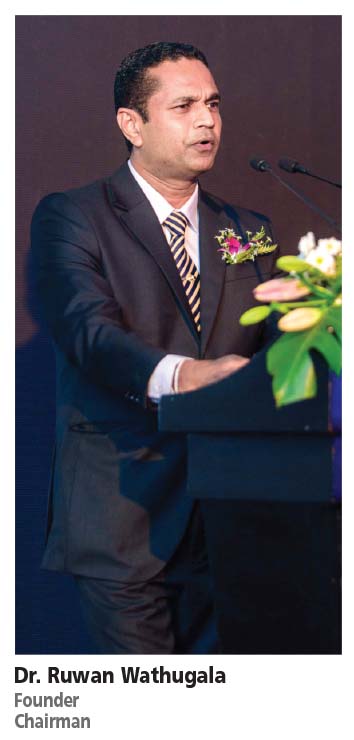 In addition to being enjoyed by Sri Lankans at home, Royal Cashews' products are also exported to over 15 countries including the US, the UK, Australia, Malaysia, Japan, New Zealand and Switzerland.
Wathugala, who was serving as a medical doctor in 1999, established Royal Cashews as a passion project to give back to the community. It is now one of Sri Lanka's largest producers and exporters of Ceylon cashew. Today, it consists of a group of three companies – Green Way Asia Lanka, Trust Lanka Suppliers and Royal Food Marketing.
Royal Cashews operates with a fully automated end-to-end integrated processing system across a strategically located network of branches around the island. Under the visionary leadership of its Foun­der and Chairman, the company has gone on to win a range of accolades.
They include the NCE Gold Award for Fresh and Processed Food Exports for three consecutive years from 2019 to 2021, as well as SLIP awards such as Winner of Best Packaging in 2007, Best Eco-Friendly Packaging – Presidential Award in 2011, Best Display Packaging in 2020 and Best Product with Local Raw Material in 2007.
For his inspiring leadership, relentless passion and strategic business skills, Wathugala himself was bestowed with the coveted Best Entrepreneur of the Year award and four Gold Awards at the Sri Lankan Entrepreneur of the Year Award Ceremony in 2019.
As a truly Sri Lankan pro­duct, Royal Cashews is a brand that prioritises authen­ti­city and quality above all else. Its production process is guided by international standards.
Production begins at the point of obtaining the cashew kernels – a painstaking process that takes seven days! The raw cashew nuts with shells are then subjected to a fully automated production process that uses the latest cutting-edge technology including nano-technology, colour sorting and others. Less than five percent of the production process requires human intervention. As a result, the standard of hygiene is high and the quality is exceptional.
Royal Cashews was the first local cashew company to be awarded ISO 22000 certification, and remains the first of its kind to have obtained ISO 14001, HACCP and GMP certification.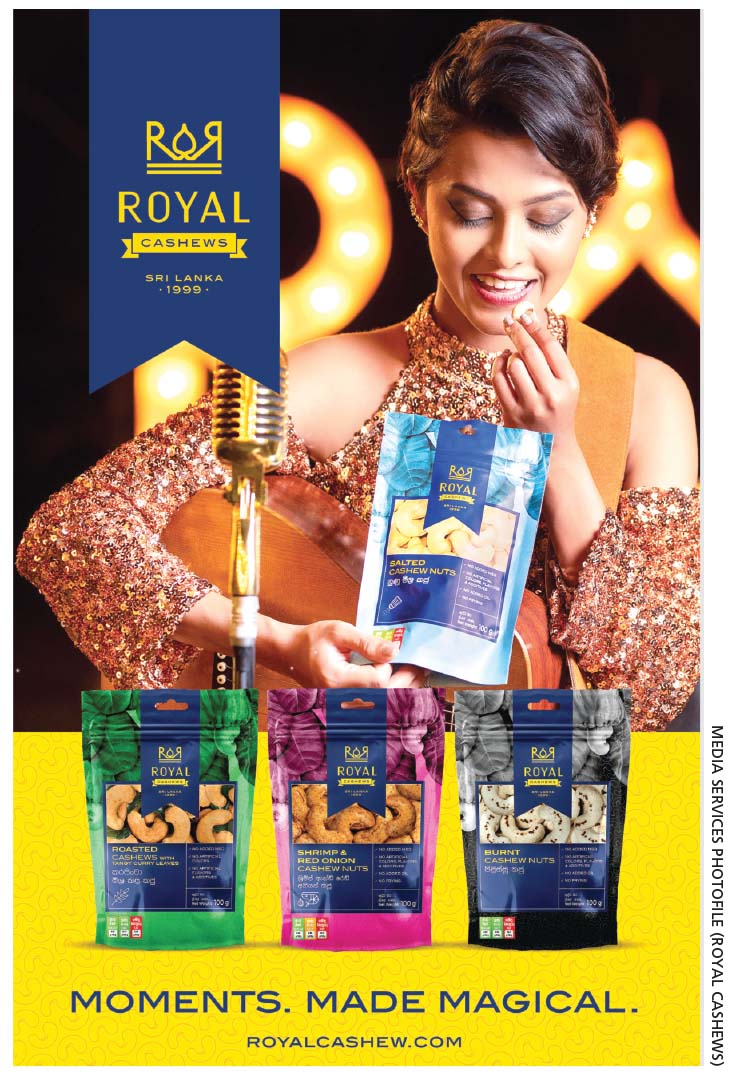 "Our manufacturing facility has been transformed over the years into the most advanced production facility for cashew in Sri Lanka," says Wathu­gala, noting that it is fully automated and manned by well-trained staff, food scientists and cashew experts.
Ceylon Cashew is highly prized for its size, texture and unique milky flavour, which makes it highly sought after. According to the inter­national system of cashew grading, the majority of nuts from Sri Lanka fall into the 150-180 grade. This means that they are the largest in the world and the only ones used by Royal Cashews for export.
Royal Cashews is keen on catering to changing customer tastes and evolving market dynamics. This year, the company positioned itself as Sri Lanka's premier cashew brand with a new mantra: Moments Made Magical, highlighting its relevance to life's great moments so that every moment is made magical.
The relaunch took place in May at a glamourous event graced by Wathugala, Chief Guest Suren Amarasekera and senior members of Royal Cashews' corporate management, and marketing and operations teams, along with other distinguished guests.
Staying true to its founder's vision of giving back to the community, the company is a responsible corporate citizen that follows a rigorous programme to empower smallholder producers through knowledge sharing, technological advances and fair business practices. It also empowers farmers and small-scale producers to develop and harness the potential of their cashew nuts as a premium export product, through value addition and advanced production processes.
"Our focus is on local farmers and smallholders who have been provided with the technical knowledge and training to ensure pro­duction of the finest quality Ceylon cashew. The produce is purchased at fair prices, directly without middlemen and processed into export quality products," highlights Wathugala.
Royal Cashews is also a protector of the environment, and an eco-friendly company that is committed to minimising its carbon foot-print while ensuring that zero hazardous gasses and effluents are released into the environment.
Telephone 0702 218888   |    Email sales@royalcashew.lk   |   Website www.royalcashew.lk