N S GREEN LINKS LANKA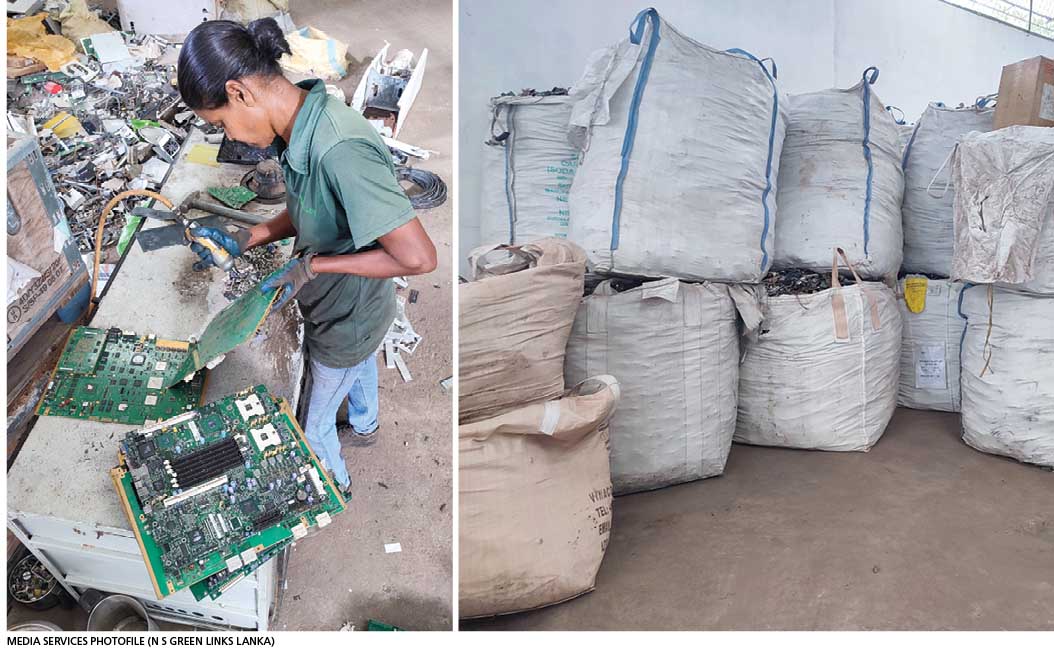 The fight against e-waste management can't be fought alone. Yet, if not mitigated, this issue will pile up and drown the world in a mix of toxins, chemicals and pollutants.
N S Green Links Lanka considers e-waste management to be a service to society as it reduces the amount of electronic waste that is being irresponsibly discarded. The company's humble journey that began with collecting and recycling old vehicle silen-cers in the boot of its founder's car has today blossomed into a world-renowned enterprise positioned as Sri Lanka's foremost electronic waste management company.
For the record, N S Green Links Lanka was conceived in the mind of Founder and Manag-ing Director Nalin Gunaratne. He had stumbled upon the concept of e-waste manage-ment and was inspired to look at how he could contri-bute towards finding a solution to what would become one of mankind's biggest issues.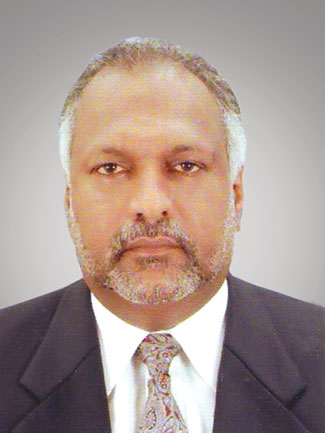 N S Green Links Lanka was established in 2005 with a license from the Central En-vironmental Authority (CEA). It obtained permission in line with the Basel Convention, to export e-waste overseas for recycling.
The company collects, categorises and exports used computers, laptops, TVs, LED monitors, printing machines, scanners, photo-copiers, refrigerators, air conditio-ners, wa-shing machines, telephones, mobile phones, digital cameras, alkaline batteries etc.
Passion and perseverance are the hallmarks of Gunaratne's leadership. He is driven by courage and ambition, and a thirst for authenticity and originality.
Gunaratne recalls the early struggle that the organisation faced: "I approached seve-ral parties to help me create this company to address the problem of e-waste in Sri Lanka early on but there were very few people who understood the concept. When no one else came forward to help me, the Chief Operating Officer of Commercial Bank (at the time) Ravi Dias offered the support I needed to start this venture. Dias is currently the Chairman of Seylan Bank. The bank has been greatly helpful to the journey of N S Green Links Lanka."
Today, the organisation offers customised e-waste management solutions to over 300 corporate entities in Sri Lanka including major blue-chip companies, BOI firms and banks.
With years of experience and expertise in providing e-waste solutions in line with inter-nationally accepted standards, N S Green Links Lanka has established many global partnerships. To date, it has exported over 300,000 tons of e-waste to countries such as Japan, the UK, South Korea, Malay-sia and Germany, and brought in significant foreign exchange to the island.
The latest feather in its cap is being appointed as the authorised local supp-lier of used hybrid/EV vehicle batteries to Umicore, which is a pioneering recycler of rechargeable batteries in Belgium. N S Green Links Lanka has been assigned to collect and store end of life nickel metal hydride and lithium-ion batteries from hybrid and electric vehicles in Sri Lanka, and export them to Umicore for eco-friendly recycling.
The company is powered by a team of passionate individuals who have been with the organisation for a long time and risen up the ranks. Developing people, motiva-ting them and taking care of them are key philosophies of the company. "I understand the needs of individual staff members, and I look after them – they know that the com-pany will take care of them," avers Guna-ratne.
Helping team members maintain a work-life balance is considered a priority at N S Green Links Lanka. "Family is key," says Gunaratne, explaining that his mantra of 'live and let live' is practised at the com-pany and this enables all its staff to be happy, successful and accomplished in life.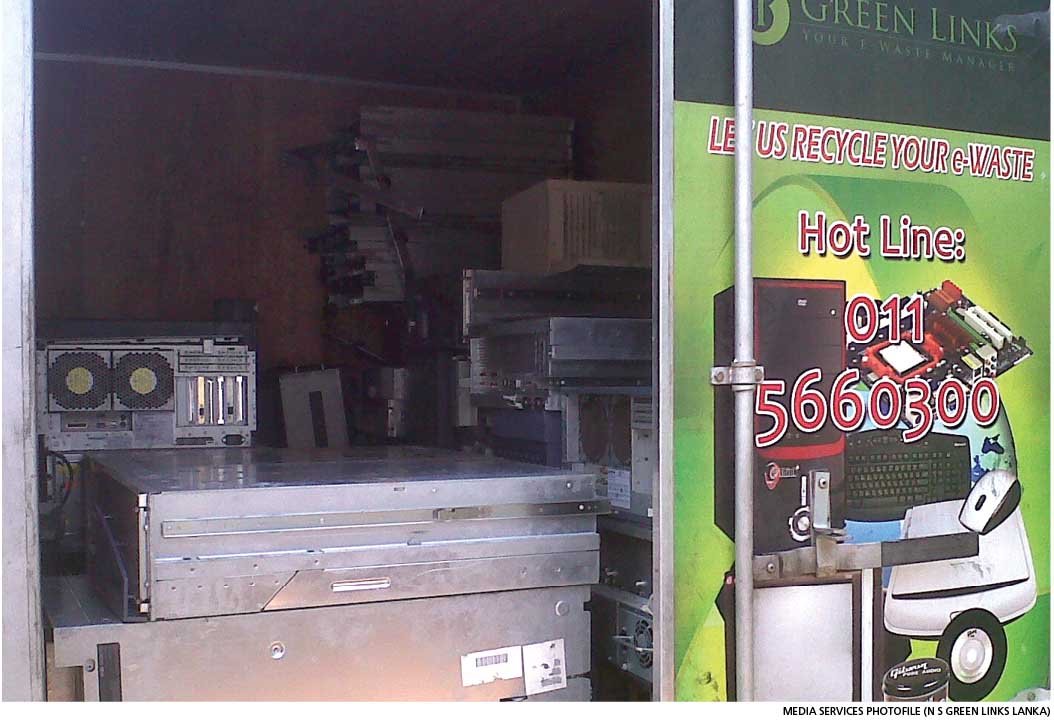 N S Green Links Lanka is also keen on serving its community and the wider socie-ty through multiple CSR activities. The company supports many schools around the island with computer equipment and infrastructure facilities while teaching child-ren about the need to be environmentally responsible. It also extends its corporate social responsibility initiatives to special groups such as disabled soldiers to uplift their lives and livelihoods.
The firm is keen on raising awareness about the issue of e-waste in Sri Lanka at individual, social, corporate and government levels.
Gunaratne notes: "When we began ope-ra-tions, no one knew about e-waste manage-ment. But now we're seeing corporates making significant strides in the right direction. It's time to educate the masses – there is great hope for Sri Lanka's youth who I believe are passionate about protecting the environment."
He calls on the government to support local licensed e-waste management companies to collect, recycle and export electronic waste. Gunaratne highlights the need for more policy level actions to support the industry especially given the backdrop of the prevailing economic crisis that has increased costs to unbearable levels.
Creating a country that is free of electronic waste is an ambition that's deeply entrenched in Gunaratne. He affirms: "We are on the right track in terms of e-waste management but we should not lose focus. Sri Lanka needs to come together to accele-rate our collective effort to combat this toxic danger."
– Compiled by Ruwandi Perera
Telephone 2236366  |  Email info@greenlink.lk  |  Website www.greenlink.lk