INSEE ECOCYCLE LANKA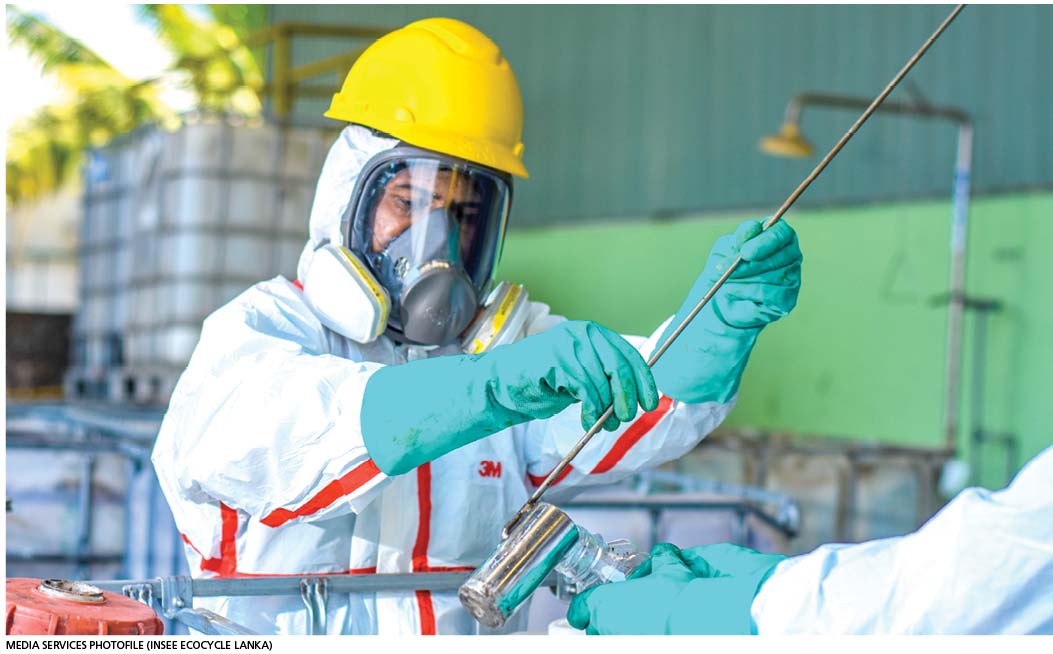 According to World Bank statistics, the planet's annual waste generation is expected to increase to 3.88 billion tonnes in 2050.
Like much of the world, Sri Lanka ope-rates in a linear economic model that creates waste with no measures being ta-ken to recover resources from waste. Today, many business leaders, policy makers and academics recommend moving towards a circular economy, which is aligned with UN Sustainable Development Goal (SDG) 12 marking sustainable production and consumption.
Positioned as Sri Lanka's leading sus-tainable waste management solutions pro-vider, INSEE Ecocycle Lanka is an ardent promoter of the circular economy as it forms one of the five pillars of INSEE's Sustainability Ambition 2030. It's an evolving subject that has gained the global spotlight. According to chartered environmentalist and Director/EXCO member of INSEE Ecocycle Lanka Sanjeewa Chula-kumara, the circular economy is simply about "closing your loops."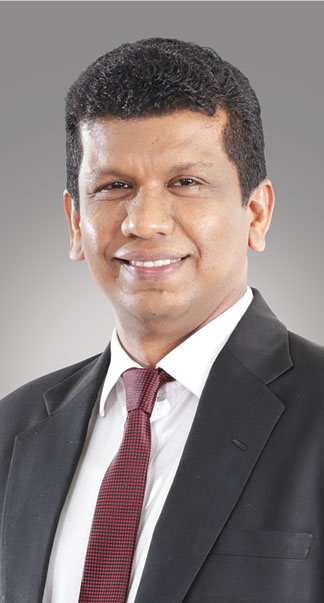 INSEE Ecocycle Lanka is currently the country's undisputed leader and pioneer in sustainable waste management. The company has over 19 years of experience in managing waste that includes diverse kinds of industrial waste amounting to over one million metric tons. It works with a thousand corporate customers and government institutions, such as the Board of Investment of Sri Lanka (BOI) and local authorities.
A fully owned subsidiary of Siam City Cement (Lanka), the company is committed to providing industries with complete sustainable environmental solutions through cement kiln co-processing and other similar services.
It is also looking to expand resource reco-very-based waste management solutions beyond cement kiln co-processing. The organisation hopes to make a greater contribution to national waste management through its world-class resources and regional network of group companies in Thailand, Cambodia, Vietnam, Bangladesh and Indonesia.
The INSEE Ecocycle Lanka Environment Solutions arm provides laboratory services, training and consultancy, industrial clea-ning, specialised logistics services, environmental remediation, emergency res–ponse services, e-waste management, py—ro-lysis and more.
INSEE Ecocycle Lanka practises the concept of integrated waste management solutions, which amalgamates recycling, up-cycling and energy recovery. Yet, given the amount of industrial waste generated in Sri Lanka, using cement plants to co-process it is insufficient.
Chulakumara talks of industrial symbiosis where someone's waste becomes another's resource. He cites the example of fly ash generated by the Lakvijaya Power Station in Norochcholai, which is used by Siam City Cement (Lanka) to produce INSEE EXTRA. This is Sri Lanka's first cement to be certified for 'Sulphate Resistance' under the Sri Lankan (SLS) standard.
He calls for the need for more Producer Responsibility Organisations (PRO) such as INSEE Ecocycle Lanka, which are companies that support the concept of extended producer responsibility (EPR) by collecting and recycling waste for particular industries.
INSEE Ecocycle Lanka's Resource Reco-very Centre is one such location, which ensures end-to-end solutions for the syste-matic collection of Fast-Moving Consumer Goods (FMCG) and post-consumer waste through reverse logistics. This process collects waste generated through general and modern trade, segregation, purification, reusing, recycling and upcycling.
The organisation has been supporting the national municipal solid waste (MSW) process in many ways since 2011 through a public-private partnership. It enables the segregation of non-recyclable polythene and plastic waste material, after which these items are processed through co–processing kiln waste management solutions.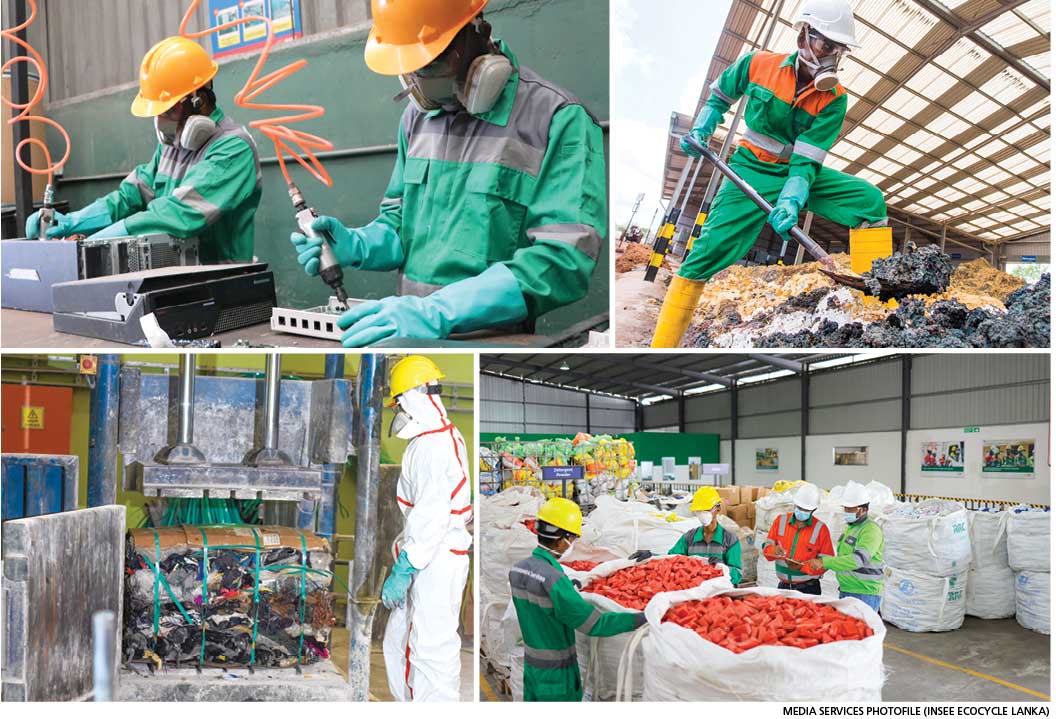 One of INSEE Ecocycle Lanka's best achievements is its contribution to alter-native fuels and helping reduce dependency on fossil fuels. With experience and proven efficiency, INSEE Ecocycle Lanka has the capacity to annually manage 10,000-12,000 tons of sorted non-recyclable MSW.
Taking a step further, the organisation is now promoting recycling and upcycling for recyclable materials from industries and MSW through its INSEE Ecocycle Lanka Resource Recovery Centre.
It has also contributed to national waste management projects including providing a sustainable solution for obsolete chemical waste in state universities.
INSEE Eco-cycle Lanka has been conti-nually providing waste management solutions for all BOI companies in Sri Lanka as well.
Other projects include the responsible disposal of confiscated cocaine hydrochloride through cement kiln co-processing; and crushing and burning illegal elephant tusks confiscated by Sri Lanka Customs.
"Waste management should be integrated into organisations' business models," says Chulakumara, and he invites businesses to
introduce circularities such as recycling and repurposing into the production process, in alignment with environmental, social and governance (ESG) goals.
He calls for individuals and businesses to repurpose waste, which is a cornerstone of the circular economy and will be part of the solution to help Sri Lanka emerge from the economic crisis it is facing today.
– Compiled by Ruwandi Perera
Telephone 7800800  |  Email customerservice-inseeecocycle@siamcitycement.com  |  Website www.ecocycle.lk