ROYAL INSTITUTE
CHANGING THE FACE OF EDUCATION
EARLY DAYS
A young G. T. Bandara walked into Science College, Matale, after being chosen for his exceptional performance at the selection exam.
The wholehearted efforts of his teacher Ekanayake, who believed that the young boy deserved a brighter future, paid off decades later.
Recognising the youth's out­standing mathematical prowess, Science College guided him to complete his A-Level exam in mathematics and then enter the University of Peradeniya for his BSc in engineering.
At the end of the first year, he transferred to the University of Colombo to specialise in mathematics.
The aspiring graduate was a passionate teacher. As he assisted and guided his students, his fame grew as a tutor who was able to deliver positive outcomes.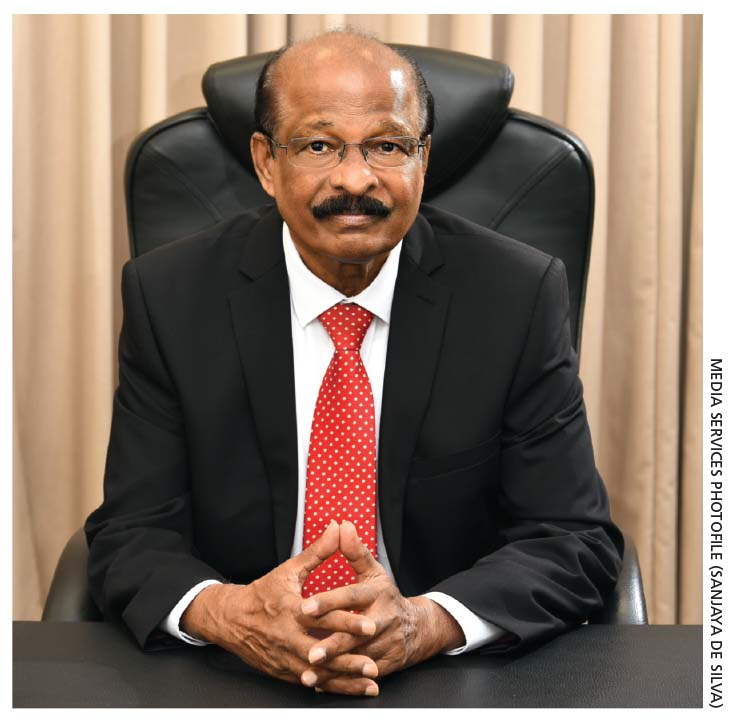 ROYAL INSTITUTE INTER­NATIONAL SCHOOL – AN ELITE INSTITUTION
It was at 13 Temple Road, Colombo 4, that the subsequently extensive and globally recognised chain of educational institutions began its humble journey. Ban­dara's brother-in-law Kannan­gara had suggested the name Royal Institute (RI).
From its first location at Temple Road, RI relocated to Sri Dhar­ma­rama Temple in Colombo 6 and later due to expansion needs, moved to a spacious old building on Havelock Road.
Royal Institute International School (RI) has evolved into an educational odyssey that delivers national and international education at all levels from nur­sery to tertiary.
The RI nursery nurtures and moulds toddlers through Association Montessori Internationale (AMI) methodologies.
At the same time, students are offered Cambridge Primary (Grades 1-5); Cambridge Lower Secondary (Grades 6-8) and Cambridge O-Level (Grades 9-10) respectively.
For those who prefer a Sri Lankan flavour, RI offers the national curriculum from Grade One to GCE O-Levels. Similarly, the A-Level study programme branches into two – Edexcel International Advanced Level and GCE Advanced Level.
ASTOUNDING ACHIEVEMENTS
Associate Prof. Yugeesh Lanka­deva, Dr. Devangi Perera, Dr. Hasuli Perera and Dr. Kishani Udugampola are a few of the medical doctors, researchers, economists, lawyers, engineers, and architects that RI has produced.
Gayathrini Premawardhane and Arosheny Puvanenthirarajah are two recent alumni who have entered Cornell University and Princeton University in the US. Gayathrini received a 90 percent scholarship from Cornell Univer­sity for her BA in physics and is currently reading for her PhD in quantum physics at the Univer­sity of Maryland. Arosheny received a 97 percent scholarship from the prestigious Princeton University.
Meanwhile, Chethma de Silva and Vipul Mahagamage are brilliant performers who have been selected to national univer­sities. Moditha Dabare was awarded the Best Child Actor award at the Asian Film Festival and at the Golden Diamond Awards in Los Angeles. Sanjuna Samaraweera (shot put), Chaniru Mirando and Jason Homer (bad­minton) have illuminated the national and international sports arenas with the skills they mastered at RI.
ROYAL INSTITUTE OF COLOMBO
In 1991, the organisation sprouted its higher education wing – the Royal Institute of Colombo (RIC). RIC is a centre of acade­mic excellence that offers a wide range of world-class degrees and certificate programmes to suit specific needs.
UNIVERSITY AFFILIATIONS
RIC has links with the prestigious University of London (UoL) and the London School of Economics and Political Science (LSE). As a recognised teaching centre, RIC teaches the entire globally recognised curriculum designed by UoL.
Since 2012, RIC has had a long-term relationship with Deakin University in Australia, and is Sri Lanka's only educa­tional institution that offers the whole Deakin curriculum. Deakin is one of the world's top 50 young universities and Victoria's leading institution for teaching excellence.
RIC also confers undergraduate degrees that have been approved by the University Grants Com­mi­ssion and Ministry of Higher Education in Sri Lanka.
THE FACES OF SUCCESS
Nigel Gray earned a Master of Education Policy and Analysis from Harvard University after his first-class honours BSc in economics and management from RIC. Some other examples of successful RIC alumni include media personality Kishani Alanki Perera, who earned her law degree (LLB) with honours and Dr. Milhan Ikram Mohamed, who earned his LLB with first-class honours and two gold medals.
FUTURISTIC AND ENHANCED EDUCATION
Royal Institute Smart Academy (RISA) is an officially registered pioneer fully-fledged Cambridge Online School based in Sri Lanka and it is firmly rooted in RI. RISA makes learning effective and engaging by leveraging cutting-edge technology and offers Cambridge Qualifications in affiliation with Cambridge Assessment International Edu­cation to O-Level, AS-Level and A-Level learners who thrive on independent learning.
MAN WITH A VISION
The strategies that have been planned and put into action with learners as the primary focus will allow Royal Institute International School to continue growing in its capacity to serve society. The Chairman of Royal Institute G. T. Bandara envisions Royal Institute to be of service
to succeeding generations with compassion and expertise for decades to come. Both the policies that the institution upholds and the strength that the management possesses are invincible.