REAL ESTATE SECTOR
REAL ESTATE SECTOR
Compiled by Savithri Rodrigo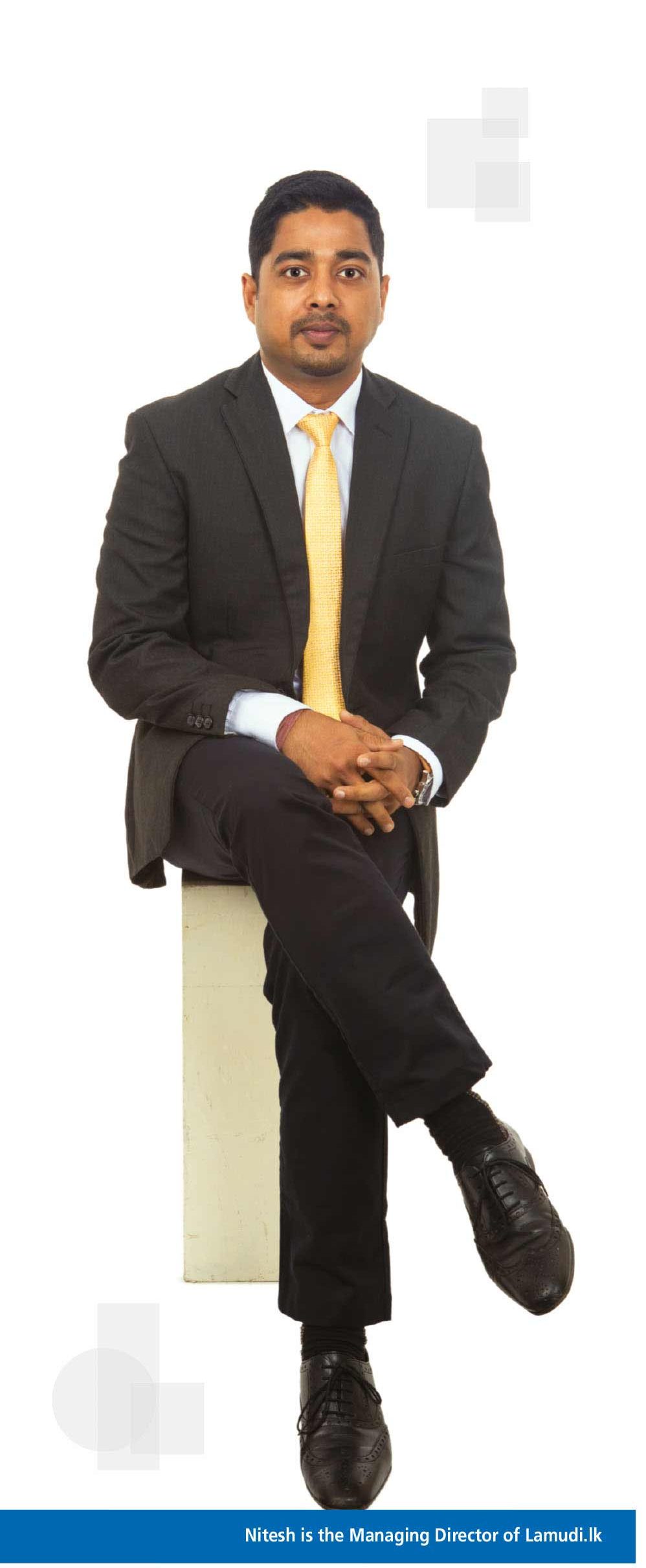 Q: How is the real estate sector performing in the present context?
Nitesh Khirwal (NK): The first half of 2017 was very good, witnessing robust buying action in the market. While the third quarter did see a mild cooling, the market has since bounced back from end September with searches and leads already up by over 30 percent.
Steven Mayes (SM): Generally, the picture is mixed with the commercial office and hospitality segments performing well, while retail and residential asset classes are posting more patchy outcomes. There's a major shortfall of 'Class A' office space in Colombo. Residential apartment rentals are holding firm in the Fort, Slave Island and Colpetty; but as new supply enters the market, there will be downward pressure on rents.
Q: Which factors are driving demand in the market?
NK  Demand is primarily driven by location, price, developer reputation, broader economic growth in Sri Lanka and overseas (especially in Australia, the UK, Canada, the Middle East and Singapore), and financing options.
SM  Location – it is the one aspect of real estate that cannot be altered by other factors. The basic driver of residential real estate is simply human nature, reflecting the need for security or shelter and a desire to accumulate wealth.
Q: What are the main challenges facing the real estate sector? 
NK  Few challenges within the sector are structural in nature as they're directly impacted by broader economic trends. Since July 2017, inflation has been increasing gradually, which might exert pressure on interest rates – and thus on the cost of ownership. The supply side is also constrained by a dearth of sizeable land in Colombo for large development projects.
SM  The principal challenges stem from emerging market status, and issues such as sustainability, infrastructure and regulation. The issue of sustainability is inextricably linked to infrastructure. Until provincial cities such as Jaffna, Kandy and Galle become sustainable – and viable with adequate employment prospects, public amenities and housing – Sri Lanka will always be a one trick (i.e. Colombo) pony.
Q: Should real estate agents take steps to address the apparent glut in the luxury segment?

NK  Characterising the current situation in such a manner is an overstatement. Within the sector, there are multiple segments – super luxury, luxury, mid-range and affordable – with each witnessing strong buying power. In fact, with the new regulations easing foreign ownership, the attractiveness of Sri Lanka's real estate market should continue to grow.
SM  Agents advise developers, provide inputs and produce reports to support such advice when asked. But they have little or no control over supply. Large-scale real estate projects often take several years to complete so today's supply is the result of decisions taken some years ago when the economy was in a different shape.
Q: How is government policy affecting the real estate market?
NK  Government policy has been conducive with the Budget 2018 proposal removing restrictions on foreign ownership of condominiums below the fourth floor. In addition, the government is targeting housing for all through the Urban Regeneration Project, creating urban hubs and supporting middle income home buyers with low interest credit schemes. 
SM  The lack of government policy is affecting the market. Regulation is the friend of property investment as it engenders confidence. It is no coincidence that the most heavily regulated property markets in the world are the most successful. Regulation and the public availability of published property data reduce risk, which increases confidence.
Q: To what extent do property seekers rely on real estate brokers' recommendations?
NK  Most buyers look for objective and trustworthy counsel. Many transactions are executed with the involvement of agents. Those who have built a strong brand and reputation typically see repeat business and referrals in addition to strong brand recall especially in online marketing.
SM  Generally speaking, they should – especially given the access property seekers have to information. Buyers are well-advised to conduct their own research and fully understand their needs – in terms of price, location and property size – prior to engaging with brokers. A good broker will then listen to their needs and present a range of options as solutions. Contrary to popular belief, listening makes for a good broker; not the ability to 'talk the talk.'
Q: From a property owner's perspective, what factors must be considered in selecting a real estate broker? 
NK  Reputation in the market, quality of service, experience in the sector, past sales testimonials and the number of projects in its portfolio. While it might seem counterintuitive, the agent's fee is generally the least important consideration since most consider this to be essential for judicious buying decisions.
SM  Integrity and experience rank above all else. But integrity is most important as a new and inexperienced broker with enthusiasm and integrity is far better than an experienced broker who lacks integrity. Over and above personal qualities, sector qualifications, membership of professional bodies and marketing reach are most important along with a successful track record.
Q: How can Sri Lanka address the dearth of qualified real estate professionals in the market?
NK  I would disagree somewhat with this assertion as most good agencies have top-notch professionals targeting both local and foreign buyers.
SM  This is a double-edged question; at a regulatory level, it would be relatively simple for concerned government authorities to implement a Real Estate Regulatory Authority with compulsory licensing for brokers. Another option would be initiating an ombudsman protocol to protect consumers.
Q: What lessons can Sri Lanka learn from real estate bubbles elsewhere? 
NK  A real estate bubble isn't a current concern but it is always prudent to learn from other markets – for instance, to continue maintaining high underwriting standards and planned growth of the main urban centres. 
SM  The one major lesson for Sri Lanka from other 'boom and bust' situations is to create a market environment that's sustainable so that wealth is distributed throughout the economy. This would enable wage inflation to keep pace with property prices and maintain a situation where the individual property ownership aspiration is a realistic prospect.
Nitesh is the Managing Director of Lamudi.lk
Steven is the Managing Director of JLL Lanka – Asia Pacific