PRAGMATIC PATHFINDER
Husein Esufally
Hemas Holdings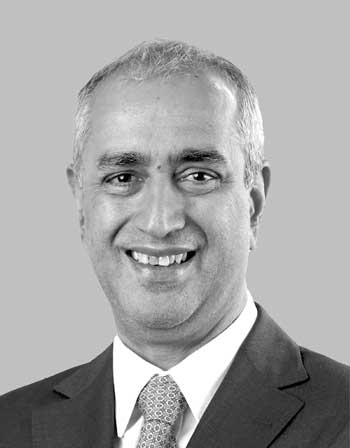 The trajectory of Husein Esufally's success as a businessman in Sri Lanka is inextricably linked to that of the company founded by his grandfather Sheikh Hassanally Esufally. He was conscious from the outset – and from observing the fates of family firms – that preserving harmony and unity was essential to the wellbeing and viability of Hemas Holdings.
Determined not to let the maxim that 'family money does not pass to a third generation' hang over the four cousins (himself included) who had succeeded to the business like the proverbial sword of Damocles, they looked for the best option for sustainability and growth, not only for the family but society at large too.
Established in 1948 on the simple premise of making available healthy alternatives to families, Hemas Holdings is listed on the Colombo Stock Exchange (CSE) while being a hybrid of both a majority family owned and a public company.
And the firm's third generation family shareholders have assured longevity and success by introducing two mechanisms.
First, they appointed one from among themselves to lead the group – for the first time since Hemas was passed on from their grandfather; and they chose Husein. Under his stewardship, the revenue of the company grew by almost 10 times and profits leapt almost tenfold. To make sure that this good fortune would be sustained and not threatened by the ramifications of familial relationships that could arise; the cousins also agreed that Hemas required a family charter to act as a guide for business protocols and governance.
"When there are conflicts, to have a mechanism of resolving them is very important," Esufally has said about the family charter adopted in 2013.
The second mechanism was to appoint a chief executive from outside the family circle. This was to mitigate the natural hankering and reluctance to relinquish the top spot to younger blood; and this way, the burden of management could be passed on albeit with some control still in the hands of the 'patriarch.'
So Esufally graciously made the transition from chief executive to non-executive chairman. Keeping it in the family and doing so, so that familial and commercial interests are simultaneously served, takes foresight and pragmatism.
Since its founding, Hemas has always been led by a member of the family. They had found the perfect compromise, and provided mechanisms by which to countenance potential challenges from succession, inheritance and conflict resolution.
Husein Esufally: pathfinder to prosperity and perpetuity.