SPECTACULAR FORESIGHT
Deshabandu Albert Edirisinghe
Albert Edirisinghe Opticians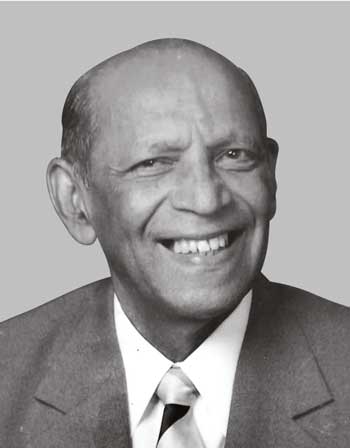 It's certainly not unusual that many of Sri Lanka's leading businesspeople should be Buddhists, for Buddhism is the philosophy adopted by the majority of the Sinhalese. What is unusual is for a business leader to divest himself of all of his considerable lay achievements – and his name – to don a saffron robe and walk away from it all.
Over time, as the businesses Deshabandu Albert Edirisinghe set up grew and established themselves, and his children took their places at the helm, he reduced his involvement in commercial activities. And some two years after the passing of his wife, he joined the ranks of the Sangha.
Not wishing to be deterred from his decision, he shifted to a temple without any forewarning to friends and relatives, and had himself ordained as a monk at Kimbiela Sri Wijayawardenaramaya. Albert Edirisinghe was no more. He would live out the rest of his days as the Venerable Ganegama Sri Devamitta Thera.
As a young man starting out in life, he worked his way up as an optometrist dealing in spectacle frames and served in a private company. Edirisinghe then ventured out on his own and set up Albert Edirisinghe Opticians.
At the time he walked away from it all, he'd been known in his lay life as the Chairman of Albert Edirisinghe Investments and Chairman of the Lanka Opticians Industry. Edirisinghe had lovingly nurtured his business from small beginnings to one that he developed and expanded with branches across the island – including several in the commercial capital Colombo.
But his success as a businessman never diminished the qualities many would attribute as those inculcated by Buddhism – dānaya and anukampāva – for his generosity and compassion were well known. Edirisinghe regularly gave away spectacle frames and lenses at substantial discounts – or free – to the poor.
In an appreciation of his life, a close associate wrote: "I wanted to tell him. I tried to tell him how knowing him had changed my life, making me challenge myself more to give more to my community and the world… But [he] wouldn't let the discussion focus on him…"
And that is how he would wish it. The discussion on Edirisinghe should focus on the example of his life (which spanned nearly a century) and his deeds, and of the ways in which those fortunate enough to have been touched by him have chosen to honour him with their actions.
Albert Edirisinghe: keeping kindness and compassion in sight.