BROTHER IN BUSINESS
Deshabandu D. Eassuwaren
Eswaran Brothers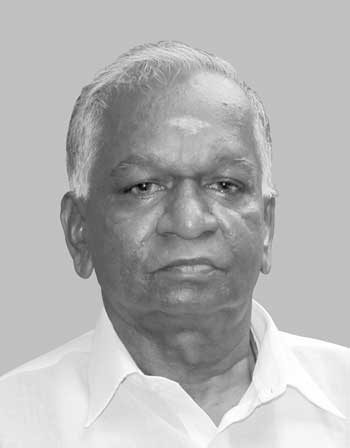 The Sinhalese and Tamils may celebrate a new year at the same time each year but some representatives of the two communities also engaged in a protracted civil war, which spanned nearly three decades.
This chapter of our history makes this cameo of Deshabandu Deivanayagam Eassuwaren especially poignant and inspiring.
Here was a man who had established a family partnership to venture into international trade in 1964 on the advice of his father. Their first export was a humble 300 chests of tea to Somalia. Yet, at the time of his passing, Eassuwaren had risen to being its chairman and he had grown the partnership – Eswaran Brothers – in stature and repute as a premier tea supplier and exporter.
Taking yet another leaf out of his father's book, Eassuwaren was also a philanthropist – and perhaps the most inspirational aspect of his personality for future generations would be this. Amongst his many acts of patronage, which included provisioning underprivileged schools and supporting rehabilitated former LTTE cadres, was the singularly unusual gesture of contributing to the construction of a 70 foot tall Buddha statue.
A Buddhist monk sorrowed by the destruction of the Bhamiyan statues in Afghanistan had a desire to erect an enormous statue in Rambodagalla but of course, funding such a project and the construction itself were proving to be insurmountable challenges.
The monk heard about the impressive statue of the Hindu god Hanuman that had been built at Ramboda in Nuwara Eliya, which he decided to see for himself.
Fate works in mysterious ways, and the paths of the monk and Eassuwaren were destined to cross. And a facet of his generous nature was to be revealed, for Eassuwaren's great gifts of giving encompassed even this.
Today, with thanks to this devout Hindu's support and that of others, the once shapeless piece of granite in Rambodagalla has been transformed into a beautifully carved Samadhi Buddha statue.
Recalling their first meeting, Eassuwaren said: "When the thera approached me and started asking questions about the Hanuman statue, I was puzzled as to why he was interested in such details. It was then he told me of his intention to carve out a Buddha statue. When he told me he wanted it to be 50 feet [high], I jumped out of my chair."
These backstories to spiritual landmarks symbolise the true spirit of our unity and demonstrate the generosity among Sri Lankan's diverse communities.
Deivanayagam Eassuwaren: qualities of business and brotherhood.