NAWALOKA PREMIER CENTRE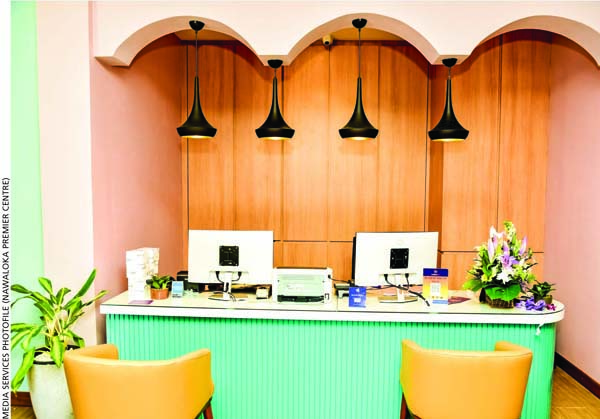 Q: How do you feel about being one of the leading conglomerates in Sri Lanka?
A: Nawaloka has been at the vanguard of the Sri Lankan business sector for almost 65 years. With many companies within the group, we have established a strong presence as leaders and pioneers in various fields.
Q: As one of the largest pri­vate hospitals in Sri Lanka, how would you describe your entrepreneurial journey?
A: The hospital was founded on the concept of arogya parama laba – the ultimate wealth is good health. When Deshamanya H. K. Dharmadasa became un­well, he was flown to the UK and there, he observed the ser­vices and facilities offered to patients at the Hammersmith Hospital in London.
He believed the same could and should be given to the Sri Lankan people, and started working on the hospital project when he returned to the island.
Then began the journey of ser­ving our nation to help people reap the greatest riches of excellent health. We have since grown from humble beginnings to become the country's most trusted private healthcare organisation.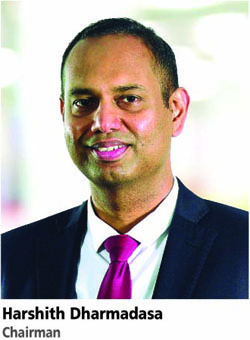 Q: How has Nawaloka Care contributed to healthcare in Sri Lanka?
A: Nawaloka Care has reached significant milestones in its humanitarian journey. We have expanded across the country and widened our service offer­ings to the people. Now, we have around 30 Nawaloka Care pharmacies, 10 Nawaloka Care laboratories and more than 200 sample collecting centres.
The Negombo branch of Nawaloka Hospitals delivers supreme medical services through professionally trained employees, cutting-edge equipment and infrastructure, and provides an unmatched level of service wrapped in the elegance of a five-star hotel.
We strive to be a landmark entity in delivering excellent and economical healthcare services to the nation. Our contribution to improved healthcare in the country con­tinues to increase in strength and enhance people's lives.
We will strive to do our best to provide quality healthcare to anyone who comes under our wing.
Q: Can you tell us about your new venture, Nawaloka Premier Centre?
A: Nawaloka Premier Centre is a high end healthcare facility, which is located in the heart of Cinnamon Gardens. It caters to the distinguished consumer by de­livering the ultimate in luxury and personalised healthcare.
Since it is all about customer welfare, there's practically no waiting time for professional consultations and appointments. The facility boasts the comfort and privacy of a premium setting.
Q: What services are offered by the Nawaloka Premier Centre?
A: It offers OPD consultation and channelling services, which can be arranged with ease and privacy.
The Nawaloka Premier Centre provides all services that a patient needs under one roof. It has clinics for cardiac care, liver care, dental care, diabetes management, rheu­matology, mother and baby's health, a fully functional labo­ratory and a drive-through lab for ECGs, X-rays and ultra­sound scans, among other vital services.
While screening and testing can be conducted at the centre, further treatment including emer­gency care will be directed to the main Nawaloka Hospital.
The Nawaloka Premier Centre also houses a world-class fitness centre with personalised pro­grammes such as yoga, Zumba and physiotherapy. Moreover, an advanced dermatological and skincare centre provides clients with the most current skin therapies and treatments, and a weight loss clinic that enables them to maintain
a healthy lifestyle.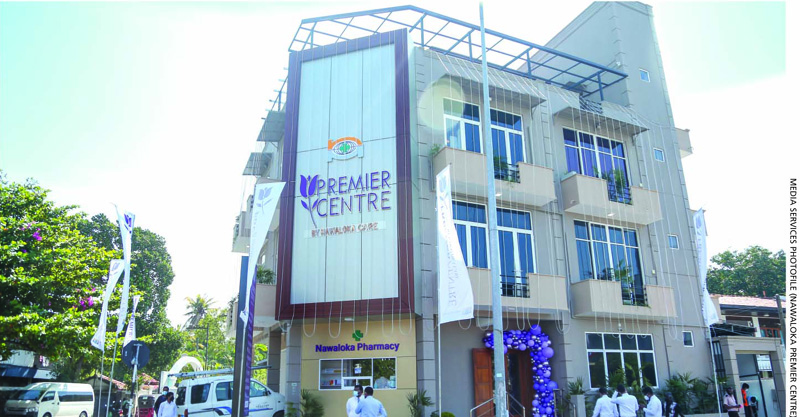 Q: How do you make the experience exclusive for your customers at the Nawaloka Premier Centre?
A: We take pride in our pro­fessionalism, technical innovation and customer service.
So our first objective has always been to provide our patients with the treatment they require to be healthy.
We provide individualised and timely healthcare services that offer good value for money. The centre's distinguishing features include pre-booked appointments and a limited number of them for each con­­sultant daily. And to guarantee an exclusive experience, clients are provided with refreshments during con­sultations to ensure a
minimum waiting period.
Moreover, as a value-added service, Nawaloka Care has introduced Express Lab, which is a mobile laboratory service and a mobile pharmacy called Medi Express for clients in Colombo.
Q: How do you envision the future of healthcare in Sri Lanka?
A: The past two years have been very challenging for ever­y­one. The healthcare sector was at the forefront of the battle and the current economy will not make the journey any more straightforward.
However, we are acutely aware that our capacity to anticipate future difficulties, plan for them and respond to
the consequences will ultima­tely enable us to generate value in the short, medium and long term.
Despite all the challenges, excellent clinical care, patient-centred delivery, affordability, and access to the finest health­care will continue to be our yardsticks. And it is in this spirit that we disseminate medical offerings to our
valued clients and customers.
– Compiled by Fazmina Imamudeen
Harshith Dharmadasa
Chairman
Telephone 7999555
Email premiercentre@nawalokamedicare.com
Website https://www.facebook.com/nawalokapremier