NATIONAL SECURITY
WALKING A GEOPOLITICAL TIGHTROPE
Dr. Jehan Perera pits national security against economic considerations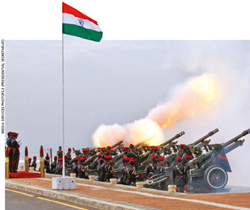 Prior to Prime Minister Narendra Modi's visit to Sri Lanka to participate in celebrations marking the International Day of Vesak, there were calls for black flag protests. There was also uncertainty whether the visit would become embarrassing for both Modi and the host government.
However, by the time he left the island, Modi would have been reassured that Sri Lankans in general view India positively as part of its larger civilisational ethos and being a powerful nation capable of assisting Sri Lanka.
In particular, India's role in being supportive of the island when disaster strikes – e.g. during the recent floods and at international forums on political issues – has been a source of strength and confidence.
The reception that Modi received in the hill country where the Tamil people of recent Indian origin are concentrated was warm and enthusiastic. Modi opened a state-of-the-art hospital and promised the people 10,000 houses in addition to the 4,000 that India has already committed to the plantations sector.
Indian-origin Tamils have not recovered from the blow dealt in 1948 at the time of independence from British colonial rule when they were deprived of citizenship rights – including the right to vote. They remain the poorest and most socially disadvantaged of Sri Lanka's ethnic communities, according to United Nations (UN) statistics and standards.
So it was no surprise that they looked on the Indian PM with hope as their champion.
But there are also sources of tension between the two neighbours. Two controversial matters currently being negotiated are the Economic and Technology Cooperation Agreement (ETCA) and Trincomalee harbour project that revolves around the lease of oil tanks.
ETCA has generated formidable opposition among sections of the local business community and professionals led by members of the Government Medical Officers' Association (GMOA) who fear they will not be able to withstand Indian competition.
Those who sought to cite an ulterior motive to Modi's visit were also able to draw on memories of the Indian intervention of the 1980s that strengthened Tamil militancy here in Sri Lanka.
Modi's statement that "whether it is on land or in the waters of the Indian Ocean, the security of our societies is indivisible" was reported on negatively by those who resent India's increasing role in the local economy and its open expressions of unhappiness about the Chinese presence in the country.
Following the end of the war, Sri Lanka has become more openly a focus of competition between the great powers of the world that include the US, China, Japan and India. Given its location next to India, Sri Lanka can be potentially used by foreign powers that wish to pressurise India.
National security is non-negotiable for any country. The priority placed on it by all states including Sri Lanka suggests that India will prioritise national security in its relationship with the island. India is likely to be more flexible and open to negotiations on economic, trade and investment issues but inflexible on national security matters.
The same holds true of Sri Lanka. During the war of almost three decades, successive governments prioritised increasing the military budget although there were many other areas in which government expenditure was necessary. And the continuing priority given to national security in the country is reflected in the reluctance of the present government to draft a more human rights-friendly national security law.
Indeed, the priority placed on national security comes from Sri Lanka's long experience of battling insurgencies, terrorism, war and external interventions. A similar logic can be expected to hold in the case of India – a much larger and more important country that is closer to the centre of global politics.
The issue of national security looms large for India vis-à-vis China's intentions in the Indian Ocean and Sri Lanka. China is currently the largest provider of economic resources to the island on both concessional and commercial terms – a benefit that any Sri Lankan government would be loath to lose.
At a time when Western investments aren't flowing in according to expectations, China is willing and able to take up economic opportunities in Sri Lanka that may not be economically attractive to privately owned commercial enterprises.
In the meantime, we must maintain a national security policy that will not arouse the security concerns of our neighbours. It is important that Sri Lanka continues to walk the tightrope between economic imperatives and national security issues in its own interest.