PERSONAL CARE

Sharmila Bandara
THE BUSINESS OF ENRICHMENT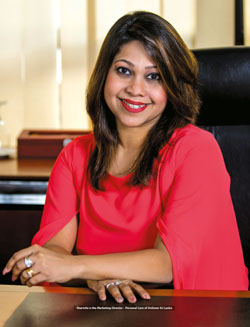 How are the latest international personal care trends reflected in Sri Lanka?
In terms of personal care, Sri Lanka is still at a very nascent stage. Face care penetration – meaning people applying face wash at least once a year – is only 40 percent.
Hair care penetration is high at about 70 percent; but if someone bathes 10 times, they're believed to use shampoo only on three occasions. Products such as deodorants are used by a mere 10 percent of the population while adult body cream penetration is only 25 percent.
Nevertheless, personal care penetration is increasing and so is 'shelf heat' that's tripling every year. People are now more informed about their skin types and want to look good – so they're picking up on international trends.
How are millennials changing the marketplace for personal care brands?
It is a universal truth that millennials are not as loyal to one particular brand as previous generations due to the increased choice in the market. As brands, we must be present in all consumer spaces while cutting across age groups and socioeconomic classes with a plethora of products to win over millennials.
Brands must also evolve with time. For instance, Lifebuoy has moved away from soap and is now competing in the sanitiser space to address new trends such as the increasing tendency to eat out.
Pond's is another example where we have shifted from skin whitening to 'Age Miracle' and skincare-plus-makeup formulas to cater to the ageing population as well as busy career women respectively.
How can companies manage mass marketing in an age where niche markets are increasingly dominating?
Companies such as Unilever adopt a layered strategy with some of our brands being more tailored to particular socioeconomic groups while others target the masses as they cannot be ignored.
The disposable incomes of people are gradually reducing and so brands need to package products better to make them more affordable and appealing to the majority in the market.
For instance, Unilever Sri Lanka commands a market share of nearly 80 percent in hair care with its four brands while Lifebuoy is more mass market-oriented. And Sunsilk caters to young girls while Dove targets upmarket women and Clear is a functionality-based brand.
How should personal care brands address the growing male grooming products market?
This trend is emerging here in Sri Lanka and it's an area with much opportunity. If the industry has strong offerings for males, then brands can begin to gear up to meet the demand for male grooming.
The majority of the local male population believe that grooming is only for women so it's essential to educate consumers. At Unilever Sri Lanka, we use key opinion leaders, brand ambassadors and like-minded people, and work as a team to develop the local personal care culture.
Should Sri Lanka manufacture or import personal care products, in your opinion?
At Unilever Sri Lanka for example, most of our products are locally manufactured since it's difficult to derive profits on imported products.
Being a multinational company, we enjoy globally developed technologies and product recipes that have been perfected over the decades. This sort of adaptation ensures that consumers are offered quality products from around the world at affordable prices.
What challenges do you face in terms of organic ingredients in personal care products?
Going organic is costly for manufacturers and consumers. But there are people willing to pay for these products so we will cater to them accordingly.
As a company, Unilever is going green on a large scale with our strong sustainability policies – we expect to halve our environmental footprint by 2020. This process will translate into the ingredients we use as well.
And finally, what is your mantra for success, Sharmila?
Connecting with customers, living their lives and getting to know them better. Moreover, having a passionate and spirited team is essential if one is to succeed. That's why I invest quality time to help my team sharpen their skills and ensure that they share one vision.
Describe yourself in one word…
Passionate
Sharmila is the Marketing Director – Personal Care of Unilever Sri Lanka
– Compiled by Ruwandi Perera