LMD TV
The last year or so has been the most challenging period for the logistics sector due to the disruptive impact of the pandemic, according to Expolanka Holdings Group CEO Hanif Yusoof.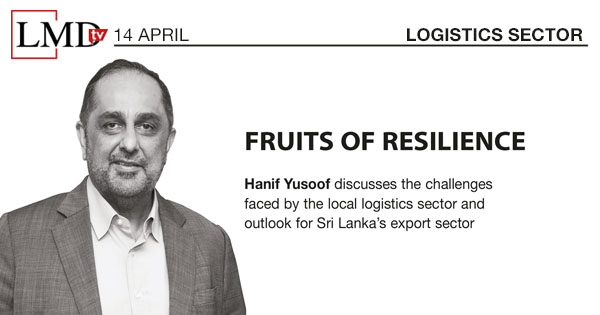 He elaborated: "We need airfreight space, which means we depend on the belly capacity of aircrafts; we had ships moving around but issues at the ports because of labour shortages; and factories were shut down so it was a complete disruption."
In an effort to protect those working on the ground, Yusoof said the sector had to self-regulate.
"Quarantines and physical distancing can only do so much," he remarked, continuing: "The safety of employees is of paramount importance. We created the 'bubble' before it was called that – we referred to it as different segments working at different times."
To achieve this, the sector took precautions such as conducting regular PCR tests, assigning people to work in locations over a 14 day stretch with another test being conducted when they left these premises.
Discussing the impact of the import bans imposed last year, Yusoof pointed out that supply chains do not usually experience dramatic changes overnight as there are factors to consider – including orders that have been placed and ongoing production processes.
However, the pandemic meant the country had to adapt to the national policy. "With this ban, we have also undertaken local production in areas that we did not think possible," he noted, adding that Sri Lanka has the ability to emerge from this challenge.
Despite this however, Yusoof does not believe that these new lines of business should be competing in the export market where there are established competitors.
Instead, he maintained that Sri Lanka should continue to do what it has experience in: "We've been in apparel manufacturing for some time but we shouldn't suddenly shift to technology or another area due to import bans. These things will happen over time."
"Sri Lanka's geopolitical location is significant but has drawbacks as well," he contended. While the country enjoys locational advantages, geopolitical circumstances continue to pressure it in various forms.
Citing the nation's history, Yusoof insisted: "This must be a trading post. We need robust maritime and aviation policies if we're to be like the places we always discuss – such as Dubai and Singapore."
To this end, he asserted that Sri Lanka should focus on implementing policies to position itself as a hub. Acknowledging that this has been discussed for several years, he stressed the importance of speedy implementation as developments take place quickly in this arena.
Adding to this, he noted that while the pace of development has taken a backseat due to the pandemic, implementing digitalisation and similar initiatives, as well as policies, could take place in such circumstances.
According to Yusoof, corporates have displayed greater enthusiasm for exports and are investing in various initiatives to pursue this. However, he is of the view that Sri Lanka need not implement major changes to prioritise exports and emphasises the importance of identifying markets for products it already produces.
"We're a resilient community because for example, we pursued the export of personal protective equipment (PPE) during the pandemic," he pointed out, adding: "The vaccine roll out is important for all sectors – from hospitality to logistics."
What's more, the pace of Sri Lanka's campaign has been quicker than he anticipated – and while discussions about the duration of the efficacy of COVID-19 vaccines continues, he expects that people being vaccinated across the world will ease such fears.
As for his outlook for the economy for the rest of this year, Yusoof highlighted the country's dwindling foreign reserves as its most significant challenge. He concluded: "My hope is that with the resilience of the communities, people, businesses and regimes, we will come out on top."