COVID BLUES
THE PERILS OF
IGNORANCE
Sceptic leaders are mostly responsible for the ongoing crisis – Saro Thiruppathy explains
Even with the COVID-19 vaccine rollout gaining traction in many countries, the world is being rocked by new strains of the virus and while some nations are managing the outbreaks, others are floundering.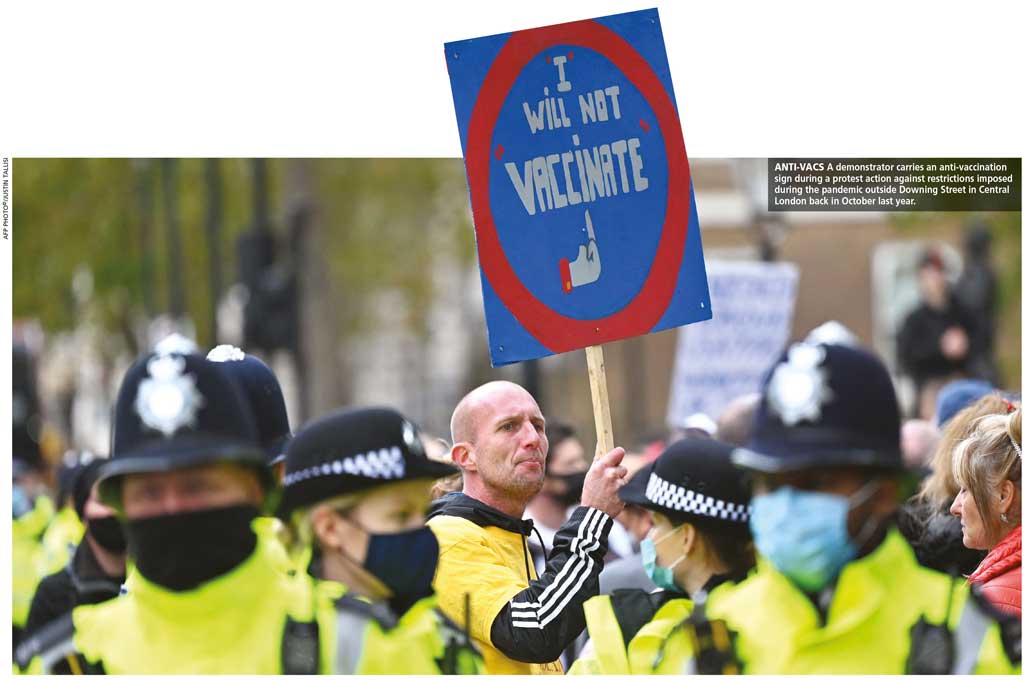 Many governments are still imposing and lifting lockdown measures as they race to vaccinate their people, and stay ahead of the rapidly mutating SARS-CoV-2 virus. However, there still are a number of global hotspots where tens of thousands are contracting COVID-19 every day – and many are succumbing to the virus.
COVID-19 SPIKES The reasons for so many nations to be reporting high numbers of cases and deaths include poor leadership and irresponsible public behaviour in terms of observing health protocols.
Some governments have refused to make mask wearing mandatory; and they're not enforcing preventive measures in public spaces and business establishments. They have left the decision to individuals rather than the community.
THE US In the last week of March, the United States averaged nearly 65,000 new cases a day, which was more than 20 percent higher than in the previous fortnight. In April, the fast tracked vaccination programme resulted in over a third of the population being vaccinated with at least one dose. All 50 states committed to opening vaccinations to all adults by 19 April.
Recent infections are skewed towards young people possibly because many of the older demographic have been vaccinated.
Scepticism expressed by former President Donald Trump about the pandemic – and his ignorant dismissal of scientific guidance – has resulted in hundreds of thousands of deaths and millions of cases. What's more, many Americans who still believe his rhetoric continue to flout public health protocols and refuse to be vaccinated.
INDIA On 12 April, India once again overtook Brazil to reach second place for the number of cases when nearly 170,000 new infections were reported overnight. On 26 April, India's count of cases was closing on 17.7 million.
As the number of patients gained momentum throughout 2020, the government imposed strict lockdown measures to curb the spread of the virus. However, as restrictions were eased, people began ignoring health protocols and the number of infections started rising.
Compounding the reasons for the rapid spread of this contagion are ignorance and scepticism at government level. Even as infections rise, unrestrained political campaigns and religious festivals are turning into super spreader events.
Though the vaccine rollout has been quite intense, the recent spikes could also be due to several mutations of the coronavirus that have been detected in India along with variants of concern in a number of states.
BRAZIL President Jair Bolsonaro's ignorance and scepticism about the virus and vaccines are encouraging many Brazilians to dismiss health guidelines. He has warned the public that masks are bad for children (on the grounds that they're a health hazard) and claimed that a side effect of the Pfizer vaccine was to turn a person into a crocodile.
By 26 April, new infections had taken the total to 14.3 million cases and nearly 400,000 deaths. Brazil has the third highest number of COVID-19 infections and the more contagious Brazil variant, which is thought to be responsible for the spikes, has spread in many states.
MEXICO In November last year, Mexico reported 100,000 COVID-19 related deaths; five months later in the first week of April, the death toll rose to 206,000. By late April however, the number of new cases has been tapering off and the total number of infections stood at 2.3 million.
President Andrés Manuel López Obrador has scorned face masks and the government refused to follow international health protocols that include testing and contact tracing. But fortunately, the vaccination programme has been moving fast and by early April, 8.6 million Mexicans had received one dose of the vaccine and 1.4 million had been fully vaccinated.
ITALY One of the worst hit countries last year, Italy experienced a very high death toll among its elderly population.
However, due to government ineptitude, even in early March the first dose had been administered to only two percent of people between 70 and 79 years, and less than 50 percent of those over 80 in Puglia, which was a hotspot in 2020. But by early April, the number of doses going to the over 70s had risen to more than 60 percent.
WORRISOME The situation in the US, India, Brazil and Mexico is extremely concerning as the WHO claims that infections in the Americas and Europe constituted 80 percent of the world's cases in the latter part of March 2021.
Southeast Asia reported the largest rise due to spikes in India and Bangladesh, which experienced an increase of 86 percent. Due to a 55 percent rise in the Philippines, infections in the Western Pacific rose by almost 30 percent in March.
Hotspots in the Eastern Mediterranean include Jordan and Iraq; and in Africa, Ethiopia and Kenya reported notable spikes. By mid-April Europe's death toll passed a million.
The nexus between health precautions and COVID-19 cases is clear. Countries and cities that understand, respect and observe these protocols are better able to control the spread of the disease, and face the mounting challenges posed by what has become a mutating virus.