LMD TV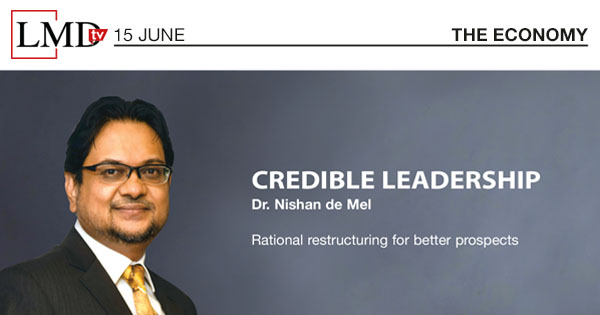 Commenting on the economic prospects for Sri Lanka on a recent edition of LMDtv, Executive Director of Verité Research Dr. Nishan de Mel stated that "what happens going forward depends on how we manage ourselves and the economy at this time," signifying the importance of debt restructuring and the approach to the relevant analytics.
"The debt structuring process is not being managed as quickly or with as much credibility so we are on a path to doing this slower than we ideally need to be," he explained, and continued: "The central bank has already predicted that Sri Lanka will have a lower level of growth in 2022 – maybe going into a contraction of negative growth – more significant than what we had during the COVID-19 period."
On the possibilities and stumbling blocks of debt sustainability, de Mel said: "There may be some advantages in restructuring domestic debt because it makes the debt more sustainable and potentially has lower levels of inflation. Sri Lanka must weigh the cost and benefits of restructuring domestic debt."
The economist emphasised that "it's not just about debt. It is ultimately about overall fiscal management. It's eventually the political capacity to create social agreement about the process, and appear to act fairly and reasonably. Society will support the government as long as it is seen as credible in its actions, reasonable and acting with societal rather than vested interests in mind."
And the real problem, he said in reference to creditors, is with the official (bilateral) and private (bond and financial markets) creditors, and the way in which they look at equity in restructuring. "It's essential to achieve category level equity – it is imperative to establish a strong sense of equal treatment and fair play to drive agreement."
With regard to small and medium enterprises (SMEs), de Mel was of the opinion that things are particularly tough for such entities right now, and counselled that ways must be found to deliver what's in short supply and reduce the pain and uncertainty of SMEs' business functions.
Furthermore, there is a brain drain and there's a problem in terms of labour as capable individuals are leaving the country. Dollar-based salaries are far more attractive especially with the depreciation of the rupee and the huge sense of uncertainty.
Worker remittances are not the ideal solution to the current issues. What was approximately seven billion plus every year has reduced by almost 50 percent, primarily because of the lack of confidence in the government – and because it is possible to get a better rate for their remittances elsewhere than from the government or official channels.
"The IMF cannot wave a magic wand that would help Sri Lanka," cautioned de Mel, and he elaborated by saying that "it will need to see that Sri Lanka has renegotiated or restructured its debt with its creditors in a significant enough way. For the IMF to do a debt sustainability analysis, Sri Lanka should submit its fiscal management plan. The debt sustainability analysis and fiscal plan may need iterative improvement."
De Mel asserted: "Sri Lanka is certainly experiencing this problem at a time when the global conditions are also adverse and difficult, and it is a very bad time to be in this situation. Right now, this makes it even more important that we handle this process rationally and analytically, and with political leadership that has credibility and acceptance – both externally and internally."
"We must do the things that we can do well because the consequences of not doing them are far more significant than when you have external questions and conducive environments externally to help you through a process," he counselled, and concluded by reiterating that "at no other time in Sri Lanka's economic history has good management, credible and trusted political leadership, and an analytical approach been more important than it is today."