LMD TV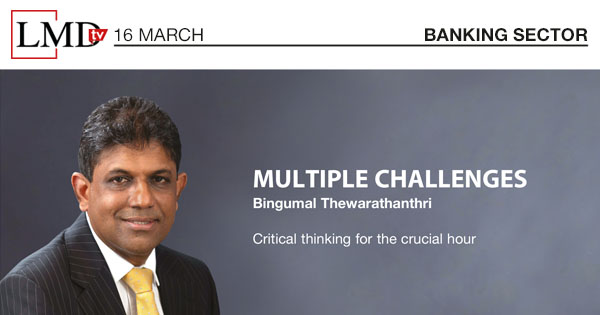 Airing his views on the devaluation of the Sri Lankan Rupee against the US Dollar, the Chief Executive Officer of Standard Chartered Sri Lanka Bingumal Thewarathanthri opined: "First of all, it is more of a free float and isn't controlled. We need a different level of rationalisation – critical thinking is crucial because we cannot let our currency weaken beyond a certain point."
"Of course, there will be benefits – controlled imports, increased worker remittances and more exports are our expectations; and at this point, we are watching and monitoring this space carefully. However, government intervention would be necessary if the rupee depreciation becomes insufferable," he continued.
Outlining the main risks faced by banks at the time, Thewarathanthri explained that "low foreign currency reserves and the struggle to collect dollars on a day-to-day basis are the primary issues faced by banks."
He added: "As a result, particularly nonessential import driven clients will pose a huge risk. Further, with tourism moratoriums ending, we believe that some clients will go into overdue positions and struggle to repay their loan obligations."
"However, I believe financial institutions still have a good appetite for risk – a double digit growth of the private sector is expected but the focus will definitely shift towards exporters," he explained.
Thewarathanthri continued: "We can clearly see banks focussing more on exporters and industries earning dollars with import led business being marginalised. Despite the many associated risks, we support the tourism industry and believe in its revival." Speaking on inclusivity, he said: "We all play to our strengths. Banks adopt strategies that suit them best – they carefully look at gaps in the market and focus on a particular segment like the SMEs, microfinance or a specific business area…"
"Only an estimated two billion out of nearly eight billion people in this world have access to formal banking facilities. So we realised that there's so much untapped potential and set up a Liquid Participation (LP) team to concentrate on the larger unbanked population to bring them into the finance world to harness these opportunities," he enthused.
Thewarathanthri remarked: "Decentralised Finance (DeFi) is a great tool to expand our services – it is transparent and fair, and an efficient choice. However, financial regulators across countries behave differently, and there are complex tools such as cryptos and blockchain in the market. If there is no alignment in governance, it is difficult to reap maximum benefits. I think we will eventually streamline operations; and I do see DeFi as a huge opportunity for the SMEs."
Standard Chartered Sri Lanka has adopted well to the latest trends in commercial banking, he stated, adding: "Omni-channel is the way forward; though digitalisation reached unprecedented levels during the pandemic, research says that for complex transactions like completing a mortgage or wealth product, clients prefer physical interaction. I envision a hybrid working arrangement in future."
"Sustainable finance is a huge opportunity – we are driving a programme throughout the organisation to achieve net zero on carbon emissions. Moving out the brown industries in our portfolio and embracing green business operations is one of the activities undertaken. The import embargoes will encourage local manufacturing, presenting us with many prospects to actively pursue a sustainability agenda," Thewarathanthri revealed.
As for his expectations of Sri Lanka's economic growth in the near future, he summed up: "The next 10 months will be difficult to navigate. We are still forecasting four percent growth in GDP, being cautiously optimistic. How we manage the imminent loan settlement and the entire debt restructuring, and having a consistent supply of energy and power, will determine the actual growth rate."