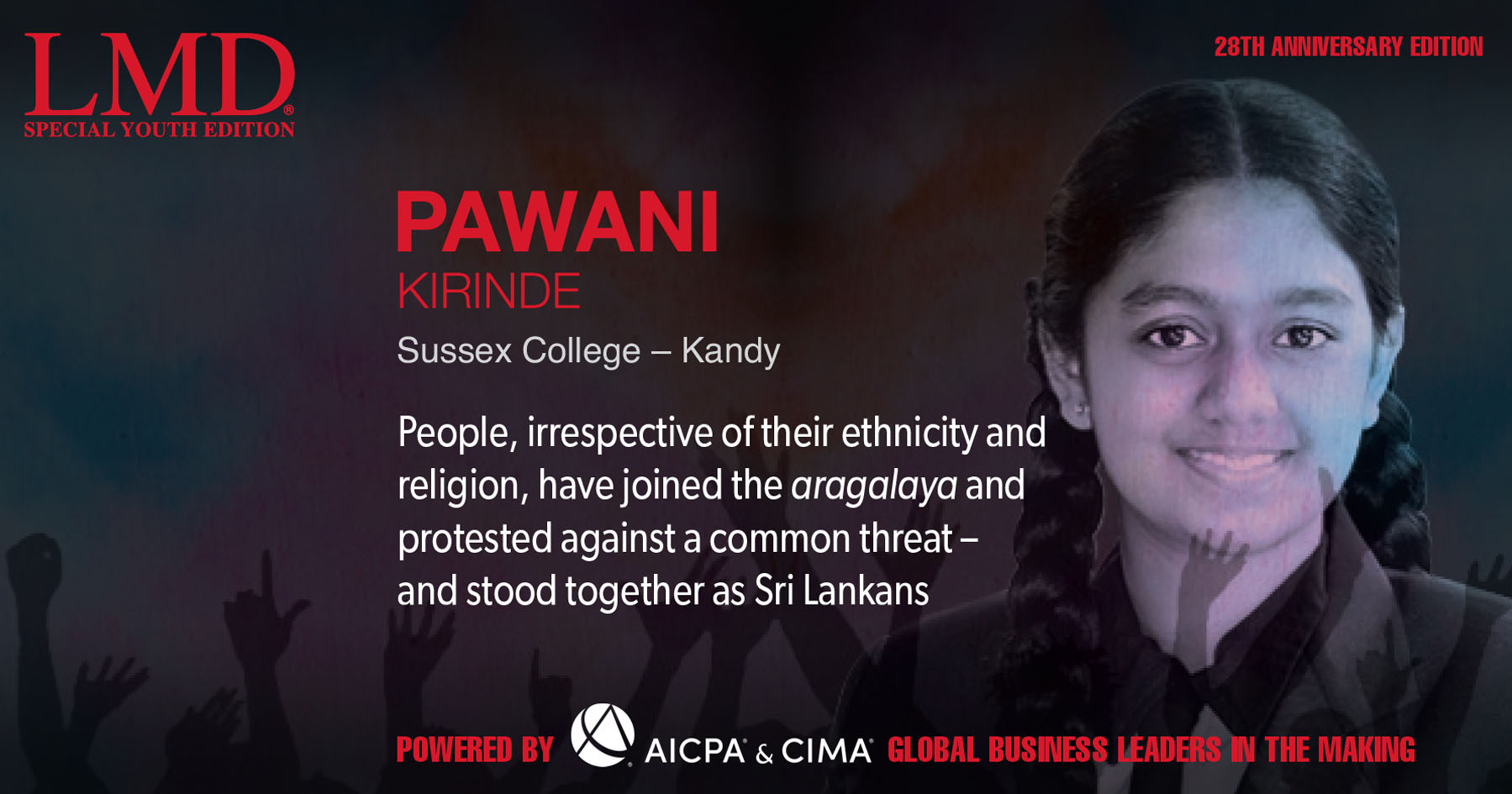 Q: In your view, has the aragalaya led to a united Sri Lanka – and if so, is this unity sustainable?
A: People, irrespective of their ethnicity and religion, have joined the aragalaya and protested against a common threat – and stood together as Sri Lankans. The protestors have celebrated religious and cultural festivals together, and it's been amazing to see this in the midst of the aragalaya.
Everyone has had to face difficulties in the current situation, regardless of their background and in many instances, people have cooperated and helped each other. But even though we've made a lot of progress I think there's still a long way to go.
Q: How do you view the aragalaya – and how do you think the voices of the youth should be heard?
A: Following the COVID-19 pandemic and being unable to afford basic necessities, I think the aragalaya has been the people's way of saying 'we've had enough, we're no longer turning a blind eye to corruption and we are going to fight for our rights.'
As more people joined the cause and the protests grew more effective, a key aspect of it was the youth. Many young boys and girls have taken the initiative to take a stand against government corruption and this is a main reason for the success of the protests.
The voices of the youth should be heard as they are the future of this country.
Q: As far as our education system goes, what are the pros and cons?
A: Education is not just about learning what is in our books. Obtaining a good education is about being armed with knowledge, skills and proper virtues. A good education system should nurture all three.
Our system focusses on the knowledge aspect of education and not much on skills and virtues; and as only theoretical subjects are taught, there isn't much practical knowledge.
There's a lack of career opportunities and the choices are always centred on conventional jobs. I believe this is the reason why so many people are migrating and continuing their higher education in other countries.
Q: Where do you see Sri Lanka in a decade from today?
A: The society that we're living in has many difficulties. The citizens are under pressure because of the ongoing economic crisis due to political instability. People are no longer tolerant of the corrupt agendas of politicians.
Despite its issues, this is one of the most beautiful countries in the world with wonderful natural resources and so much potential. People are becoming more aware of the importance of staying in the country.
I think Sri Lanka is on the right path in terms of trying to fix these problems and in another 10 years, we will see a much better Sri Lanka.
MESSAGE TO THE YOUTH
Focus on educating yourself and work for your improvement to become successful citizens in the future.
SRI LANKA: FIVE BURNING ISSUES
Economic instability
Political corruption
Weak education system
Inequality among different ethnicities and religions
Environmental pollution
ROLE MODEL
Jagath de Silva (the Principal of my school) – He was the person who saw my potential and helped me develop my public speaking skills. He is also a great leader.
SUMMARY
We are facing a very difficult time right now and the future of the country is very uncertain. But we have also witnessed the strength and resilience of everyone during this crisis – especially the youth, who haven't been afraid to voice their opinions and stand up against corruption.