HUMAN RESOURCES
Compiled by Lourdes Abeyeratne
LEADERSHIP UNDER SCRUTINY
Nuwan Widyapathige scales the importance of adapting to employees' needs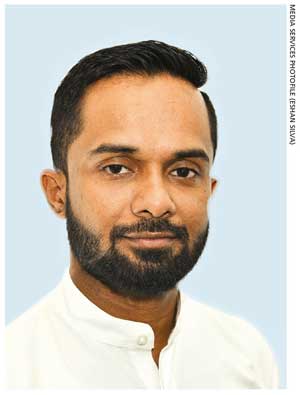 Q: In your opinion, are any particular styles of leadership more suited to drive the growth of Sri Lankan businesses?
A: It's my belief that there isn't a one-size-fits-all style. Business leaders should be able to understand what motivates each individual and tailor their leadership styles to address those needs. This is the challenge that any person occupying a leadership role faces in the current environment.
Today, people expect more from their leaders in terms of empathy, flexibility, freedom and recognition. Unlike earlier – when an employee would spend his or her entire career in one organisation – working people move on if they find that a particular workplace is not to their liking. And in most cases, a prime reason for their departure is how they perceive management.
Previously, power resided with those at the helm of organisations but these days, this dynamic is reversing.
In general, one's role as a leader has to be different. It involves having to take on the role of a facilitator, mentor and coach all rolled into one. There's a dearth of talent in the market; and if leaders are unable to harness and retain those in their employment, someone else will do so.
Given the prevailing complexities in the business landscape, a dependency on one's team to deliver results is much greater than in the past. 
Q: In what ways do millennials differ from employees of other generations? And what strategies should be em­ployed to recruit, retain and manage them?
A: Millennials or gen Y employees are purpose driven – they want to be a part of something larger than themselves. As such, they want to be a part of organisations or brands that are sustainable.
So if leaders want to motivate millennials, a cause with which they can positively identify must be provided. Therefore, setting up a broader vision and making them a part of it is critical.
In addition to this, millennials are also far more career oriented. This means that they know the type of career they want to pursue and aren't too worried about short-term gains.
Moreover, they're extremely ambitious with little patience; therefore, constant dialogue and engagement become important. Leaders need to establish clear goals, and tie them into rewards and career progression.
This generation is also concerned about maintaining a work-life balance – unlike previous generations, which compromised on this. So paying attention to their wellbeing will help leaders gain the trust and commitment of the new generation. 
Q: What should business leaders keep in mind as they look to lead a workforce comprising different generations of people?
A: A key element is the clash of cultures. Especially in organisations with a good mix of gen X and Y, leaders need to be on the lookout for aspects that could be upsetting to one set of employees or the other.
One of the reasons for this is that generation X has been raised quite differently to millennials. As a result, they may be more hierarchical and demand respect, and even assume that their experience entitles them to a bigger say in organisational matters.
To address this, a leader must balance the overall organisational culture in such a way that everyone is valued and respected. This is why tailoring one's style of leadership to particular situations and individuals becomes important. 
Q: And what would you consider to be the skills that are critical to the organisational management sphere in the future?
A: The most important asset in any organisation's possession will be its people; nothing else will matter. If business leaders attract, groom and retain the right talent, they will build winning organisations. Therefore, the critical aspect will be people management.
The outcome of this is that emotional intelligence will be a vital skill. As the business environment becomes more complex by the day, technical skills will continue to decline in importance at the higher levels of management. Instead, how one harnesses relationships, understands people and responds to pressure will be crucial success factors.
Furthermore, the choice of leadership philosophy is going to be essential. Going forward, it won't be merely about what one achieves from an organisational perspective that matters but the approach to these achievements, which will determine whether a business is able to sustain itself.
The bottom line therefore, is that leaders will be compelled to create organisations that are fun to work for, truly care about people and make them a part of an undertaking that is focussed on much more than mere financial goals.
The interviewee is the Chief Operating Officer – E Commerce at Softlogic Retail Holdings