LANKA INSTITUTE OF FASHION TECHNOLOGY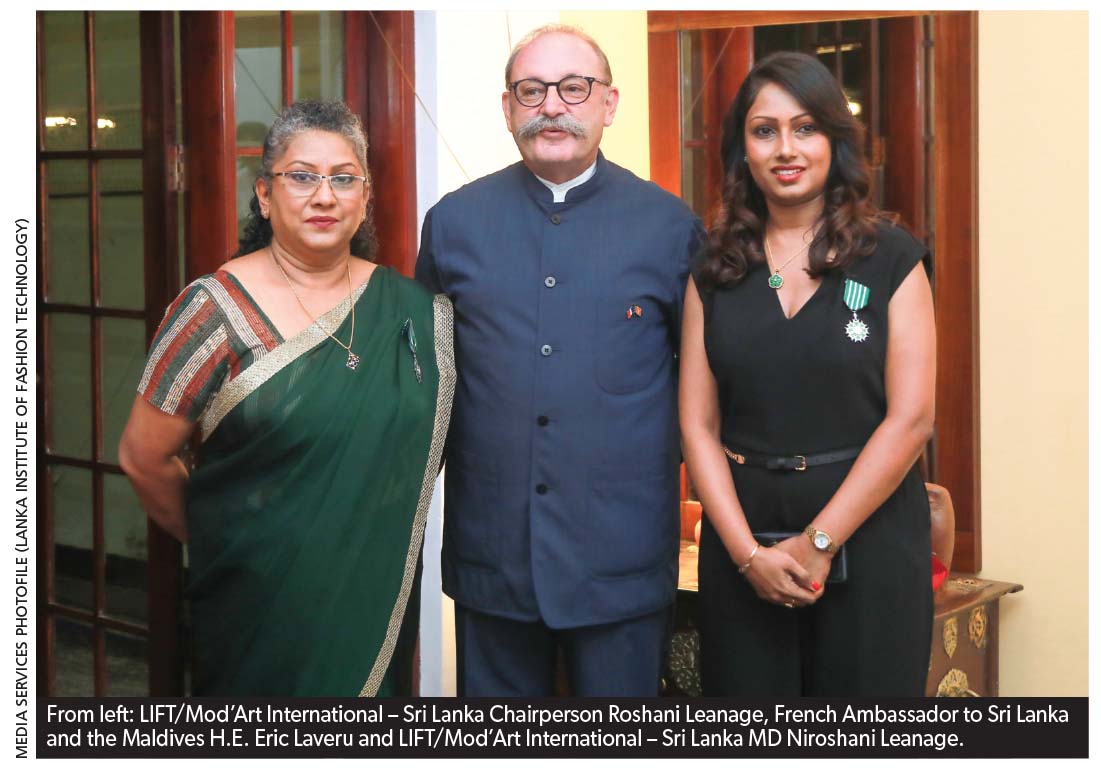 Q: What does it mean to be awarded the French Govern­ment's Knight of the Order of Arts and Letters (Chevalier des Arts et Lettres)?
Roshani Leanage (RL): It was a great honour to receive the grade of Knight of the Order of Arts and Letters, one of the primary distinctions among the four main ministerial orders of the French Republic.
To be recognised by a country that we closely work with and consider our second home pro­ves that our contribution to the fashion industry with bilateral re­lationships between France and Sri Lanka is greatly appreciated.
The origin of the award is attributed to the Order of Saint Michael (Ordre de Saint-Mic­hel). Originally intended for
the aristocracy, it later became an order of civil merit bestowed on artists, architects, collectors and men of letters.
Then it became one of four ministerial orders with the Aca­demic Palms founded in 1808 to have been maintained by Gene­ral Charles de Gaulle in 1963 as the National Order of Merit.
We believe this award is an honour not only for us but for our country too.
Q: How can this achievement encourage positive cultural and social bilateral relations between Sri Lanka and France?
Niroshani Leanage (NL): This order rewards individuals who have contributed illus­triously in the field of culture and communication, or by their contribution to influence Arts and Letters in France and around the world.
A Sri Lankan being honoured like this will encourage stronger and more successful future partnerships with France.
Q: How will this award encourage the younger generations to establish more meaningful collaborations?
NL: This honour demonstrates that commitment, focus and passion for one's work will be rewarded – particularly to those in the education sector.
Whether Sri Lankan, French or any other national, we have always opened our doors to international collaborations,
as we believe that working together brings more opportunities and growth.
Q: What role does your orga­nisation, in collaboration with the French embassy, play in bridging the two cultures?
NL: We have worked closely with the French embassy in Sri Lanka on many cultural events – including events for our students to showcase their work both lo­cally and internationally. These events pave the way for cultural exchanges between students of the two nations.
Some key events are Exposition de Mode, held annually during the French spring festival organised by the Lanka Institute of Fashion Technology (LIFT) and Mod' Art International – Sri Lanka, and the International Graduate Fashion Spectacle (IGFS).
We have also initiated international fashion shows with the participation of many countries.
Q: How will this award im­pact fashion design and technology in Sri Lanka, and inspire the next generation of designers?
RL: With this award, the Government of France has officially endorsed our institution. Now we can create opportunities for other industries, which would be a service to the country by supporting more young people.
Q: Your contribution has enabled our fashion students to collaborate with international graduates. How has this helped elevate the standard of talent in this country?
RL: IGFS rallies fashion gra­duates worldwide to showcase their best work at a catwalk show and exhibition in Sri Lanka. This enables the young graduates to present their crea­tivity to the global apparel and fashion industries.
It also represents each country through fashion, initiated by a France-Sri Lanka partnership.
This event has welcomed international fashion graduates from France, England, India, Hungary, Germany, Bangladesh, Pakistan, Sri Lanka and more.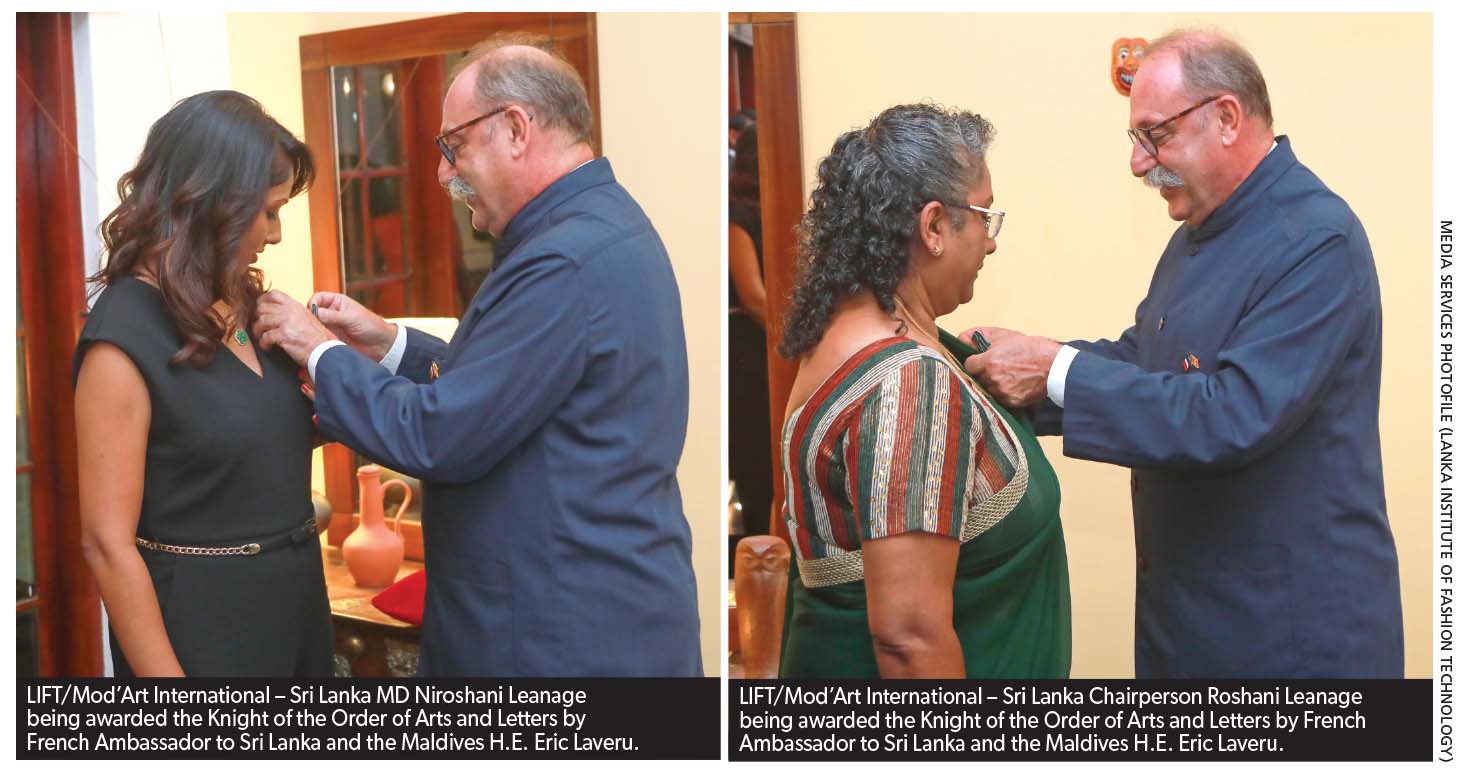 Q: What plans do LIFT and Mod'Art – Sri Lanka have to continue offering Sri Lankan students international exposure?
NL: LIFT was established in 2000 when there was no formal education in our country for fashion design. Since 2004, LIFT has focussed on inte­rnationalisation by partnering with France, England and Italy; and establishing links with the University of Northampton, ModaPelle Academy in Milan and Mod'Art International – Paris.
Through these partnerships, our students are given an opportunity to travel to London, Paris and Milan – three of the 'Big Four' fashion capitals of the world – to be part of many international fashion and design trade shows, and visit world-famous fashion museums.
LIFT recently entered into a partnership with FERRANDI Paris. Founded 100 years ago by the Paris lle-de-France Chamber of Commerce and Industry, FERRANDI Paris develops cutting-edge programmes in two major professional fields – viz. gastronomy and hotel management.
These courses, delivered in English, are now open to Sri Lankan students who wish to study in Paris, and will soon
be offered in Colombo for be­ginners entering the hospitality field and for professionals to be trained in more specialised skills by French culinary professionals.
Undoubtedly, we can support our country's tourism and hospitality industry with this venture, like we've done for
the fashion industry over the last two decades.
Telephone 0773 860909 | 0777 722797  |  Email roshani@lift.lk | niroshani@lift.lk  |  Website www.lift.lk | www.modart.lk